George Hollander's Madagascar, above, and ceramic work by Casey Giakas, below, will be featured at Boulon's December 6 show at The Marketplace.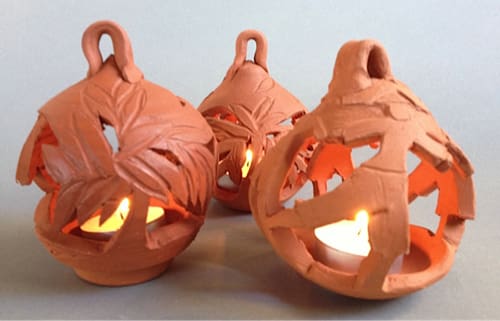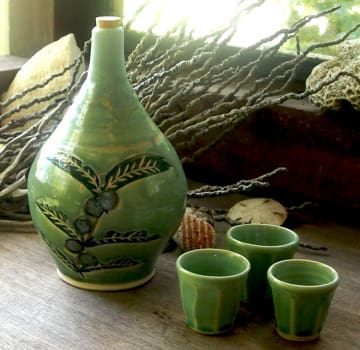 Drinking vessels perfect for the holiday time treat Guavaberry, above, made by Kaye Thomas Eichner.
An exciting night of oil paintings, sculptural lighting and ceramic work will be featured at Caribbanese2 at Kimberly Boulon Fine Art Gallery on the second floor of The Marketplace on Friday, December 6, from 5 to 8 p.m.
On the heels of her successful series of openings last year, Boulon is exploring the Caribbean-Japanese correlations in art and beauty through three planned shows for a second season starting in December.
The first of the shows will focus on "Miniature Musings are Magical" and will showcase new oil paintings by Boulon as well as modern sculptural lighting by George Hollander and ceramic work by Gail Van de Bogurt, Casey Giakas and Kaye Thomas Eichner.
Hollander will showcase a piece called "Madagascar" made of found materials used in construction, the artist explained.
"Shadows, color, reflection, absorption, artificial, daylight; all these words describe modern lighting," Hollander said. "This sculptural, functional art piece, is made of found materials used in construction. Whether it's  finished cabinetry or 'rough' carpentry, these 'cut-offs' are usually discarded and find their way into a landfill.'
"The base is made of 'sonotube,' which is used as a form to pour concrete columns," said Hollander. "The circular top, fitted to the 'tube' is made of mahogany rafter cut-offs. The upper ribbed portion is made of  sawed off ends, of tongue and grooved cyprus and tied together with copper wire and the wooden balls at the base were purchased and enameled."
The piece Madagascar invites the viewer to dream and wish, Hollander added.
"Within the upper ribbed area is a crystal ball, suspended," he said. "Find it and your dreams may come true. Lighting is the functional, modern art form."
For his work, Hollander draws upon his years of experience as an interior designer as well as his unparalleled eye for shape and form.
"My work is inspired by my past, which includes many years as an interior designer and as a small contractor in the New York market," he said. "It's influenced by modern architecture and the 'timeless' east."
Giakas' ceramic work combines form and function. She concentrates on creating beautiful and innovative wares for everyday use and likes to focus on pushing the envelope on everyday tableware and other items for the home.  
"Pottery is a nurturing and humble medium to work with," she said. "It allows us to push the limits and reminds you every time you take it too far. I want to make the cup you use every morning to start your day, or the bowl that you chose to put your comfort food in, the small tumbler that toasts your new favorite experience or achievement."
"I think it's important to be surrounded by unique and beautiful things," said Giakas. "It reminds us how sweet life can be in a world of chaos."
Eichner is focusing on marrying traditional Japanese ceramic forms with Caribbean culture and ideas for this show, she explained.
"For Miniature Musings, I wanted to focus on both Christmas (it's just around the corner) and what makes our Caribbean Christmas so special in the islands," said Eichner. "In the Caribbean it is tradition to sing 'The Guavaberry Song,' on Christmas morning with family and friends. Guavaberry rum is a delight and was originally put in demijohns, large glass green bottles."
"I have created Guavaberry rum demijohns for your Christmas," she said. "Share it with friends and family this holiday. I have, of course, created your Guavaberry cups as Guavaberry is perfect for sipping."
Eichner is excited to celebrate traditions large and small this holiday, she added.
"This little things, little ideas, little traditions become something so dear and worthy of celebration," she said. "Celebrate your love of art, love of family, love of friends and most of all; love of the little things."
The December 6 opening at Boulon Fine Art Gallery will also feature a performance by St. John School of the Arts students with narration by Kelley Hunter. Boulon will be raffling off an original oil painting during the show, with proceeds supporting the art school.
The evening will also feature appetizers by Chef Andy Marcellin of Starfish Market and confections created by Chef Gail Anderson.