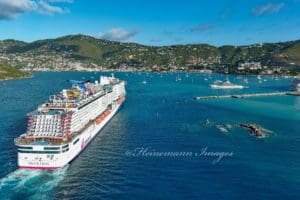 Mardi Gras, Carnival Cruise Line's newest, largest and most innovative ship, will make its inaugural call on the U.S. Virgin Islands on Thursday, Dec. 23.
Mardi Gras will berth at the West Indian Company Dock, where WICO will host a plaque exchange ceremony at 11 a.m. on the dock with the captain.
"Carnival included the U.S. Virgin Islands on Mardi Gras' itinerary while the ship was still in the early stages of construction, so we have been anticipating her arrival for several years," said Anthony A. Ottley, WICO president and CEO.
The cruise ship is North America's first liquefied natural gas-powered (LNG) cruise ship. The change to LNG was made to protect the environment by reducing greenhouse gases and other emissions. Her name was selected in tribute to the line's first cruise ship, TSS Mardi Gras, which was launched in 1972.
The billion-dollar, Excel-Class vessel boasts a maximum capacity of 6,500 passengers and 2,000 crew. Her superlative features include the world's first shipboard roller-coaster, a waterpark and a sports center.