The V.I. Port Authority's Enighed Port will be the maritime center of island life if St. John visionaries Jack Andrews and Steve Back can convince VIPA that the current barge port could be much more – and become the center of island commerce from tourism to festivals and arts to athletics. Their plan for two marinas and a boat launch on the east side of the entrance channel and a marina and fuel dock in a redesigned west shore of the port which would involve replanting some of the mangroves planted when the port was constructed. Story and additional renderings on Pages 3, 18 and 19.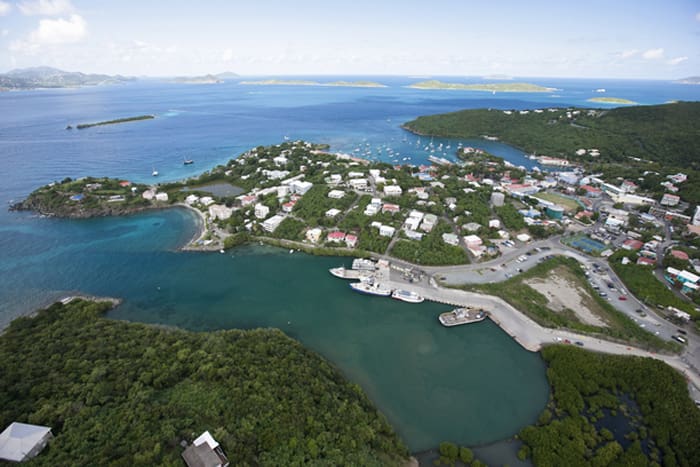 The north and west shores of Enighed Port would be marinas and fishing docks if two island visionaries can convince the V.I. Port authority to expand the uses of Enighed Port and the neighboring filled area they foresee as a festival grounds and center of community activities.
ST. JOHN — Now that the battle of words over the controversial mega-yacht marina in Coral Bay is back in the news again, Steve Black is ready to move ahead with 40-year old plans for a marina in what was once Enighed Pond and is now Enighed Port.
Actually, Black wants to build two marinas totaling more than 80 slips in the pond.
And a fuel dock.
And a boat launch facility.
And while Black's at it, the developers will also support the creation of a Carnival Park and Vendors Village big enough for the annual St. John July 4 Festival.
"The area for the marina is… an area which had been planned to have an 83-slip marina for the past 40 years," Black wrote V.I. Port Authority Chairman Roberto Cintron. "These waters are presently only used as a barge route for typically 16 barge visits per day."
"Our plan will offer many opportunities such as a marina, a fisherman's dock, a fuel dock, a pump-out station, a restaurant and a convenience store," the long-time St. John entrepreneur wrote.
Carnival Park at Gravel Lot
"The area for the Carnival Park and Vendors Village is the unused land inside of the 'gravel parking lot,'" the long-time St. John business entrepreneur explained. "It had been the Port Authority's plan to spend between $10 to $12 million to stabilize the land, pave it, and to use the land to park empty containers."
"Our plan seeks to create a community park with many economic potentials for our island," the government gadfly opined. "Being that we will not be creating a load-bearing development, we feel that our plan fits well for the area and our community."
Public and Private Ventures
"Love City Marina is a private venture, while the Carnival Park and Vendors Village is planned as a Private/Public venture as a community park satisfying many years of promised and budgeted Cruz Bay developments," the community activist explained. "This park is not a St. Thomas Lionel Roberts Stadium, nor a St. Croix Paul Joseph Stadium, but instead will be a park matching with the needs and character of St. John."
"Funding for this park will come from various sources as it will solve many community needs and government commitments," Black added. "It will be our commitment to spearhead the design, coordinate the funding, and provide for the managing of this park."
Jack Andrews Plays Role
The "our" refers to Black and Jack Andrews, the developer of the Peter Bay enclave in the V.I. National Park, who have created Love City Marina LLC, which is seeking to create a marina in the Enighed Pond waters and a Carnival Park and Vendors Village.
"It is Jack's and my desire to have this park be created as a Public/Private endeavor," Black wrote. "For the past three to four years, I have been presenting to every organization on St. John — and to our former Governor in his office — a Cruz Bay Plan which addresses many improvements for our impacted town.
"One section of this plan suggests the creation of a Carnival and Vendors on the nearly four acres of land in the middle of our 150-space parking area, aka The Gravel Lot, at the Enighed Pond," Black wrote. "This land is owned by the Port Authority and currently is an undeveloped dirt field. The Port Authority has planned to spend $10 to $12 million to stabilize and pave this area to park empty trailers and containers."
"I believe that a much better use of this land is as a Vendors Village, with restrooms, and a permanent Amphitheater for events and Carnival…a permanent Vendors Village with small buildings with roll down shutters, designed with a Caribbean appeal, with ample parking," the community activist said in a letter to Commissioner Pedro Cruz of the V.I. Department of Sports, Parks, & Recreation.
VIPA Hears Plans
"This land would be landscaped with grass fields and palm trees to create an appealing ambiance," Black added. "A Community Park is a far better… centerpiece of our town than a field of empty trailers as the Port Authority had proposed. We have presented these plans to the Port Authority and I believe that they have shown interest in our plan."
"For our youth, this area could be of significant benefit, with a large grassy open field where sports could be enjoyed, with a soccer field and play yard," Black elaborated. "Around the perimeter of this area we plan for there to be a walking/jogging track, and sections of this field could be landscaped to provide outdoor classes, and having a permanent stage (the amphitheater) which will offer not only musical events, but our youth could offer plays and skits to further youthful activities and programs."
"For decades, St. John has been promised a Multi-Purpose Center and a Vendors Village," according to Black, who opened the first St. John "supermarket" with the legendary David Mugar of Starfish Market as an early island business leader.
"Two problems has always existed, funding and where to have such a development," Black explained. "So, instead of building a multi-million dollar structure, or congesting our small town even further, this land could be our new community center, where events could take place on a stage with small businesses and vendors in the same area."
Dedicated to St. Johnian Leaders
Black and Andrews are proposing that the new facilities be named in honor of St. Johnian civic leaders. It has already been proposed that the performance amphitheater be named after the late educator and community leader Oswin "Zeke" Sewer, a renowned quadrille dancing aficionado, and the fuel dock be named in honor of the late Capt. Victor Sewer, Oswin's father and a leading inter-island boat captain of his era.
"As it is now, every event that takes place on St. John, the first effort is to build a stage for the performance," Black said. "Using this four-acre parcel as an area for our yearly carnival event would provide a far greater venue than the squeezing of the event into the little U.S. Customs lot, congesting our town at the busy ferry dock even further for a month each year."
"Our carnival has outgrown our little Customs lot and this move will greatly enhance our celebration," he emphasized.
Economic Opportunities
"The use of this land will also enhance the economy of our island and will open many doors for our community," Black explained. "Cruise ship taxis could make this a stop for their visitors, and the Vendors Village and restrooms will be a pleasant stop for the patrons."
"As for the vendors, there could be a fruit and vegetable market, the long-promised Fish Market could be established there, restaurants, shops, native and homemade articles could be sold in this village," the longtime island business visionary continued. "Thus, as you may see, the use of this land could solve many problems presently plaguing our little Cruz Bay."
"With a well-designed location, we could relocate many of the vendors which have seized spots all over town adding to the congestion we are constantly living with downtown."
"One part of this which is interesting is that there is presently $300,000 available for the creation of a Vendors Plaza, which could be a terrific start in the creation of the Vendors Village," Black said with a hint of understatement or naivete.
"Also, with the monies earmarked for the Fish Market spent at this location would create a much more accessible market for the fisherman," he opined. "Also, with the sewage treatment plant next door, and the electric and water lines in this area, it is an easy hookup."
"Lighting for this park could become quite beautiful," Black added.
Replacing Oppenheimer as Venue
"As for the Amphitheater, it may be more appealing for performances to have a permanent location with a large grass field for family and event enjoyment," Black added. "At Oppenheimer, access and parking and other impacts are extremely difficult."
"The development of the amphitheater will help to contain the music, and of course, with decibel level controls, the neighborhoods in the area with be able to enjoy the events more than a field of empty trailers," the community activist said in closing. "Cruz Bay is a big natural bowl and Carnival and event sounds carry, however, with the amphitheater the sound will be better contained."