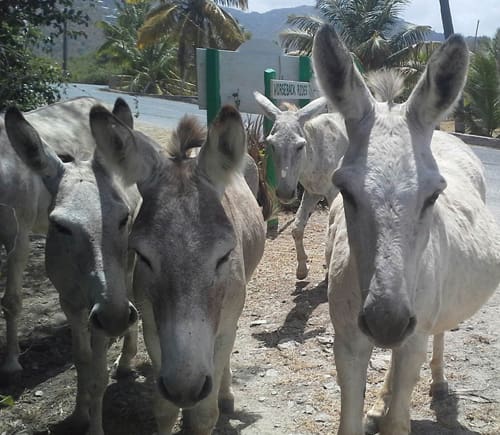 The almost-completed riding arena measures Measuring 60 x 120 feet.

A group of donkeys linger for attention outside the entrance of Carolina Corral.
FORTSBERG — After almost two years of land development, Dana Bartlett of Carolina Corral announces that a new riding arena is nearly complete.
Measuring 60 x 120ft and located near Skinny Legs, Bartlett intends on using the area to offer riding lessons by the end of this month.
"We'll start with basic lessons, then progress to jumping after sometime" said Bartlett.
These lessons will occur 2-3 times a week and involve not only horses, but donkeys as well. Both children and adults are encouraged to participate.
Bartlett hopes to start lessons in the summer and continue them throughout the fall.
Dana Bartlett's love of animals and equine passion pushes her to open Carolina Corral to the injured wild donkeys of the island.
Bartlett has made it her mission to nurse sick and injured wild donkeys back to health. Once the donkey is brought back to impeccable health, Bartlett will either release them back to wild, or Carolina Corral becomes their permanent home.
One of her more recent rescues, Suzie Q, is improving nicely. Bartlett received the call to rescue the female donkey during the evening of February 1. The donkey was found weak and missing a rear hoof in a driveway in Upper Carolina.
Bartlett quickly dressed the wound and with the advice of a veterinarian and the help of a wildlife rehabilitator, Suzie Q was brought to a stall in Carolina Corral. Her hoof is now in the process of growing back.
Suzie Q is not the first donkey rescue made by Dana Bartlett.
Donkeys like Miss Sadie (AKA Grandma), TJ, and Ali have received Bartlett's loving care.
Bartlett has rescued, fed, and overall cared for generations of donkeys.
"Suzie Q is right next to her grandson," Bartlett joked.
In order to ensure that donkeys like them receive the best care possible, Dana Bartlett has started a Go Fund Me campaign to offset costs.
The campaign has already raised $1,660 over the course of nine days. Bartlett also hopes to someday start a nonprofit to help care for the wild donkeys of St. John.
Alongside the Island Donkey Care campaign, Bartlett is also raising funds for a new truck and trailer to feed and haul donkeys.
"I have everything stuffed inside my car. It can be a heavy load," explained Bartlett.
Dana Bartlett's dedication to animals knows no bounds.
"I try to be an example for others. When I work with animals, I do the best I can," said Barlett.
Carolina Corral is located towards the entrance of Fortsberg in Coral Bay. Horse and donkey back trails can be scheduled with Dana Bartlett by visiting http://horsesstjohn.com.