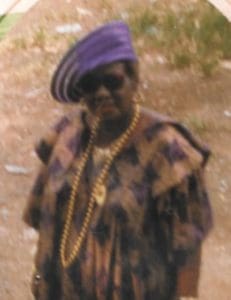 Caroline K. Henry Raymo died on Jan. 1, 2021.
A viewing will be held from 3-5 p.m., Wednesday, Jan. 20, at Turnbull's Funeral Home. A service will be held at 9:30 a.m., Thursday, Jan. 21, at Sts. Peter and Paul Cathedral. Interment will be at Western Cemetery No. 3.
She was preceded in death by her mother, Sarah Issac; father, George Henry; husband, Roy Raymo; and sisters: Yvonne Romu and Persephonie Simon-Vigalant.
She is survived by her sister, Marion (Irma) Gillan; sisters-in-law: Angie Arnold and Edna Bones; brother, Authur Bones; brother-in-law, Arthur (Gun) Raymo; nieces: Francine Ralph, Corinel (Reds) Daniel, Alicia (Dodots) Ayers, Felicia (Phyllis) Milliner and Elana (Serita) Romu; and nephews: Winston (Tasha) Davis Sr., Ira (Horse) Lewis, George A. Romu and Clayton Bones.
She is also survived by great nieces: Lovia A. Roberts, Ama Davis and Kizzy Lewis; great nephews: Winston A. Davis Jr., Ashawn George, Ira Lewis Jr., Devonte Lewis, Shanga Lewis, Rahim Christian and Rashawn Hodge; 10 great-great-nieces; 16 great-great-nephews; godsons: Bruce Watts, Warren Petty and Leon Percival; and caretakers: Millentine "Jimpie" Coates and Merlene Stewart.
Other survivors include special cousin, Ernestine Hughes; special friends: Everton and Millentine "Jimpie" Coates, Rositta Lewis, Merlene Stewart, Beverly Harvey Mercer, Lorna Murray, Ariel Farrington, Carmen Grant, Hyacinth Hendricks, Perries, Lois Lewis, Ruth Archibald and Dr. Callwood; friends: Nancy Edwards, Eugena Gumbs, Loretta Jarvis, The Staff of Human Services, Friends of Catholic Ministries, Edris Weeks and Camelita Petty; as well as many other relatives and friends too numerous to mention.