More than 200 residents and tourists mingled outside of Miss Lucy's Restaurant in Friis Bay for the Coral Bay Community Council's (CBCC) "Ol' Tyme Fish Fry" on Father's Day, Sunday afternoon, June 18.
"It was just fabulous," said CBCC president Sharon Coldren. "We were hoping for 100 people, but we would have called it a success if 70 people showed up. In the end, more than 200 people came out."
"We were absolutely thrilled that the community thought this was a great way to spend a Sunday afternoon," Coldren continued.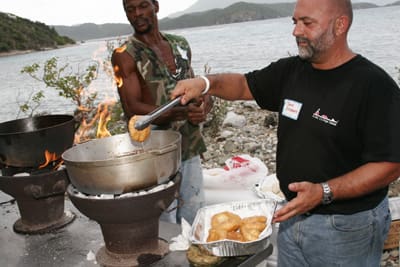 Affordable Prices, Excellent Food
A plethora of fish, chicken, johnny cake, pasta salad, seasoned rice and corn was available at affordable prices — $10 for a plate and $25 for a family of four — which wouldn't have been possible without the numerous donations and volunteers, explained Bonny Corbeil, board member of the CBCC and the organizer of the party.
"I want to thank all of the people who worked so hard preparing, cooking and instructing me how to make traditional food," she said. "Mahlon 'KoKo' Picker-ing and I started it off saying that we needed a true cultural fish fry."
Owen Krigger, Benji Stone, Joan Thomas and Dave D'Alberto labored away in the heat of coal pots and drum barbeques to ensure that there was plenty to eat for all, Corbeil added.
Jewel Powell and Thelma Dalmida were also integral to the success of the event. "The interesting thing about it is when I went to Jewell to ask her for help, my morale was a little down because I was having a hard time finding people to help out," said Corbeil. "When I went to see her though, the first thing out of her mouth was 'I would do anything for my community — what do you need.'"
Traditional Seasoning
Powell, in addition to preparing johnny cake dough, a number of fruit tarts and a Happy Father's Day cake, seasoned all of the fish in the "right West Indian way," said Corbeil.
"She walked me through how they did it in the old days," said the party organizer. "She told me to relax, saying 'the mind is going to understand what I'm telling you and the hand will follow.'"
It was Powell's sister, Thelma Dalmida, who instructed Corbeil on how to properly season chicken according to tradition.
"Miss Thelma became a big consultant for the party," said Corbeil. "She walked me, step by step, through how to do the chicken by soaking it overnight in lime juice, vinegar and water and adding adobe and garlic seasoning."
Donations and Volunteers
"For anyone who knows me, they will understand just what it means when I say I had to cut down and prepare 160 chicken legs," she added.
Graciella "Tiny" Alexander also prepared johnny cake dough, and the day would not have been so special without "Coconut Mon" Tyrone, Corbeil explained.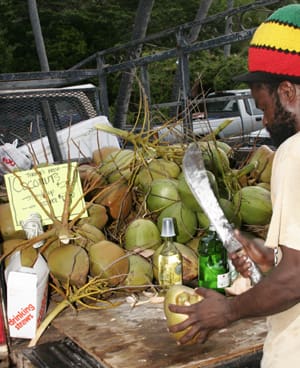 "Tyrone helped us get the drums for the barbeque and must have cut up 100 coconuts for drinks for people," she said.
Julie Fortunato and Carol Beckowitz served drinks to the crowd, and a number of businesses helped out as well, Corbeil said.
"C4th donated 12 t-shirts that said #1 Dad," she said. "Miss Lucy's let us use their space, St. John Ice Company donated 14 bags of ice, Shipwreck Landing donated a huge bowl of pasta salad, Aqua Bistro donated supplies and Lily's Gourmet Market and Love City Mini Mart each donated a case of beer." D'Alberto, who helped cook the food, was an asset in other ways as well, explained Corbeil.
"Dave made up the tickets, the flyers and the t-shirt design and put up with me running around like crazy," she said.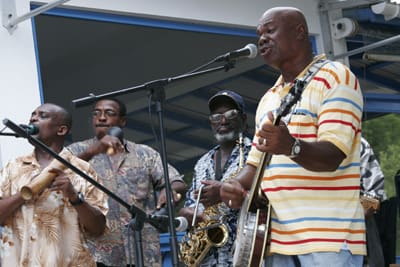 Quelbe Music
The traditional quelbe music of Koko and the Sunshine Band capped off the wonderful afternoon, Corbeil added.
"Koko and I worked really hard on this together," she said. "He and his band donated their time and supplied us with great music, but he also helped us to hold a traditional fish fry. The old way of cooking is very reflective of the culture itself."
"We have been losing that and we really wanted to do this authentically," Corbeil continued.
Corbeil and Pickering went to great lengths to ensure that the Ol' Tyme Fish Fry, was just that.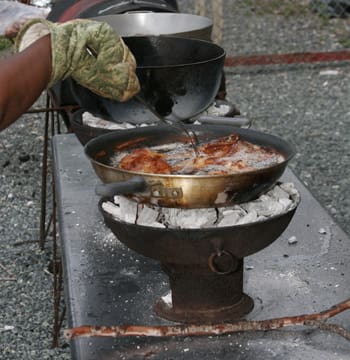 "The charcoal was made by Patrick, and Denise George allowed us to borrow the coal pots from the museum at Annaberg Ruins," said Corbeil.
Tradition Cooking Methods Used
"We used real charcoal, real pots and drums for the barbeque. We were cooking right out there in front of everyone, which I think was great."
Even the way Corbeil spread the news about the fish fry was traditional, she said.
"I wondered what they did in the older days to spread the word about a party," Corbeil said. "I made signs and flyers, but I also spent a lot of time simply walking around and asking people to come."
The day was all about unity, the party organizer said.
"I am a firm believer in intentions," said Corbeil. "And the intention was to unify the community and remember how we used to all come together in the old days for fish fries. Food is what often pulls people together."
From the reaction of the crowd, the day was a huge success.
"At one point Julien Harley called me over and told me to sit and relax," said Corbeil. "He told me to enjoy the fruits of my labor."
St. John Administrator Harley wasn't the only person who had a good time. "Edmund Roberts and Mr. Harley both said that it was the best fish fry on St. John in 15 years," said Corbeil.
If anyone missed the Ol' Tyme Fish Fry this time around, mark your calendars early for next year. The party seems poised to become an annual event.
"Everyone had a wonderful time and kept saying that we should do this again," agreed Coldren. "We will be having an annual Father's Day fish fry for sure."