Long before the sun went down Sunday, people gathered with family and friends at Buddhoe and Verne Richards Veteran Parks in Frederiksted, anticipating the Emancipation Day celebration with music, poetry, dancing, and good food.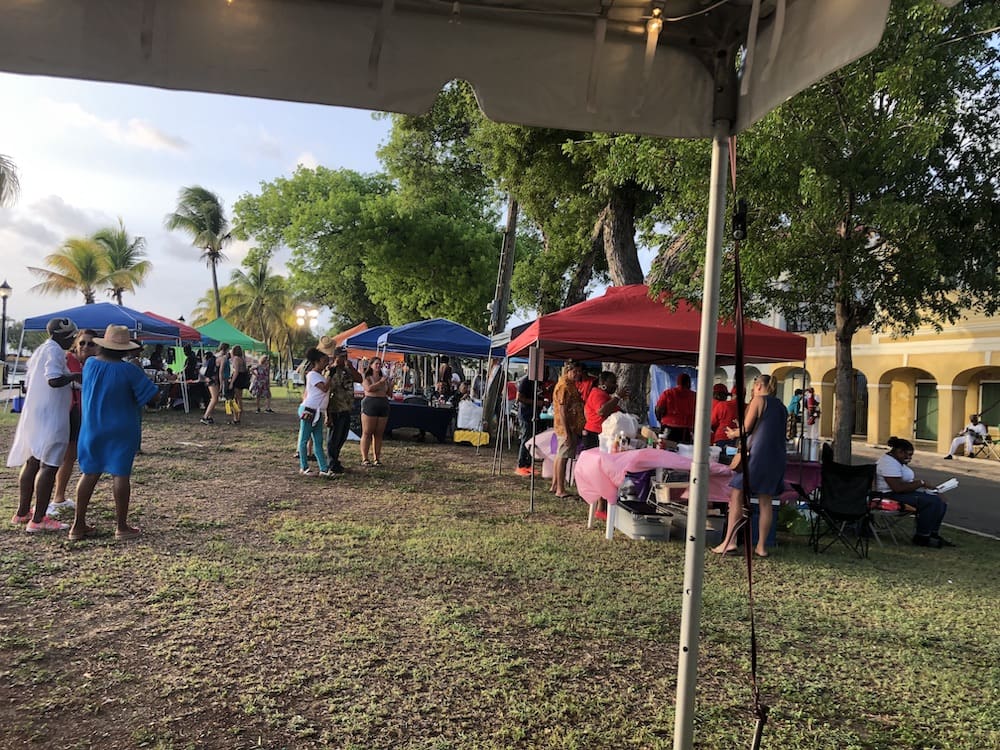 One part of the celebration was performed by the Ten Sleepless Knights as part of the 2022 Folklife Festival that began with a reception at Government House on June 24 to honor culture bearers Asia Williams, Cedell Petersen-Christopher, Wayne "Bully" Petersen, and Willard John.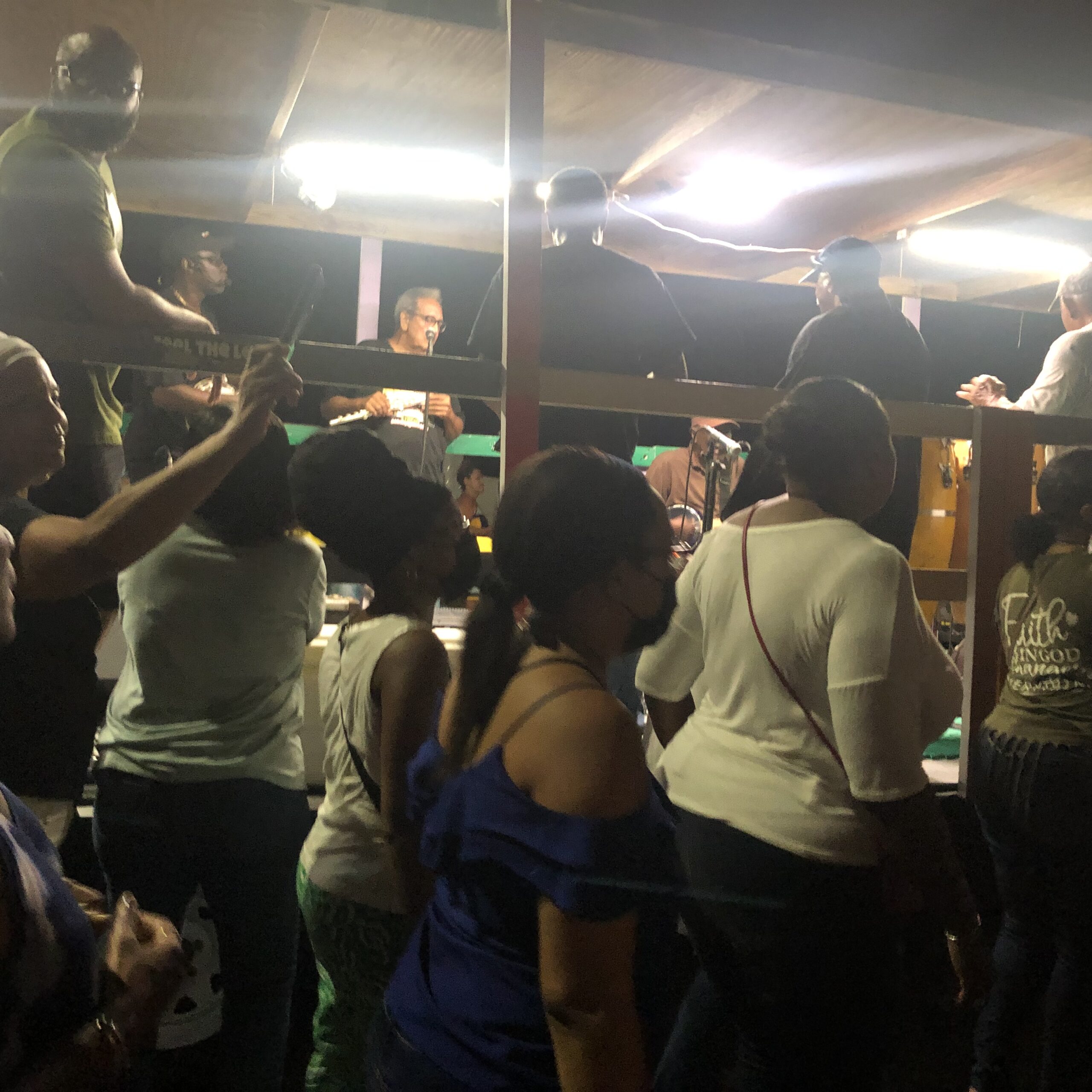 On June 25 and 26, workshops at Whim Museum included stilt walking, mask making, basket weaving, Cariso and quelbe singing and dancing, Quadrille dancing and head ties, Crucian cooking, candy making, and storytelling.
Then on July 2 and 3, the festival moved to Veterans Park, and live music resounded through the town. Performers included the Renaissance Quelbe Band, Sugar Hill Band from St. Kitts, and the Razor Blade Band from the British Virgin Islands. The Ten Sleepless Knights closed down both days with dancing under the stars.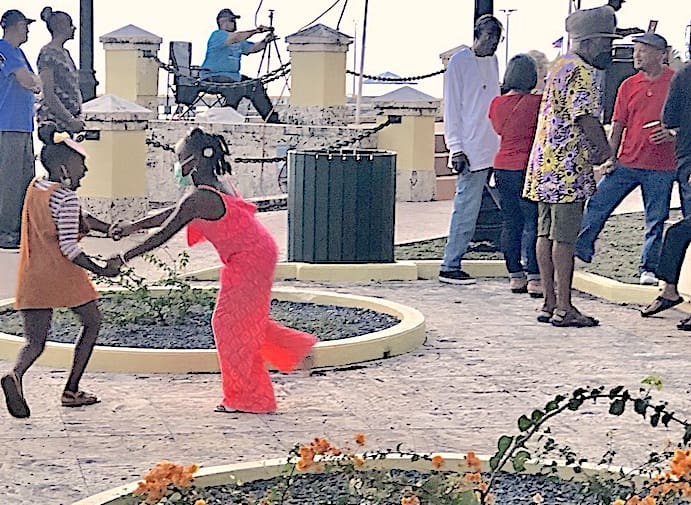 The second location with festivities also featured music, chanting, drumming, and dramatic performances at Buddhoe Park, every seat filled, courtesy of the United Caribbean Association and Yesterday, Today and Tomorrow, for their annual noon to midnight Emancipation Day event.
Scheduled performances included Mada Nile, Mighty Pat, and the Rising Stars Steel Youth Orchestra. A highlight was the Government Rejected Youth Band comprising young people on a variety of instruments, such as guitar, bass, keyboard, and drums. They sang familiar songs like "Queen Mary," "Wonderful World," "Stand by Me" and "Imagine."
Free food was offered by UCA, and vendors sold the favorites – chicken, macaroni and cheese, sweets, and much more – at Veterans Park. The Ten Sleepless Knights Foundation sold beverages.
As it is election season, there were campaigners in the crowd wearing T-shirts supporting their candidates and selling food to raise funds. The Elections System of the Virgin Islands registered eight new voters and demonstrated voting machines, Supervisor of Elections Caroline Fawkes said.
Keeping with the Emancipation theme, former senator Adelbert "Bert" Bryant showed the Source a painting by his granddaughter, Khyra Thomas. She recently returned to St. Croix after attending college and working stateside, he said, to become an artist. The painting is centered around Bryant, overshadowed by a freedom statue, flags of African nations, and emancipation dates in the territory. He said he will hang the artwork in his home.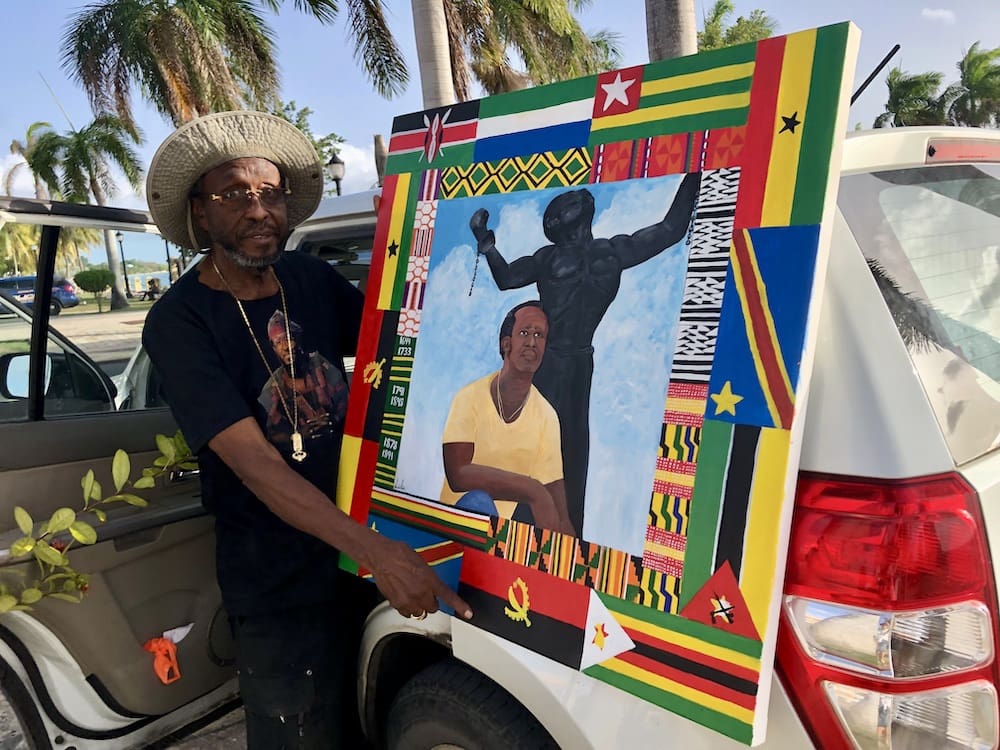 As the sun set and the tramp – people dancing down the street with the Ten Sleepless Knights – made their way to the waterfront to continue the festivities.
Among those enjoying the celebration was Brenda English, who recently moved back to her island of birth, St. Croix, after being away for decades.
"I always wanted to return. I came back because it's home. People are genuine and real. They let you know what they feel," she said.
English was dressed for carnival, chatted happily with everyone, and said she was happy to be immersed in her culture again.
"People are proud to have come this far and are serious about maintaining the culture. You know, passing it on and celebrating it. Celebrating all aspects of it. The meaning of it warms my heart."