Friends of VINP President Joe Kessler presents Friend Volunteer of the Year award to Jeff Chabot during the group's annual meeting.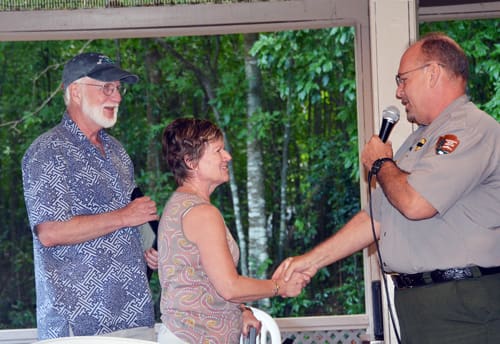 Richard and Cherry Glass accept park volunteers of the year awards from VINP Superintendant Mark Hardgrove.
About 100 Friends of Virgin Islands National Park members and supporters packed the T'ree Lizards Restaurant at Cinnamon Bay on Sunday afternoon, January 22, for the group's annual meeting.
While enjoying light refreshments and snacks, guests heard from Friends President Joe Kessler who spoke about the group's accomplishments and programs in 2011 as well as its upcoming plans for the year ahead.
Kessler also presented Friends' Volunteer of the Year award to Jeff Chabot, who is celebrating his final year of supplying endless hours of volunteer manpower clearing trails throughout VINP.
"This is Jeff's last year working with us since, as he says, he's 'moving on to greener pastures,'" said Friends' development director Heather Ruhsam. "He's looking forward to switching gears and we are really hoping to be able to find someone to work with Jeff before he leaves. Jeff is irreplaceable, but we'd like to find someone who will try to fill his shoes."
Friends also honored VINP Deputy Superintendent Mike Anderson as the group's Park Partner of the Year. The keynote speaker for the event was University of the Virgin Islands president Dr. David Hall, who spoke about how much of the work which Friends and UVI accomplish intersects, explained Ruhsam.
"Taking off from a book he wrote about sacred rivers, Dr. Hall spoke about how UVI and Friends of VINP are sacred rivers which crisscross in the Virgin Islands in terms of educating our youth and working to preserve not only the environment, but also the culture and the people," said Ruhsam.
During the meeting, VINP Superintendent Mark Hardgrove gave the State of the Park address and honored Cherry and Richard Glass as the VINP Volunteers of the Year.
"It was wonderful to have all of our speakers and to honor the volunteers who work so hard for us," said Ruhsam. "It was a great turn out and people were very supportive. It was a nice event."