St. John Tradewinds News Photos by E Franklin Tulloch / earthbound studios.
A total of 38 teams of mostly bar and restaurant workers raised close to $48,000 for disabled veterans in the 2016 CSM Robert Gallagher Memorial Chaotic Kayak race at Oppenheimer Beach July 10, 2016.
A total of 38 teams hit the bay in relay races while distracting their competitors with water guns on their way to the finish line. Local businesses donated tents and refreshments to keep the party going throughout the day. The afternoon also featured live DJ music and plenty of food.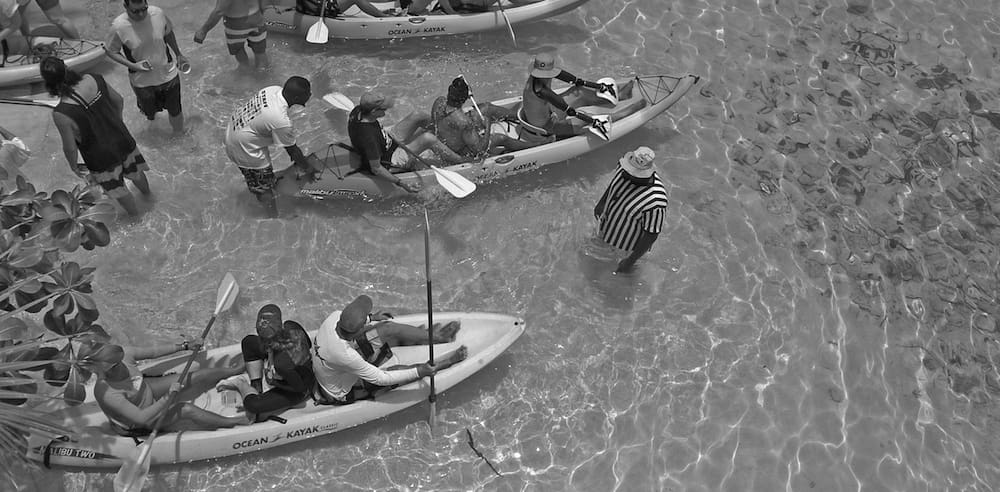 Organizer Tom Larson said this year's kayak race enjoyed the greatest popularity in the six years St. John has played host to the event. Proceeds help wounded veterans who spend a week on St. John with the Team River Runner program.
Every November, wounded veterans travel to St. John for a week-long rehabilitative recreational program sponsored by TRR and funded by the Chaotic Kayak race.
"The group comes down in November," said Larson. "Fox News did a special last week but most of the guys featured on the show were the ones who come down here. Most of them are amputees or severely wounded."
Shelton Gore, Larson's event partner said there were several ways supporters could donate to the cause. Relay teams paid a fee to enter the race and the more money they raised translated into valuable head start time. There were also fees for teams who lost in their heats but wanted to re-enter the competition, as well as proceeds from food and beverage sales.
All told, about $50,000 of the total came from St. John, Gore said.
"Four teams race at one time," said Gore. "Three paddle in the middle while the others shoot water at each other. The Beach Bar raised $7,000 for additional time, and then additional people wanted to contribute by supporting their favorite team."
Donations also came through social media, Gore added. Those who wanted to support a team but were stateside at the time of Chaotic Kayak, could pledge donations online.
There was even a donation made for the referee, said Gore.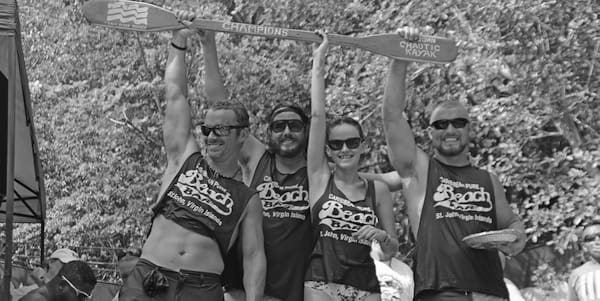 Larson, owner of the excursion boat Sadie Sea, said his back ground as a military vet gives him the inspiration to reach out to other veterans in need. He said as veterans visit the island, he's encouraged by those who return to St. John on their own for other events or just to vacation.
This year at May's Beach to Beach Power Swim, about half a dozen disabled vets either competed or worked with organizers.
As Chaotic Kayak continues as an annual event, he said, there is hope that veterans of all generations, living on St. John will join in the effort.