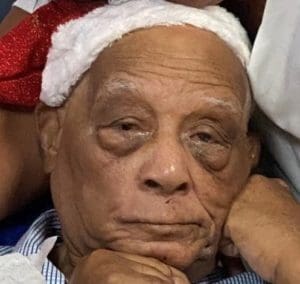 Charles Thompson died on Jan. 24.  Charlie, as he was affectionately known, was born on April 18, 1933, to the late Evlyn Thompson and Maude Blackman.
His brothers: Rudolph and Edgar Thompson, and Alphonso Naughton; and sisters: Gertrude Davenport (née Thompson) and Victoria Ann Eliza Thompson preceded him in death.
Charlie is survived by his sister, Miriam Lang (née Williams); nieces: Clarissa Thompson-Rustenberg, Michelle Davenport Hurd, Elizabeth Thompson, Maria Thompson, Carole Lang, Cassandra Lang, Vanessa Lang, Yvette Lang, Stephanie Lang, Monique Lang, Karla Petersen and Karlene Gomes; and nephews: James Davenport II, Keith Davenport, David Henry, Lionel Lang Jr., Jamal A.R. Asaad, Keith L. Davis Sr., and Kenrick L. and Kelvin L. Vidale.
May Charles Thompson rest in peace.