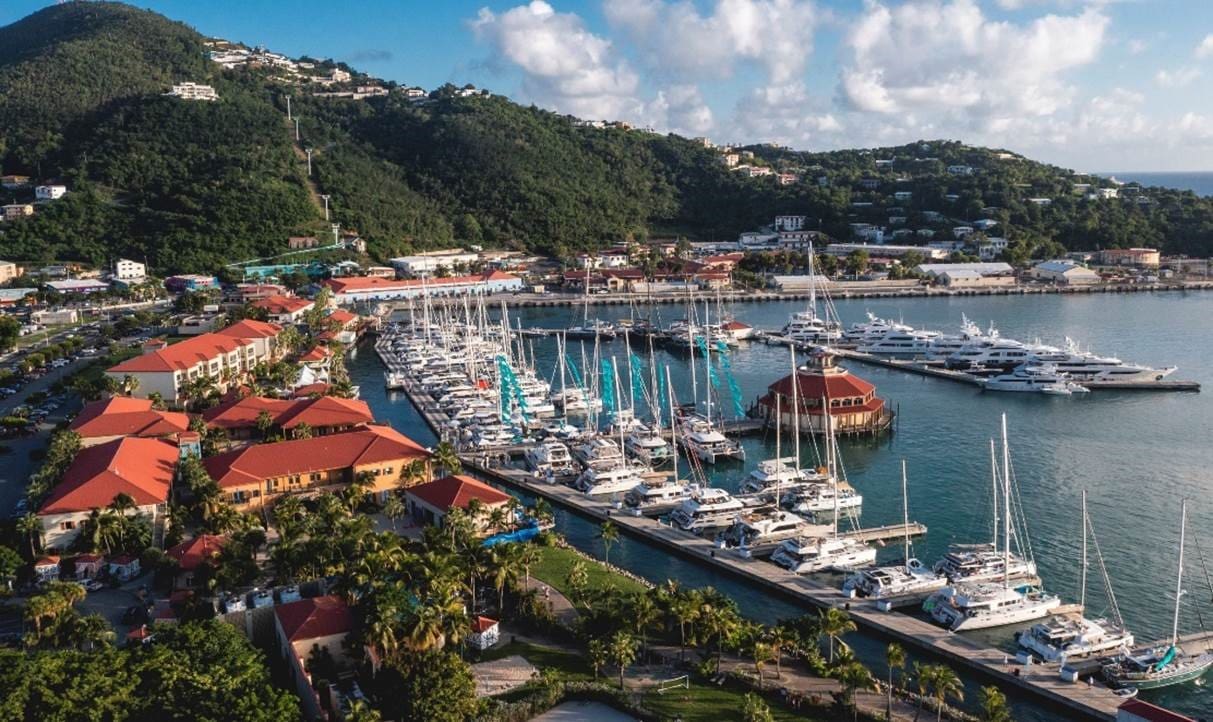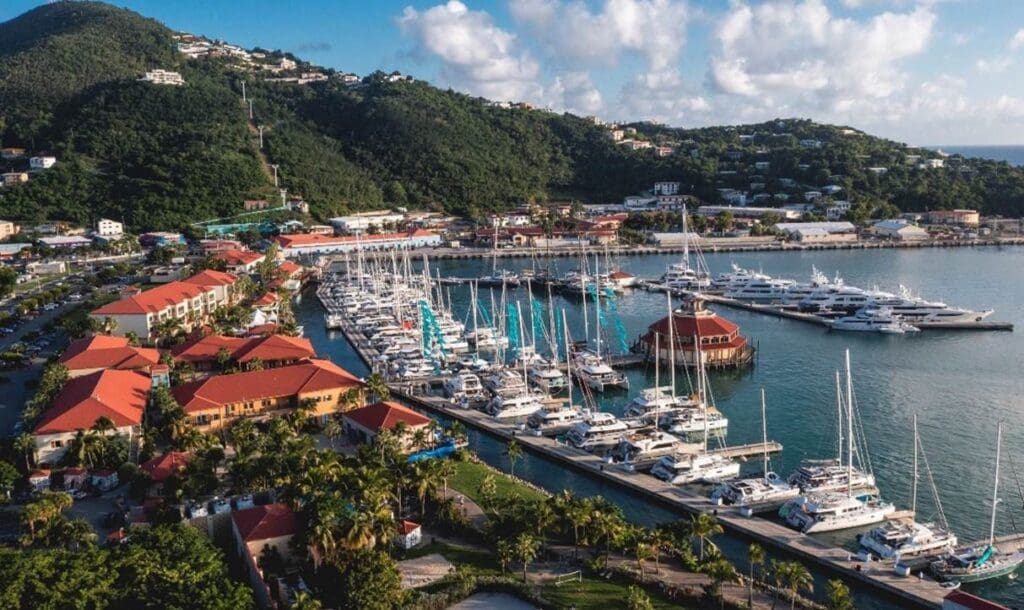 The annual showpiece of the industry's hard work in perfecting its craft paid off with a successful seasonal launch at the USVI Charter Yacht Show, held Nov. 12-15 at IGY Marina's Yacht Haven Grande, St. Thomas. Nearly 70 yachts, both power and sail, with uniquely qualified professional crews, were on show to over 160 brokers from over 100 charter businesses in the Caribbean, U.S. and Europe, which market the territory's customized boutique marine vacations.
Synergizing the destination of the U.S. Virgin Islands with its charter industry professionals, show organizers, the Virgin Islands Professional Charter Yacht Association (VIPCA), work year-round with several territorial departments and federal agencies.
Key aspects of this work were the subjects of event seminars that updated attendees on government regulations and information on natural resources. A taste of local culture and history was also offered in the opening ceremony with Caribbean Ritual Dancers and with a panel presentation by historians and national park tour experts on the second day.
"VIPCA has gone above and beyond to meet its mission of promoting the USVI as a destination of choice for the yachting community and protecting the interests of our marine community and businesses," said Gov. of the U.S. Virgin Islands Albert Bryan Jr.
Alani Henneman Todman, assistant commissioner of marketing and communications at the USVI's Department of Tourism, said at the show's award ceremony on Monday, "We have been an avid supporter of this event, and because of Oriel's (Oriel Blake, VIPCA executive director) passion and support, we have continued to contribute more sponsorship and engage with the marine industry more.
Today, the USVI governor announced an agreement to reciprocate charter regulations between the USVI and the British Virgin Islands. "The pandemic allowed us to focus on the charter yacht industry, which took off and kept us afloat before cruise ships came back. I'd also like to announce that we are running a new campaign, Naturally in Rhythm. This focuses heavily on the five senses, and it is heavy marine. So, it's a privilege to support and sponsor the charter yacht industry and wish you a strong season ahead."
A 'Must-Do' Show – Mark Your Calendar Now
This year's USVI Charter Yacht Show's format featured several ways for brokers and crews to meet. This included the traditional four days of dockside yacht viewings, evening parties with pop-up bars featuring local breweries, participation in the prestigious mixology and culinary competitions, catered seminars, training sessions and formal dinners.
"This is one of the most important shows for brokers to attend," said German Liubitch, the Miami, Florida-based founder and sales director at Ritzy Charters, who attends two to three shows annually in the Caribbean and Europe.
"It's one of the bigger shows, and therefore provides a good opportunity to see many crews and vessels at once. The fleet has grown, with a lot of rotation with crews and new boats, so this makes it even more important to attend to best market the yachts in the coming year. The opening ceremony, seminars, awards, friendly atmosphere and superb organization of the show make this show a must-do," said Liubitch.
The 2023 USVI Charter Yacht Show will take place from Nov. 11-15. Registration information for boats and brokers will be announced at www.usviyachtshow.org
A Boutique Fleet
The boutique fleet of yachts on show ranged from 40'-105' in length and included monohulls and catamarans, power and sail. Each yacht and its crew combine to provide a customized rather than cookie-cutter vacation experience.
"It's having a good boat that's well prepared, including all the latest water toys, and, of course, a huge focus on offering a truly great charter experience – that's what I think contributed to our award," said Capt. Richard Vincent, who, with Chef Dominique Vincent, on the 50' Lagoon, Ether, won Best Yacht in Show in the Up to 50' category. The couple has 19 weeks of charters already booked for the season.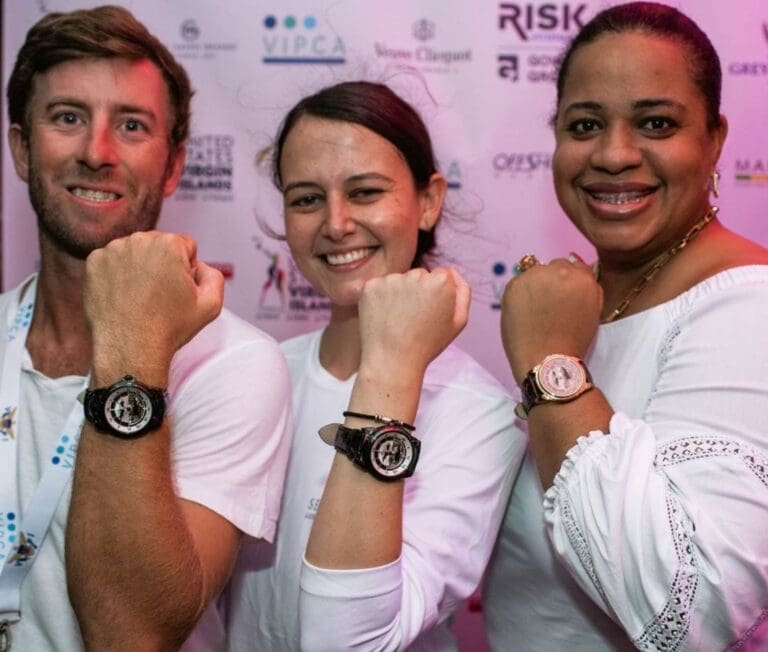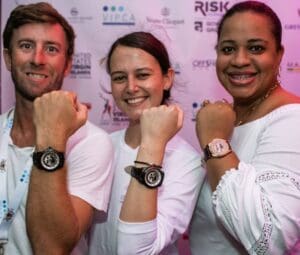 Boat and crew awards and prizes included stunning Virgin Islands-styled timepieces donated by Cardow Jewelers, a flagship jeweler headquartered on Main Street in Charlotte Amalie, St. Thomas.
"Cardow is excited to sponsor the USVI Charter Yacht Show by providing winners with the Frederiksted watch, which was designed exclusively by Cardow Jewelers and represents the west end of our sister Island of St Croix. It is a unique, high-quality memento that represents a part of the Virgin Islands.
"Each watch has a cut-out profile of the three U.S. Virgin Islands—cosmopolitan St. Thomas, historic St. Croix, and pristine St. John. Cardow thrives on giving back to its community, and one of the many ways this is expressed is through sponsorship," says Finia Gooding, sales director.
Also donated as prizes were Veuve Clicquot champagne, ZUP water toys, customized crew uniforms from Maho Crew, vouchers for classes at the Seven Seas Preparatory Academy and Ashburton Cookery School, as well as many more gifts by Northern Lights, Offshore Marine, Lovango Resort & Beach Club, Reefco Services, Spa to Go, Budget Marine, Economic Development Authority, Box Bar, St. John Brewers and Stream2Sea.
Strong Season Ahead
In the last six years, the U.S. Virgin Islands charter yacht industry has proved resilient in the face of challenges such as hurricanes and a global pandemic, grown as an economic force, and put the U.S. territory back on the global map for boutique-style, exquisitely customized crewed yacht charter vacations.
Valued Sponsor Support
Sponsors of the USVI Charter Yacht show include the USVI Department of Tourism; Yacht Haven Grande; IGY Marinas; the Gowrie Group representing Trawick and Cigna; Parts & Power Ltd., distributor of Northern Lights; Mango Media; Cardow Jewelers; Offshore Marine; Catamaran Central; Grey Goose, distributed by West Indies Company; Veuve Clicquot and Captain Morgan, distributed by Bellows International; Maho Crew; Moe's Fresh Market; VIYA Business Solutions; ZUP; Harbor Shoppers; Seachange; and, the Charter Yacht Broker Association.
For more information about the USVI Charter Yacht Show, visit www.usviyachtshow.org. For information about VIPCA and its programs, visit www.VIPCA.org or email: info@vipca.org or call (340) 642-0656.
Sidebar: 2022 USVI Charter Yacht Show Competition Winners
Best Yacht in Show – 50' and Under
Winner: Ether, Crew: Richard and Dominique Vincent
Runner Up: Oceana, Crew: Umberto Genovese and Judith van de Nieuwendijk
Best Yacht in Show – 51'-60'
Winner: Altesse, Crew: Kennon Jones and Stephanie Johnson
Runner-Up: Liquid Zen, Crew: Michael Wilson and Casey Strickland
Best Yacht in Show – 61' and Over
Winner: Seaclusion, Crew: Ricky Moss, Jessica Muller, Jacob Telford, and Lyndsay Vos
Runner-Up: Aeolus, Crew: Mayon Hight, Elizabeth Bork and Sam Middeke
Best Crew in Show
Winner: Robbie Sargeant, Sofia Ribeiromand Dean Cumberbach, Boat: C'est La Vie
Runner-Up: Austen Anderson and Philomena Anderson, Boat: Vicarious
Honorable Mention: Casey Laaro and Angela Wilt, Boat: Pelican
Cocktail Mixologist Competition – Grey Goose Vodka – 2022
Winner: Maya Walsh, Nae Kae
Cocktail Mixologist Competition Captain Morgan Rum – 2022
Winner: Ryan Querry, Justified Horizons
Culinary Competition – 2022
1st Place: Chef Neen Reynolds, Ocean Vibes
2nd Place: Chef Renata Himiona, Libra
3rd Place: Chef Cara Whiteman, Koru