Have you ever walked the trail from the Chocolate Hole East Road to Hart Bay?
Up until now, it's been one of those secret little places on St. John, known only to a few who live beyond the boundaries of Chocolate Hole.
This short but delightful trail, which passes through near pristine areas of dry forest, past wetlands and a lagoon bordered by mangroves, to the rocky shoreline of Hart Bay, is about to make its public debut.
The Estate Chocolate Hole Landowners Association (ECHLA) is preparing to welcome the public by installing interpretive signage while ensuring the preservation of valuable natural features for future generations.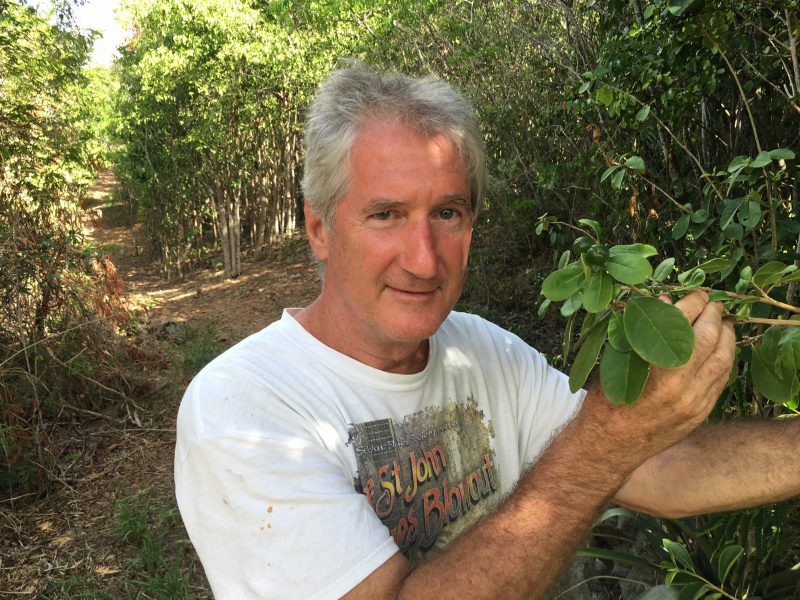 Dr. Gary Ray, an expert in native species and the vice president of the St. John Land Conservancy, can take barely 10 steps down the trail before grabbing a branch of what appears to be an ordinary shrub and exclaiming, "Do you see this? It's a thornless acacia called Amarat, or Senegalia. When you see this as a dominant species, it indicates that you are in a site never cultivated."
[adrotate group="6"]
Ray spots some Yellow Dancing Lady orchids and further down the trail a Bertero's barbasco, or Bois Bande tree, that might well be 500 years old.
"With 650 native species, St. John has an ungodly rich flora for an island of 20 square miles," said Ray. "There are about a dozen distinct plant communities in tropical dry forest — some on rocks, some on hills, and some near the beach. This trail passes through shrub land and mangrove communities."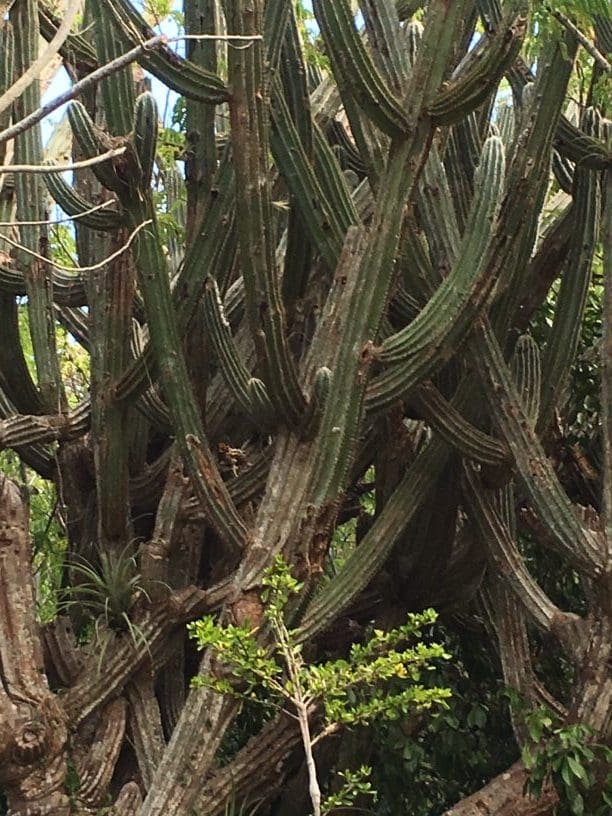 "Each one has wonderful features and needs to be appreciated," he said. The narrow trail, which is about a quarter mile in length, has been designated a foot track since the mid 1980's and is owned in common by members of ECHLA. The trail leads to a 2.5 acre beach park on Hart Bay that is also owned by the association.
ECHLA hopes to work with other community members in identifying and appreciating the natural resources in the area and enhance public awareness of this little-known natural area just a short distance from Cruz Bay.
"There is so much pressure to develop lots, flip them, and make money," said Kevyn Salsburg, president of ECHLA.
At least one undeveloped lot that borders the trail has been cleared, and Salsburg worries that some owners who have adjacent lots might be tempted to build too close to the trail and destroy rare plant communities.
Conserving the trail is critical to keeping the plant communities healthy. As Ray walks the trails, he cautions his companions to stay on the well-worn path.
"The crust of the soil contains free-living, nitrogen–fixing organisms," said Ray. "When we humans walk, or wild animals humans introduced, such as goats, donkeys, or deer, we crush the crust which is then blown by the wind and washed away by the rains."
The soil supports the plants which in turn provide habitats for a variety of native species, explained Ray.
"Just about every dove and pigeon can find shelter from thorn-shy predators in that Royen Tree Cactus," he said. " The bromeliads — air plants — hold on to water and become homes to the tree frogs."
The Hart Bay Trail entrance is located on the Chocolate Hole East Road, just before the turnoff to Iguana Road (opposite the Pond Bay Club development.) The public is welcome to enjoy the trail and the 2.5 acres of the Hart Bay beach park preserve.