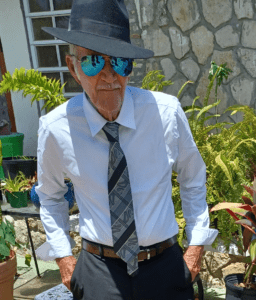 The family of the late Christian Lindqvist is saddened to announce his passing on Friday, May 6.  He was 86 years old.
He was preceded in death by his mother, Anna Chardon; father, Cyril A. Lindqvist; and son, Christian Lindqvist Jr.
Christian Lindqvist was born on St. Croix on July 24,1935 and attended local Catholic schools.
He worked on St. Croix in various trades doing surveying, masonry, general construction and building his own stone house while maintaining a farm with chickens, sheep, goats and many pets.
When he was young, Christian enjoyed hunting and driving motorcycles. He enjoyed partying, especially on birthdays and Christmas holidays.
Christian is survived by his companion, J. Magras; daughter, Janytsie Saldana; son-in-law, Benjamin Saldana; sisters: Jacqueline Caldwell and Clara Checkley; special friend, Michael Carmichael; grandchildren: Jewels Lindqvist, Brandon Lindqvist and Saul Saldana; nephew, Edgar Eberhardt Jr. and spouse, Analiz Eberhardt; special niece, Debbie Lindqvist; the Berry family (St. Thomas) and the Hartman family (St. Thomas); as well as many nieces and nephews, other relatives and friends too numerous to mention.
Visitation services are provided by Schuster's Crematorium LLC, 139 Castle Coakley, Suite 5, Christiansted, St. Croix, U.S. Virgin Islands from 10-11 a.m., Wednesday, May 25.
The family request that everyone wears a mask or face covering due to COVID-19 as required.
Cremation services are entrusted to Schuster's Crematorium LLC.