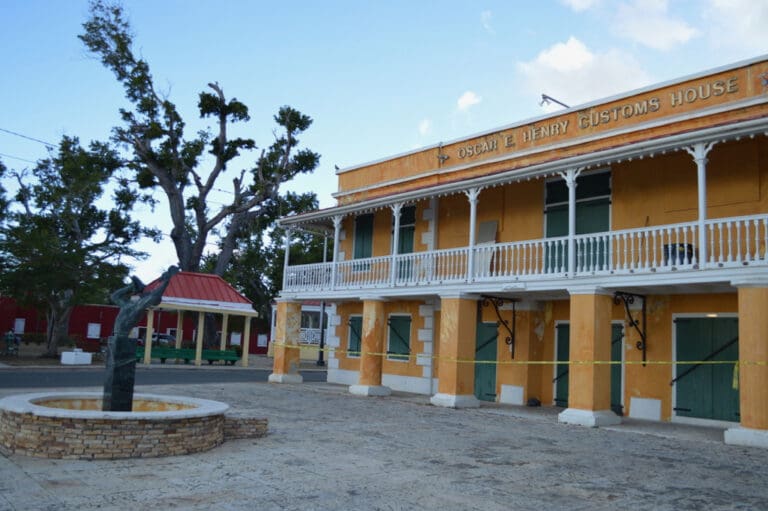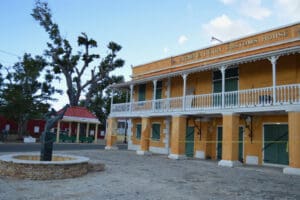 Christiansted National Historic Site in partnership with the Historic Preservation Training Center (HPTC) is repairing the masonry staircase at the Danish Customs House on St. Croix. The work will consist of multiple processes:
Removal of biological growth, vegetation, and cleaning of the staircase
Assessment and evaluation of the mortar and historic brick.
Raking and repointing of the brick stairs and mortar joints
All historic materials will remain intact to the best extent possible. Salvageable materials will be collected and kept by the National Park Service (NPS) for future historic repair projects.
The project will repair and repoint the masonry staircase to increase stability, ensure safe walking surfaces, prolong and protect the historic staircase from further degradation, and reduce impacts of micro-soils and biological deterioration of brick-and-mortar joints.
The work began on Oct. 24 and is scheduled to be completed by Nov. 19. Access to the second level of the Danish Customs House will be provided through the rear entry door for appointments scheduled in advance.
This project is part of ongoing efforts by the NPS to preserve, restore and rehabilitate the park's infrastructure and facilities. Supported by the Great American Outdoors Act (GAOA) and the Legacy Restoration Fund (LRF), which authorizes up to $1.3 billion per year, from Fiscal Year 2021 through Fiscal Year 2025, for crucial investments in national parks and other public lands to ensure their preservation and provide opportunities for recreation, education and enjoyment.
Contact: Park Superintendent Angelita Alvino at 773-1460 or Angie_Alvino@nps.gov for current and future visitors. Approximately $14 million from the fund is supporting geographically based Historic Preservation Training Center Maintenance Action Teams projects in 59 national parks, including Christiansted National Historic Site.