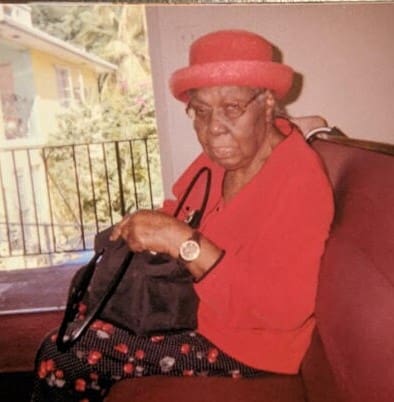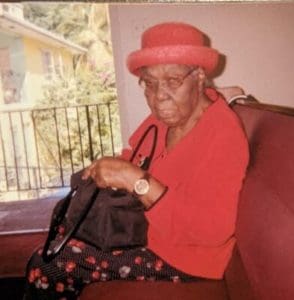 Christabelle Hermina Tonge Leonard died on Aug. 12 at the age of 97.
She was preceded in death by her parents: John and Henrietta Tonge; husband, Richard Leonard; brothers: John Sheridan, William and Emanuel Tonge; sisters: Ineta Tonge Jarvis, Suzannah Knight Tonge, Pauline Elenora Tonge Prince, Iola Tonge Pigott and  Janeann Tonge; nieces: Martha Adams and Cynthia Williams; nephews: Jim, Keith, Charles and Griffith Sheridan, John Tonge and James Adams; brothers-in-law: Walter Prince and Hercules Jarvis; great nephews: Harim Prince and Cuthbert Anthony and Mackie Anthony; grandson-in-law, Everette Cranberry; and uncles: Enoch and Romic Appleton Christobelle.
She is survived by sons: Eddie Williams (Antigua) Omega and Reginald Williams (St. Thomas); daughter, Carmelita Jarvis Wiltshire (Calif.); sister, Mayna Tonge (USA); brother, Alexander (aka Alex) Manta Tonge (wife Rosemarie); 23 grandchildren: including Jacqueline Cranberry (special granddaughter), Albert Williams (special grandson), Jamie Lewis, Jamie Williams, Laverne, Sandra, Michelle and Jasmine Williams; Randolph Jr., Rudolph, Camie, Renee, Candida, Romar, Cherise, and Chelsea and Citra Wiltshire; many great-grandchildren too numerous to mention; son-in-law, Randolph Wiltshire; nieces: Margarette Hastings, Albertine Francis, Roselyn Sheridan  Ailsteen, Cora and Ferrence Tonge, Alicia Prince Tyson, Elizabeth Stevens, Camelita Rawlins, Avenelle Tonge, Sandra Tonge, Agatha Adams Burnette, Marianne Tonge Williams, lao Louis McKay and family; nephews: Roy Sheridan, Myre L "aka" Super T Tonge, Jamie "aka" Dowla, Lloyd "aka" Whaler, Myron  and Tyrone "aka" Poupe Prince and Alexander "aka" Alex Tonge Jr.; great nieces and nephews: Janice Drew, Pastor Keith Miller, Jacqueline, Allevare and Suzette Francis, Dianne, Jennifer and Gifford Stevens, Anthony Lee, Carl and Carla Smuel, Syanno Venzen, Pauline Tonge, Jeliah Tonge Phipps, Kenya Tonge, Owen Prince Asha, Shaney and Shamal Rawlins, Neysa Tonge, Shameed, Shuntal, Kasim, Keyan and Karim Roberts, Jakoid, Saihinley Fishelle and Maechan  Tonge and Nestra Sheridan; cousins: Livingston Appleton, Petrunella Anthony and John Boy; sister- in-law, Rosemarie Tonge; special friends: Sister Bridgewater and Sister Ralph and the Wesleyan Holiness Church congregation. She was also related to the Tonge, Appleton, Ambrose, Bachelor, Pryce and Carlise families in Antigua, U.K. USA and the Virgin Islands. Christobelle also left to mourn many other relatives and friends too numerous to mention.
Relatives and friends are respectfully invited to attend a funeral service on Friday, Sept. 10, at Wesleyan Holiness Church (Contant). The viewing will begin at 9 a.m. with service immediately following at 10 a.m. Interment will be at Western Cemetery No. 2.
Arrangements are under the care of Dan Hurley Home for Funerals and Cremation Center of St. Thomas, St. John and St. Croix.
All Coronavirus (COVID-19) protocols will be observed.
Family and friends may offer their support by sharing a special memory or message by going to www.hurleydavisfuneralhome.com