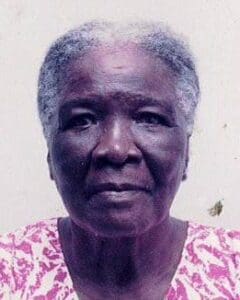 Christobelle Wiltshire, also known as "Miss Baby," died on July 5.
She was preceded in death by her grandchild, Elroy Lewis Jr.; niece, Blondelle; and nephew, Archie.
She is survived by her daughters: Louisa and Gretlyn Jannette Joseph, Valderine Venner and Paulette Lewis; son, Anderson Lewis; grandchildren: Reginald, Janet-Louise and Julie Joseph, Sharon and Devon Benjamin, Tracy Bridges, Isha, Risa, Amanda and Aaron Lewis, Anderson Lewis Jr., Kevin Harris, Valran and Veron Venner; and great-grandchildren: Javern Scotland, Kelvin Wenham, Erik Joseph, Devonte Morales, Julien, Jordan, Justice and Josiah Benjamin.
Other great-grandchildren include Omega Harris, Kymarah and Kiondra Venner, Jason, Damien and Daija Deshormes, Shanelle Byarms-Lewis and Elroy Byarms-Lewis Jr., Kayden and Starlah Lewis, Kiwani and Tahijah Roberts, and Kiara Samuel; nieces: Yvonne Matthew and family, Lois Lewis and family, Daphne, Molly, Roslyn, Avondale, Sonia, Ermine and Arlene Lewis; nephews: Everson and Lesroy Lewis; and cousins: Lois Wiltshire and family, Serene Soanes and family, Stafford Roberts, Grethel Smith, Esther Roberts and family.
She is also survived by close friends: Evadney Christopher, Sister Cyrille, Margaret Southwell and family, Avril Williams and family, Paula Powell and family, Sandra Mannix, Margaret Emmanuel and family, Judita Dupigny, Richie Willock, John Fenton and family, Leroy Huggins, Bernadette Jarvis and family, Sister Gonzague, Brother Lawrence and family, Brother Edwards and family (St. Lucia), Ruby Adams, Karen Daveron, Francillia Harry, Orville Morris and family, Beverly Richards, the Hobson family, New Jacob and Judge Jessica Gallivan.
Other survivors include friends:  The Congregation of Faith and Central SDA Church, Friends of Whim Garden, Mildred Williams and family, Winifred Jonas and family, Legair Family, Faye Williams and family, Mildred Davis and family, Norma Encarnacion and family, Edwin Christopher and family, Vitran Plus Crew, Nurse Kathleen Matthew, Josette Matthew, Islet Joseph, Cecil Smith, Beverly Matthew, Margalyn Samuel and Sister Marjorie Francis; as well as other relatives and friends too numerous to mention.
A viewing will take place at 9 a.m. followed by a funeral service at 10 a.m., Friday, July 29, at Faith Seventh-day Adventist Church. Interment will be at Kingshill Cemetery.