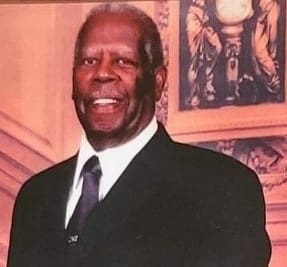 He has fought the good fight; he has finished the course; he has kept the faith. Henceforth, there is laid up for him a crown of righteousness, which the Lord the righteous Judge shall give him on that day.
Clarence Alexis Mitchell Sr. was born on Oct. 7, 1930, to the late Rebecca Braithwaite and Edgar Delano Mitchell on the island of St. Thomas, USVI. He departed this life on Tuesday, March 8.
He was raised by devoted foster parents Isaac and Irene Graham. A devoted husband, father, brother, uncle, brother-in law, grandpa and great grandpa, Clarence was known as "Mitch" to everyone.
Clarence was educated on St. Thomas, V.I., graduating from Charlotte Amalie High School in 1950. Upon graduation from high school, he migrated to New York City with his foster family.
On Aug. 28, 1951, he enlisted in the U.S. Air Force as an aircraft technician on F-86 Fighter Jets. He was stationed in South Korea during the Korean War. He was honorably discharged Aug. 27, 1955.
He was a decorated veteran who received the Korean Service Medal, United Nations Service Medal, the National Defense Service Medal and the Good Conduct Medal.
Upon his return to New York City, Clarence was employed by the New York City Board of Education Bureau of Supplies for 34 years, rising through the ranks to senior storekeeper. He was also employed by the U.S. Post Office part time and as a taxi driver part time. He continued his education by enrolling at Bronx Community College.
In 1956, Clarence met his beloved wife, Evan, who he called "Baby" from the first day he met her through his sister, Jean, her best friend. On Sept. 20, 1958, Clarence and Evan were united in marriage at St. Andrew's Episcopal Church in Harlem, N.Y.
For the next 63 and a half years, they walked hand in hand through life, raising two beautiful children, Jeanine and Clarence Alexis Jr. In 1968, Clarence moved his family into the newly established community of Co-op City, Bronx, N.Y.
Clarence was an excellent father, making time for both his children and never missing one of their after-school activities, special programs or parent teacher meetings. He was an excellent chef, preparing meals for the family and taking care of the household while supporting his wife's pursuit of her college degree. His love for his wife, children, grandchildren and great-grandchildren was immeasurable.
Clarence was the consummate handyman/ mechanic. He could fix anything – carpentry, painting, wall papering, paneling, reflooring – anything in the home, he could fix. He was also very good with cars.
Family vacations were very important to Clarence and Evan and each year they would take their children on trips throughout the city, the country, the Caribbean and Canada. Later, as empty nesters, Clarence and Evan traveled the world. Among the places they visited were England, France, Spain, Italy, Greece, Morocco, Monaco, Istanbul, Israel, Jordan, Egypt, Mexico, South and Central America, and many Caribbean Islands.
Clarence was a man of faith, raised an Episcopalian in the Cathedral Church of All Saints on St. Thomas. After moving to Co-op City, he attended and supported Community Protestant Church with his wife Evan for over 49 years.
His hobbies included coin collecting, photography and solving crossword puzzles. He was also an avid sports fan.
Special thanks and appreciation are given to his sister-in-law, Manulita Lettsome, and brother-in-law, Myron Hodge Sr., for their unfailing support of Evan, chauffeuring her back and forth daily to the hospital and nursing home to visit her beloved Mitch. Thanks also to the staff of Eastchester Rehabilitation and Health Care Center for taking good care of Clarence during his stay there.
Clarence leaves to cherish his memories his loving wife, Evan; devoted children: Jeanine A. Stewart (Vincent Sr.) and Clarence A. Mitchell Jr. (Cherice); granddaughters: De'Joire Mitchell Jackson (Paul); Janesse and Te'a Mitchell; and grandsons: Vincent Stewart Jr. (Dr. Alexis), Bryce Stewart (Diana), Jordan Stewart (Diana), Dylan Hampson and Tyriq Gladney.
He is also survived by great-grandchildren: Teagen Mitchell, Tatum Jackson and Ivy Jean Stewart; sisters: Gwendolyn Schlesinger and Audrey Plaskett; brothers: Calvin Graham, Edgar Mitchell and Hal Mitchell; sisters-in-law: Manulita Lettsome, Enid Lettsome, Ingrid Hiller and Nadia Godfrey; and brothers-in-law: Arnold Lettsome, Dr. Ivan Godfrey, Harvey Lesesne and Myron Hodge.
Other survivors include nieces: Janis Callender, Ula Mae Frett, Tonia Lesesne, Jacqueline Edmonds, Yvette Schlesinger, Renee Graham, Theresa Graham, Deborah Bouyer (Kevin) and Yvonne Hatchett; nephews: Louis Penn (Susan), Wayne Anderson, Scott Benjamin, Kenneth Graham (Monica); Myron Hodge Jr., Raheem Godfrey; Alduse Lettsome Jr.; great grandnieces: Aranya and Kay Edmonds, Dana Tyson and Ellen Alexander; as well as a host of other nieces, nephews, cousins and friends.
The strife is o'er, the battle done
Now is the victor's triumph won;
Now be the song of praise begun:
Alleluia!