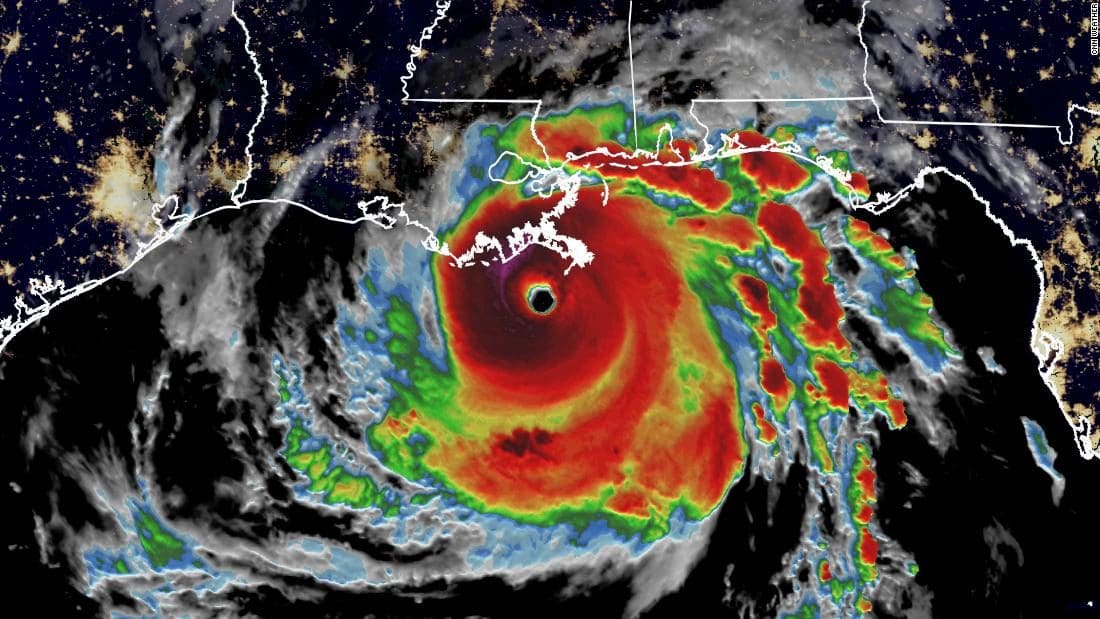 In August, Hurricane Ida struck the central Louisiana coast as a Category 4 hurricane. (Photo courtesy of NOAA)
Closing out the 2021 Atlantic hurricane season, the latest report from Colorado State University's Tropical Meteorology Project confirms above-average activity, with 21 named storms forming – the third most on record – with seven becoming hurricanes and four reaching major hurricane strength.
The final data was in line with the Project's initial predictions, according to a news release.
"The 2021 Atlantic hurricane season was above average, especially when evaluated by named storm frequency. Overall, our seasonal forecasts did an excellent job of predicting an above-average season, with predictions of hurricanes, major hurricanes and accumulated cyclone energy being very close to what actually occurred," said Phil Klotzbach, lead author of the forecast. Accumulated cyclone energy is an integrated metric accounting for the intensity and duration of storms and in 2021 was approximately 120% of the 1991-2020 average.
The report summarizes all tropical cyclone activity in the Atlantic basin during the 2021 hurricane season and compares the team's seasonal and two-week forecasts to what occurred. El Niño conditions were not expected with any of the outlooks and most of the season was characterized by cool neutral ENSO (El Niño/Southern Oscillation) conditions, with La Niña conditions developing later in the season.
Vertical wind shear in the eastern and central tropical Atlantic was generally weaker than normal during August to September, favoring activity in the region. Given the historical relationship between La Niña and vertical wind shear, Caribbean shear was elevated from October to November, leading to a quiet latter part of the Atlantic hurricane season.
The tropical Atlantic and Caribbean were warmer than normal during the hurricane season, according to the report. Warmer-than-normal sea surface temperatures enhance Atlantic hurricane formation through several mechanisms. Warm sea surface temperatures provide more fuel for developing tropical cyclones. They also tend to be associated with lower pressure and a moister atmosphere, which also enhance hurricane activity.
Colorado State's initial forecast for the 2021 season was issued on April 8 and called for above-average activity, with a prediction of 17 named storms, eight hurricanes and four major hurricanes. The CSU team increased its forecast slightly on June 3, calling for 18 named storms, eight hurricanes and four major hurricanes. The July 8 forecast raised the projected numbers and called for 20 named storms, nine hurricanes and four major hurricanes. The numbers were slightly lowered with the Aug. 5 update and called for 18 named storms, eight hurricanes and four major hurricanes.
The team bases its annual forecasts on 70 years of historical data and includes factors such as Atlantic sea surface temperatures and sea level pressures, levels of vertical wind shear (the change in wind direction and speed with height), El Niño (an anomalous warming of waters in the central and eastern tropical Pacific) and other factors.
Other statistics for 2021 contained in the report include:
Four hurricanes (Grace, Henri, Ida and Larry) formed in the Atlantic between Aug.18 and Sept. 2, the first time on record that more than three hurricanes have formed between these two dates;
The Atlantic had no named storm activity between Oct. 3 and Oct. 30, the first time since 2006 that the Atlantic had no named storm activity between these two dates;
Hurricane Elsa was the earliest fifth Atlantic named storm formation on record (named on July 1.) Elsa broke the old earliest fifth Atlantic named storm formation record set by Edouard (on July 6, 2020;)
Hurricane Ida made landfall with maximum sustained winds of 150 miles per hour, tied with the Last Island Hurricane of 1856 and Hurricane Laura in 2020 for strongest winds for a Louisiana hurricane on record; and
Hurricane Sam was a major hurricane for a little more than seven days, tied with Hurricane Edouard in 1996 for the fourth most consecutive days at major hurricane strength in the satellite era.
A brief qualitative outlook for the 2022 hurricane season will be issued on Thursday, Dec. 9, with a first full forecast to be issued in early April 2022.