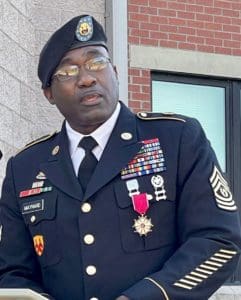 Command Sgt. Maj. Levi C. Maynard, of St. Croix, U.S Virgin Islands, will retire after 35 years of Army service. Maynard will retire in a ceremony at the Army Reserve's 81st Readiness Division (RD) located on Fort Jackson, Columbia, S.C.
"It's been a very fulfilling career to contribute to the Army and the NCO Corp both in uniform and in my civilian capacity for so many years," Maynard said.  "I feel good to know that I have impacted the lives of many soldiers and helped them in their development."
The division hosted a retirement ceremony for Maynard on Nov. 17 in the headquarters. A livestream of the event is available on https://www.facebook.com/81stwildcats/. A logistician by trade, Maynard assumed responsibility from Command Sgt. Maj. Ronald Law three years ago and served the command during its transition to a readiness division.
Maynard has served in a variety of leadership positions from squad leader to command sergeant major. He served as a transportation specialist, a transportation supervisor, a detachment sergeant as well as multiple assignments as command sergeant major for various units. He was deployed multiple times to Kuwait and Afghanistan in support of the Global War on Terror.
Maynard has an MBA in E-Business and Technology from Columbia Southern University. He holds a number of awards and badges to include Legion of Merit, Bronze Star Medal, Meritorious Service Medal, Joint Service Commendation Medal, Army Commendation Medal, Joint Service Achievement Medal, Army Achievement Medal, Afghanistan Campaign Medal (service star), Global War on Terrorism Expeditionary Medal, Global War on Terrorism Service Medal, Korean Defense Service Medal, NATO Non-Article 5 Medal, Army Overseas Service Ribbon, Army Overseas Training Ribbon, Coast Guard Special Operation Service Ribbon, Joint Meritorious Unit Award, Army Meritorious Unit Commendation, Army Superior Unit Award, the Coast Guard Meritorious Unit Commendation and is the recipient of the Ancient Order of Saint Christopher Medal.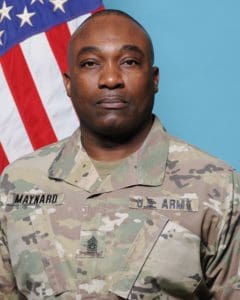 The 81st Readiness Division is the Geographic Command for nine southeastern states, as well as Puerto Rico and the U.S. Virgin Islands and is responsible for ensuring units and soldiers are prepared to deploy and fight multi-domain operations and meet current and future combatant command force requirements.
Established in 1917, the "Wildcat Division" is known for its distinctive patch, the first in the Army. The division fought in WWI and WWII and deployed units to Vietnam, Southwest Asia and the Balkans. Today, the Army Reserve's 81st Readiness Division supports 50,000 soldiers and their families, 48 maintenance shops, and nearly 250 Reserve Centers.