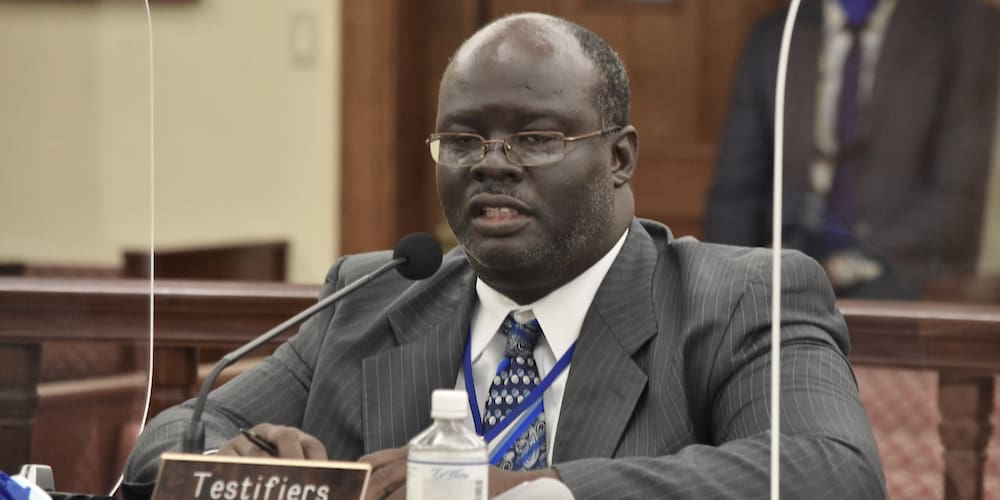 Ths story when initially posted incorrectly said the committee passed the bill when in fact the panel voted to hold it in committee. The Source regrets the error.
A bill to change the way  the V.I. Water and Power Authority charge for electric bills based on estimated consumption was delayed Monday when the Senate Committee on Government Operations and Consumer Protection voted unanimously to hold it in committee.
Non-committee member Sen. Steven Payne Sr., who proposed the bill, said when he inquired about fluctuating bills, WAPA's former chief executive officer and executive director Lawrence Kupfer said it was largely due to bill estimation.
"I was also taken aback when he said the rates were always estimated with an increase and never a decrease," Payne said. "Many of the ratepayers, as well as Virgin Islanders, continue to struggle to pay their WAPA bills. So, when they receive a WAPA bill that is more than double the previous bill, it puts them in a serious financial predicament."
WAPA interim Executive Director Noel Hodge said the authority would need to see if the change could be implemented through its customer information system vendor, which would take at least six months.
Still, Hodge agreed that the authority should bill ratepayers based only on an actual meter reading. Only when that is not possible does the authority estimate consumption. Hodge said overages or an undercharge of consumption would be credited to the ratepayer during the next billing cycle.
"There are times when electronic readings are unavailable and the number of meters to be physically read exceed the number that can be read by meter readers within the prescribed period of time," Hodge said. "Customer meters are read and billed based on a schedule and WAPA strives to bill a customer within five days of the read date. The authority resorts to estimating accounts only when the automated system or meter readers cannot secure actual readings."
Should an estimate be made, Hodge said meter edit clerks use the average of a ratepayer's most recent three readings on file to determine the customer's bill for that billing period.
The authority is estimating bills only because some meters were affected during the 2017 hurricanes, but Public Service Commission Director Donald Cole said after four years the ratepayers have had enough.
"WAPA has spent millions of dollars on an advanced metering system," Cole said. "That system was operating prior to 2017 storms, and WAPA touted the savings in personnel costs from not having to employ more than 20 individuals as meter readers as one of the benefits. We recognize that the system was badly damaged in Irma/Maria, but we are now closing on the four-year anniversary of those storms. It is no longer reasonable for that to be an excuse; power and telecommunications have long been restored."
Cole told the committee the estimated billing is increasing the workload for the commission, which must tend to customer complaints. Estimated bills often are not labeled as such – despite being a requirement mandated by the commission. He added that the authority is prohibited from disconnecting a customer whose bill was estimated and can only do so after the meter is properly read and billed correctly.
Though these safeguards are in place, Payne said "people are still being charged ridiculous rates" and seeing bills jump drastically from one month to the next.
Sens. Carla Joseph, Novelle Francis Jr., Marvin Blyden, Alma Francis Heyliger, Javan James Sr., Franklin Johnson, and Milton Potter were present for the hearing. Additional non-committee members were also present.