Hurricane Irma may have caught St. John sleeping when it struck last year, but community groups are getting ready for whatever may come during the remainder of the hurricane season and beyond.
At Thursday's monthly meeting of the Long Term Recovery Team, community members were told that emergency supplies including food, water, and "other good stuff" have been pre-staged in undisclosed locations near Cruz Bay, Coral Bay, and mid island.
With modular units for the Julius E. Sprauve School now taking up all usable space on the Winston Wells Ball Field, PODS—or points of distribution for emergency supplies—would be set up at the DMV parking lot or the roundabout in Cruz Bay.  A location in Coral Bay will be announced.
In the event of a disaster, community meetings will be held every morning in front of The Landing, a restaurant in Frank Powell Park in Cruz Bay, and not at the National Park Service Visitors Center where daily meetings were held in 2017.
[adrotate group="6"]
Ryan West, foundation administrator of Love City Strong, said his organization started as a grass roots initiative following Hurricane Irma; it is now a non-profit corporation and is working with VITEMA, FEMA, St. John Rescue, and other disaster response groups to extend their efforts from last year.
LCS has a core staff of six to lead Go Teams, who will fan out throughout the island and attempt to reach every household after a disaster.  The Go Teams will conduct door-to-door wellness checks, assess communications needs, and inform residents about public information meetings and locations of resources. Editor's Note: This paragraph was edited to reflect the correct number of staff that LCS employs and how the organization will operate after a potential disaster. 
Last year the Red Cross and other disaster agencies funded free meals twice a day at several St. John restaurants.  This year, agencies have partnered with at least seven restaurants to provide meals in the event of an emergency. "Last year those restaurants took on a huge financial debt, but this year we have food supplies and expenses covered," West said.
Linda Williams, VITEMA's emergency operations center supervisor for St. John, reminded audience members that "VITEMA is a coordinating agency, not a responder," meaning people should not try to call them for assistance during an emergency.  She urged the public to sign up  for Alert VI, which sends out messages by phone, text and email to subscribers. To register click  the link: http://www.vitema.vi.gov/
VITEMA's Irvin Mason Sr., who led many of the emergency operation meetings last year following the storm, said residents should pack three emergency kits, one each for work, home, and a car. Although meteorologists can predict hurricanes,  "You never know when a disaster could happen," he said.
He recommended packing food, water, medication, cash, fresh batteries, and a whistle.  Residents should photograph and then email to themselves important documents, including their passport, driver's license, and even their will.  More detailed instructions are available at  https://www.ready.gov/
VITEMA will be holding training sessions for emergencies including tsunamis and hurricanes during the month of September, Mason said.
Kai Frett,  who now serves as the president of the Rotary Club of St. John, said the Red Cross is seeking volunteers from St. John.  Celia Kalousek, executive director of the St. John Community Foundation, told the audience that they can register for online training courses with the Red Cross to become shelter volunteers and perform other functions.
Meeting-goers were urged to sign up with Roll Call, an initiative of the St. John Angel Network.  Their mission is to collect contact information  for individuals https://rollcall.stjangels.ngo/
The question of shelter locations was raised by audience members during the meeting.  Steve DeBlasio of the Bloomberg Group responded that disaster planners were identifying locations for shelters to accommodate up to 240 individuals.  Parts of the Julius E. Sprauve School, which was heavily damaged during the hurricanes, can still be used to shelter more than a hundred people,  and the Bethany Moravian Church can serve as an annex.
"We're looking at a site in Coral Bay," said DeBlasio, adding that it could be ready "with a minor investment."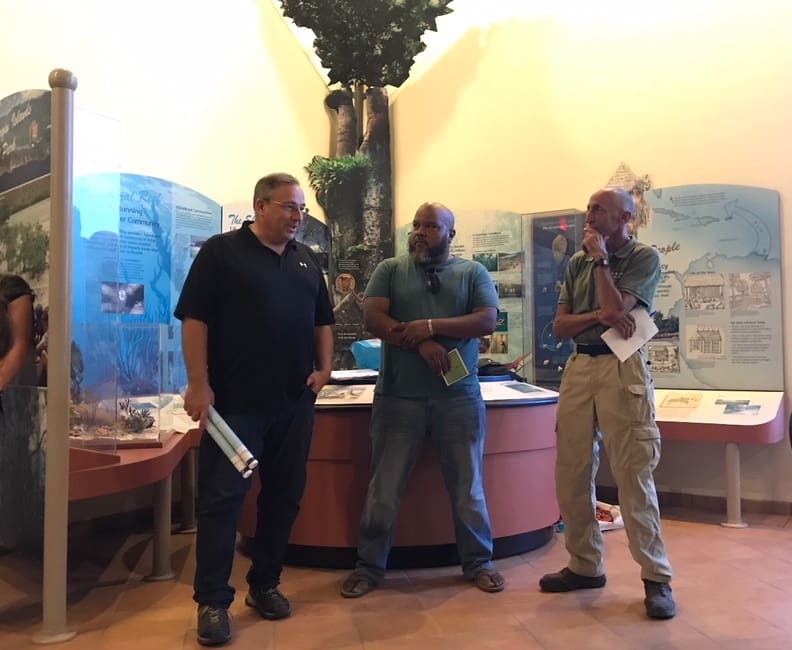 Ian Samuel, who heads up St. John's  Long Term Recovery Team, briefly introduced Ken Rathje, the Federal Disaster Recovery Coordinator for FEMA's Region II.   Rathje said he'd been to many disasters, but being with the team from St. John "felt like family."
The meeting ended with announcements for three community events.
Several community organizations teamed up to provide students with backpacks filled with school supplies and distributed them on Saturday from 2 p.m to 5 p.m. in Frank Powell Park in Cruz Bay.
The Coral Bay Community Council and Get Trashed sponsored a clean-up of the shoreline of Princess Bay in Hurricane Hole on Saturday from 10 a.m. to 12 noon.  Volunteers were asked to bring laundry baskets for hauling out trash and to wear sturdy shoes that can get wet. 
Leona Smith, former island administrator for St. John, said Coral Bay will be holding its annual Labor Day Carnival events including a parade, a car show, and a special ceremony scheduled for noon.  Backpacks with supplies for students in Coral Bay will also be distributed.
Shared content for St. John Tradewinds and Virgin Islands Source.