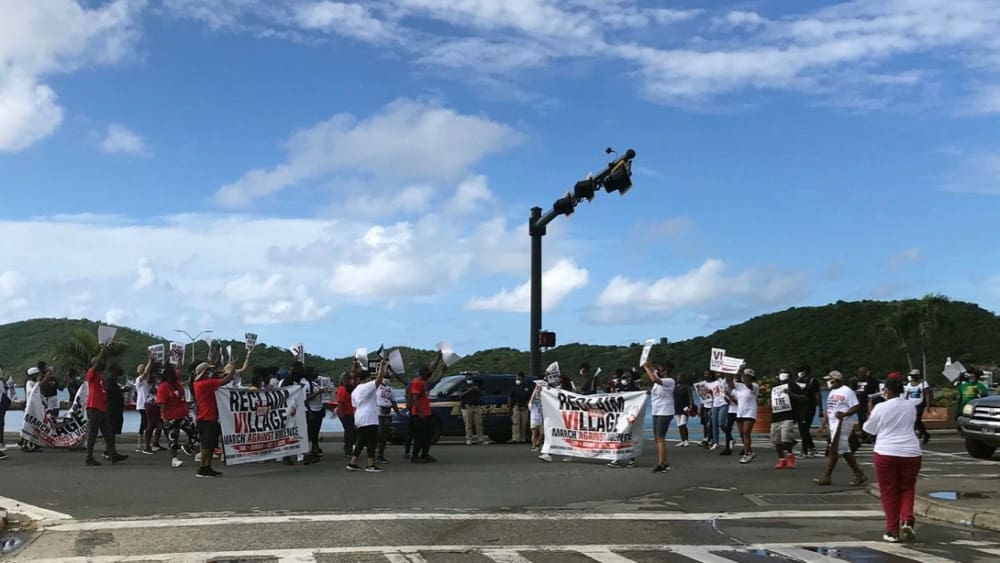 Saturday's "Reclaiming Our Village" march had two starting points, Crown Bay and Tutu Park, and there was a place near the end where both converged, bringing together more than 100 residents who had taken to the streets in a peaceful protest as deadly gunfire resounded across the territory.
They met on the crosswalk leading into Emancipation Garden after walking for more than an hour waving signs, chanting and spreading a message of unity to anyone along the sidewalks or passing alongside in cars who stopped to listen. At that point, the scene was joyful, with music playing and participants expressing a shared desire for the community to come together and do anything they possibly could to stop the killings.
About 12 hours before, on Friday night, 21-year-old Kadiyen Illidge of Sion Hill was killed in crossfire as shots rang out near the corner of King and Market Streets in downtown Frederiksted. Four more were injured during the exchange and later Saturday, another three during a shootout at Coki Point on St. Thomas.
Participating in the march, Sen. Myron Jackson said his 92-year-old mother warned him to be careful before leaving the house after hearing a volley in their Hospital Ground neighborhood, and Jackson, like others in the group, said events like Saturday's march make people realize how desensitized they are to it all.
"My mother shouldn't have to tell me, but it wasn't until after she said it, I realized I had heard something, but it doesn't register to me anymore," Jackson said. "That's dangerous, especially during a time when we are being overtaken. Hospital Ground, for example, had a police presence after the shootings in March, but now you're seeing the groups on the corners again, you're not seeing units outside and pretty soon, you'll be seeing the folding chairs sitting back out. It's dangerous because it's easy to just let things slide back to what they were before."
The goal of the organizers, however, is to not let that happen.
"I'm already receiving messages from people asking when the next event is," said Andrea Hamilton, founder of the Aaron Nicholas Hamilton Ashby Foundation. Like so many who marched on Saturday, Hamilton is a victim of gun violence, and quite recently. On July 9, her 14-year-old son Aaron Ashby was gunned down alongside his cousin Rique Ashby, 29, while the two were working at the shuttered Tutu Hi-Rise housing community. Since Aaron's death, Hamilton has assembled a strong network of friends and family members who, through the work of the foundation, are committed to organizing activities, programs and initiatives meant to unite different pockets of the community in the fight against crime.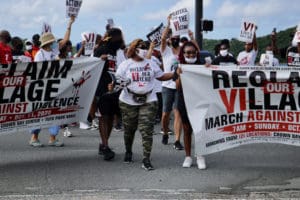 And that doesn't just mean marching. Speaking after Saturday's event, Hamilton said that over the course of the past few months she's noticed several community needs, including a stronger approach to mental health. The next initiative, she added, could just be pairing some of Aaron's class and bandmates with a therapist over Zoom, so they could talk through the grieving process.
"It breaks my heart when I see posts on social media from his friends," she said. "They are missing him, and it's important for us to check in and make sure their mental health is OK. If you don't know how to control your emotions, you tend to lash out in other ways. Even I have those moments when talking to friends, and I'm lucky that mine understand what is going on. If I'm a grown-up and have to make sure to be aware of it, we can't expect children to just know on their own."
It was those pieces of "low hanging fruit," or, things that can be done immediately, that really came out of Saturday's event, with others talking about empowering neighborhood or community watch organizations or bringing together local nonprofits to divvy up some of the services they offer so there's no duplication.
"Most immediately, there is a trust that needs to be fostered between the police and the community, and I think that's where the neighborhood groups can come in," Sen. Dwayne DeGraff, a former St. Thomas-St. John police chief, said while marching. "If you get with them, they can provide that connection, and so can the schools. We have to pay more attention to those transition years that are critical and introducing things like conflict management that teaches when someone does you wrong, you don't have to kill them. But the community has to buy-in."
So does the government, according to Public Services Commission Executive Director Donald Cole.
"Once a crime is committed, something has to happen," he said. "For years, you hear nothing, nothing is solved and then everything gets put on the back burner. We have to be able to continue to bring attention and awareness to what is happening in our community and let the 'powers that be' know this is all unnecessary. Something has to be done, and it can be done, they just have to speak it to power."