You can learn how to make your own compost at home using vegetable waste, coffee grounds, and wood chips at a free November 6 workshop at the Gifft Hill Upper School 2-4pm. (Call 693-1080 or 715-9145 if you are interested).
I learned about the workshop last week when Dr. Dave Minner from the Gifft Hill Upper School showed me all the pumpkins, tomatoes, peppers, carrots, radishes, cucumbers, lettuce, eggplants, collards, Barbados cherries, star fruit, papayas, and so much more, growing in the expanded garden area right behind the school.
I had heard that the school is now selling fresh produce from its garden on Wednesdays from 3:15 to 4:00pm, as part of its EARTH Program (Education And Resiliency Through Horticulture), and I was there to see what they had to offer. I had heard a rumor about fresh tomatoes and had to check it out. But first I got a tour of the growing area.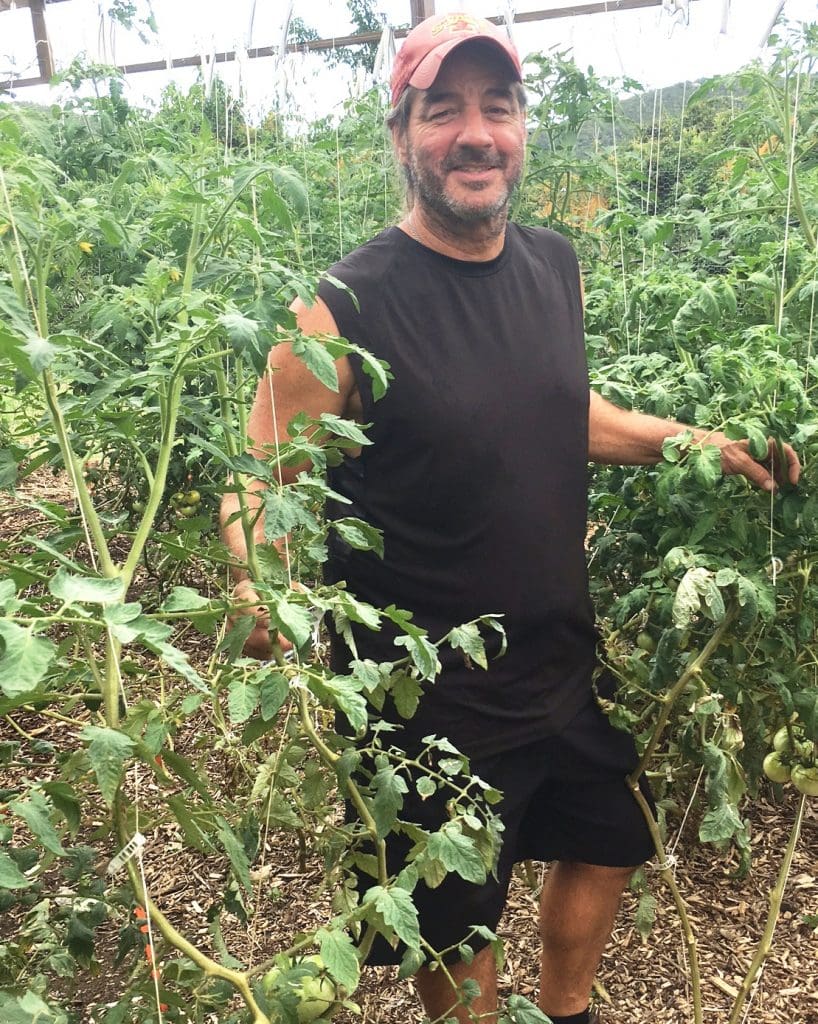 I was envious of an enclosure made of chicken wire that protects the plants from raids by hungry deer, pearly-eyed thrashers and iguanas. Dr. Minner, who is the coordinator of the EARTH program, showed me tomato plants inside supported by ropes coming down from the top of the enclosure, heavy with green fruit. There were also pumpkin plants scrambling up and over the top.
Within the enclosure, the ground has been leveled and the soil sifted to remove all the rocks and sticks. What keeps it productive, though, is the addition of organic compost made onsite in piles that combine food waste from the Westin restaurants with wood chips from road trimming operations.
Inside the compost piles, microbes work to break down the wastes into a material that is rich in nitrogen from the vegetable and fruit trimmings, plus carbon from the wood chips. The microbes need just the right amount of air and water, so the piles need to be turned and fluffed and properly tended. Regularly mixing the finished compost material with the local soil provides an ongoing nutritious base for new plants to grow in.
If your plants at home need some nourishment – and you want to do something useful with your organic garbage rather than throwing it in the dumpster – sign up for the free workshop on Sunday November 6 at the Gifft Hill School Upper Campus from 2-4pm organized by the V.I. Waste Management Authority and the UVI Cooperative Extension Service.
I bought some tomatoes at the Farm to Table stand and they were delicious, especially when combined with a creamy spinach, kale and vegetable dip prepared under the direction of Gifft Hill School teacher Lori Dudkin.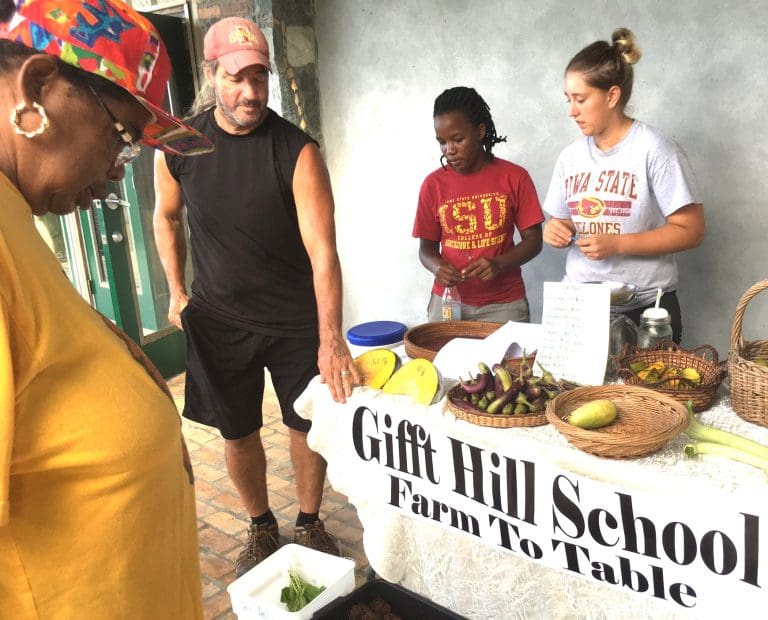 In the picture above Dr. Minner and EARTH program interns Lillian Nabwiire from Uganda and Nicole Bowden from the Iowa State University Horticulture Department discuss recipes with a St. John customer at the school's new produce table – open on Wednesday afternoons at 3:15 to 4pm.
[hr gap="2″]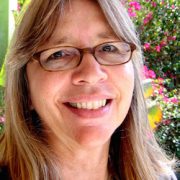 Gail Karlsson is an environmental lawyer and author of The Wild Life in an Island House, plus a new guide book Learning About Trees and Plants – A Project of the Unitarian Universalist Fellowship of St. John. gkarlsson@att.net