Many people are mourning the loss of the iconic, frequently-photographed coconut palms along the north shore beaches. And some are questioning the National Park Service decision not to replant the coconuts because they are not native to the Virgin Islands.
Though I am sad too for all that has been lost, I also see this as an opportunity to look more closely at trees that actually are native and show them some love as well. They are valuable to local wildlife, and photogenic too – and their survival could be threatened by pests and diseases that come to the island with imported palms.
For example, native seagrape trees have grown along most of the beaches and can take on interesting shapes. They have distinctive large thick leaves and produce edible fruit.
Wild frangipani trees also grow in interesting shapes and have beautiful fragrant white flowers. They have a special relationship with local moths.
[adrotate group="6"]
Native tyre palms are most dramatic when seen standing tall at high elevations, but they can also be found at lower levels, including close to beaches. They are fast-growing and robust.
Red mangroves create forests of intertwined roots along the shorelines, and provide new land and nurseries for all sorts of marine life when they edge out into the water.
A pipe organ cactus can look impressive growing along the shoreline, while also providing food and shelter for birds.
Water mampoos are large trees that grow near the shoreline. They sometimes have multiple thick trunks growing out of their base. They look pale and somewhat elephantine.
Slightly back from the shoreline, white cedars are hardy native trees that are shapely and have lovely flowers.
There are many more types of trees to appreciate on St. John.
Over the last couple of years the Unitarian Universalist Fellowship of St. John has been engaged in a project of observing and appreciating the native trees, and produced a local guidebook 'Learning About Trees and Plants'.  Sadly, some of the trees in Cruz Bay that were highlighted in the book have been damaged or destroyed. But many others remain and will grow back.
I am looking forward to celebrating their resilience and recovery, along with the rest of St. John life.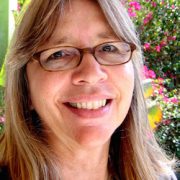 Photos by Gail Karlsson except as indicated. Gail is an environmental lawyer, and author of The Wild Life in an Island House, plus the guide book Learning About Trees and Plants – A Project of the Unitarian Universalist Fellowship of St. John. uufstjohn.com/treeproject.  For more articles and local information, go to gvkarlsson.blogspot.com or www.fishbaywetlands.com.  Contact: gkarlsson@att.net