Phyllis Benton's January 15 report to the VI Audubon Society on the results of St. John's annual Christmas bird count showed higher numbers for many birds compared to last year. There are plenty of pelicans, egrets, pearly-eyed thrashers, and ruddy ducks.
However, there are fewer hummingbirds, scaly-naped pigeons, anis, mangrove cuckoos and other birds that eat fruits, nectar, and seeds.
Phyllis made a remarkable effort to organize a bird count in December 2017, despite many storm-related obstacles and managed to pull together a team of 26 counters, who observed about 700 birds. For 2018, there were 35 counters on St. John, and 1100 birds reported.
Fish-eating birds like pelicans had better opportunities to find food after the storms, and could also move to places with better conditions. Some have come back. Only 23 brown pelicans were observed in December 2017, but 128 were reported in the latest count, more than have been seen for several years.
Sightings of snowy egrets (black bills and yellow feet) and great egrets (yellow bills and black feet) have also increased over recent historical levels.
However, some of the brown boobies seem to have gone elsewhere and stayed away. There were 12 in the latest count, only slightly more than the 4 counted after the storms, way down from 59 the year before the storms.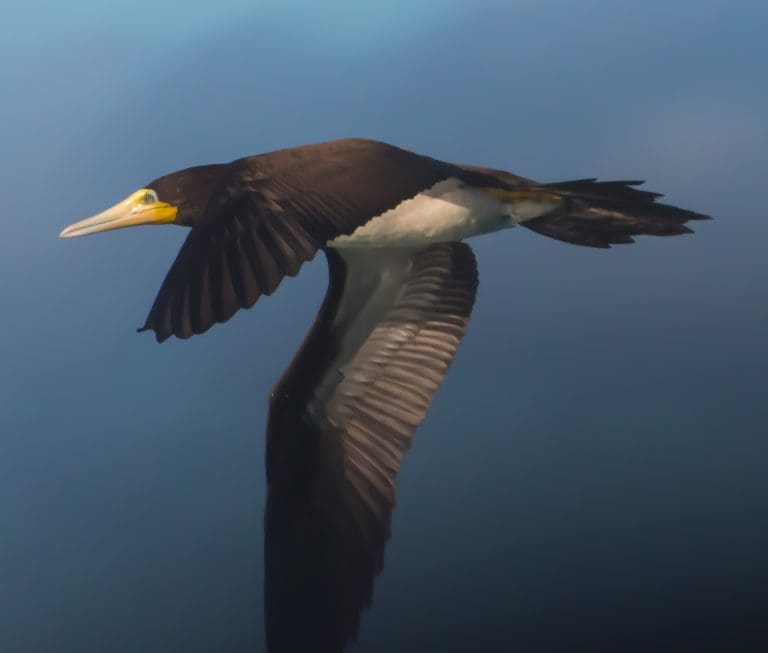 Pearly-eyed thrashers are aggressive omnivores, feeding on insects, frogs, small crabs, and other birds' babies, as well as fruits and berries. They are among the most commonly seen birds on St. John and have managed to find enough food sources to remain dominant, though their numbers still are well below historical highs.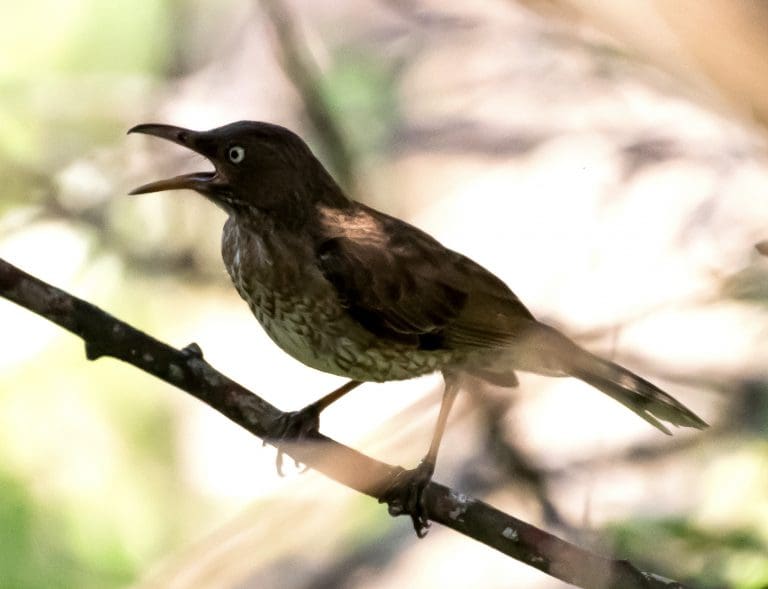 The large black smooth-billed anis have diets that are similar to the thrashers, but have not fared as well. Only 14 were reported in 2018, compared to 24 right after the storms, and 35 the year before.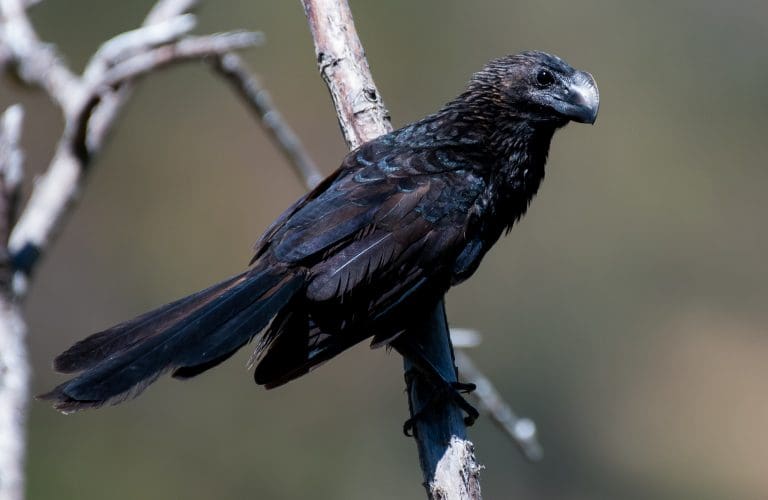 The small Antillean crested hummingbirds seem to be at risk of disappearing. There were 2 reported after the storms, and only 5 a year later, compared to an average of about 25 in prior years. Many probably got blown away or starved due to the loss of vegetation. They mostly feed on nectar from flowering trees and vines, which was no longer available, though they sometimes will eat small bugs.
Green-throated carib hummingbirds seem threatened as well. Only 12 were reported – the same number as after the storms.
Even fewer of the native yellow warblers were seen – only 3, down from 5 the year before.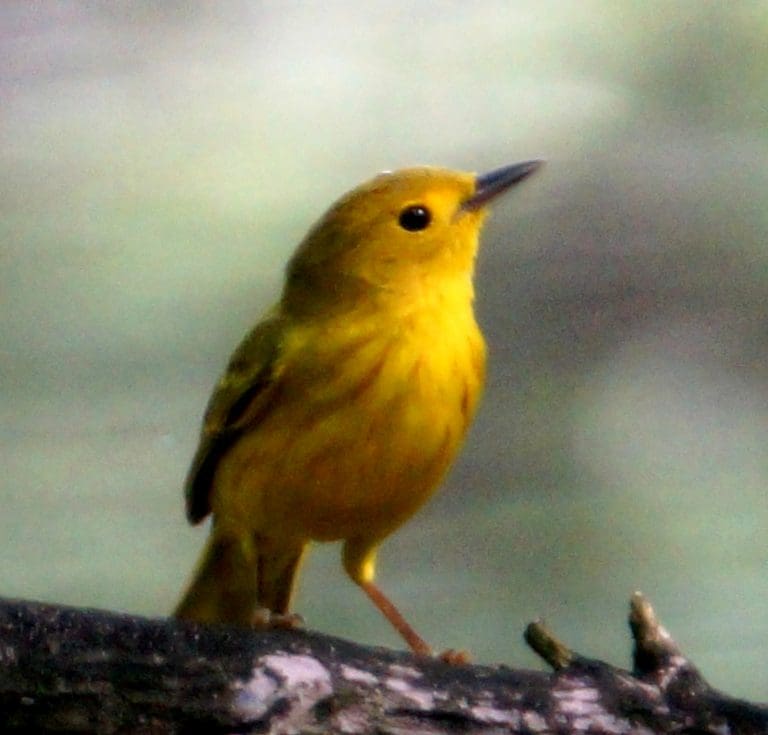 The larger bridled quail doves are very scarce, so I was excited to spot one in January along the L'Esperance trail. They mainly eat fruits, flowers, and seeds, and did not have a big population, to begin with.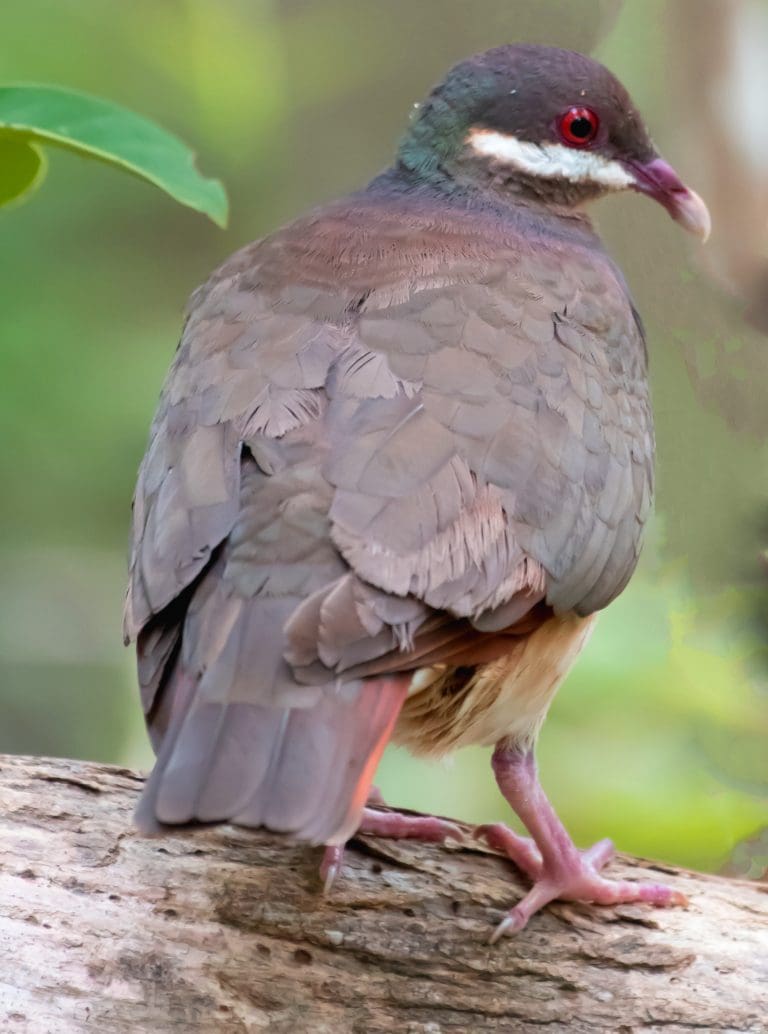 Mangrove cuckoos are also very scarce. Though they like fruits and berries, they also eat insects and lizards. They may have suffered losses due to widespread damage in the mangrove areas.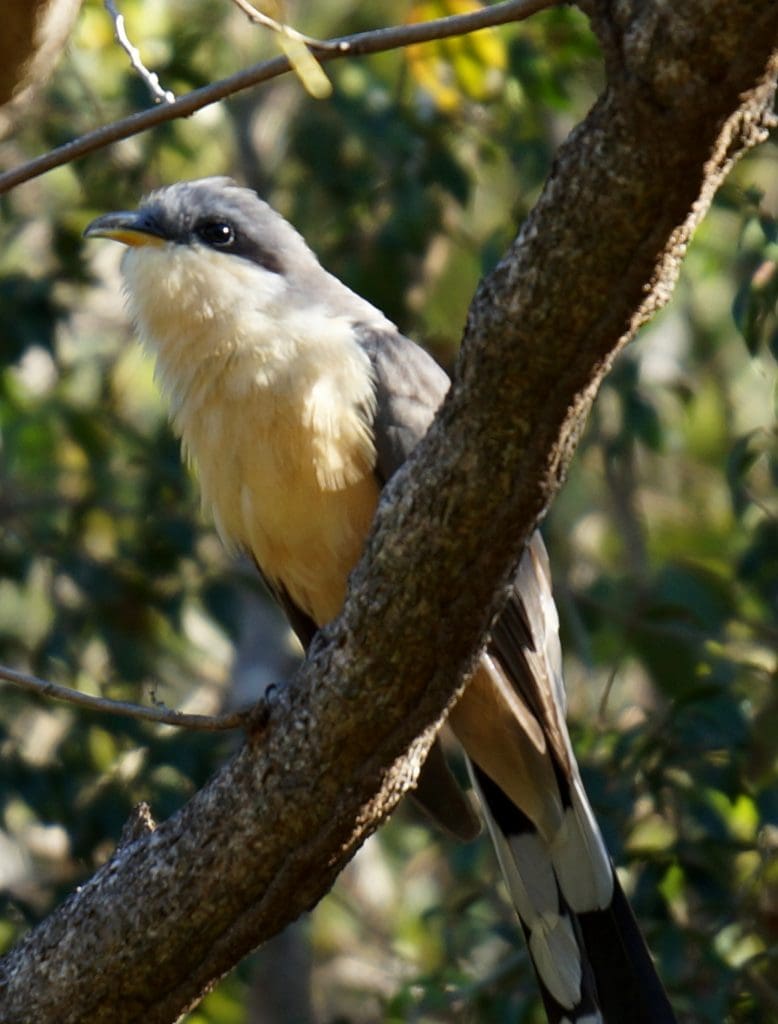 Bananaquit numbers are down by more than half from prior years but increased from 98 to 127 between December 2017 and 2018. They probably have been helped by the efforts of St. John people to put out sugar for them.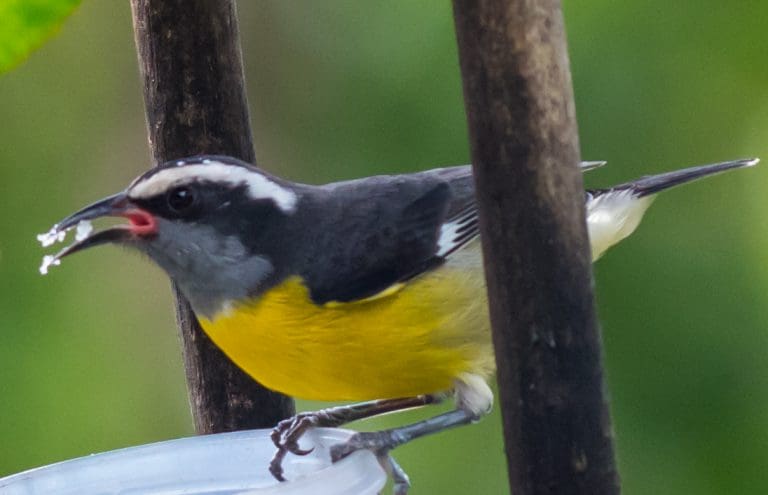 Meanwhile, some new species have turned up: a tricolored heron, a couple of royal terns, and a troop of brown-throated parakeets (St. Thomas conures) near Mongoose Junction that probably came over from St. Thomas. People have also observed the Adelaide's warblers that moved to Lameshur Bay from St. Thomas, so those recent newcomers have not been lost.
At the January meeting, the VI Audubon Society also heard a report from Robert Askins, a researcher from Connecticut College, who came to St. John with his colleague David Ewert from Michigan to do an updated field survey of warblers. They had previously studied warblers here starting in 1987 and found a variety of species wintering on St. John, including northern perulas, black and white warblers, redstarts, hooded warblers, and prairie warblers.
In 1991 they published a report on the 'Impact of Hurricane Hugo on Bird Populations on St. John, U.S. Virgin Island'. Although Hugo did not hit St. John nearly as hard as Irma and Maria,  the scaly-naped pigeons, bananaquits, hummingbirds and other fruit and nectar dependent birds were significantly affected. By 1997, though, their numbers were mostly back up.
Many local birds (and trees and plants) have evolved with hurricanes and are relatively resilient. However, a significant loss of native trees and habitat can affect their ability to recover. Those with small populations, to begin with, are most at risk.
For some good news – recently there have started to be baby birds around. At Frank Bay, for example, Elaine Estern was watching 12 white-cheeked pintail ducklings, and three baby common moorhens (gallinules). Hope for the future.
---
Photos by Gail Karlsson. Gail is an environmental lawyer, and author of The Wild Life in an Island House, plus the guide book Learning About Trees and Plants – A Project of the Unitarian Universalist Fellowship of St. John. uufstjohn.com/treeproject.  For more articles and local information, go to gvkarlsson.blogspot.com or www.fishbaywetlands.com.  Contact: gkarlsson@att.net Instagram:@gailkarlsson