While some people are hanging glittering ornaments on pine and fir trees shipped down from the north country, the trees growing here are displaying their own holiday delights.
The local guavaberries near me are just getting ripe. They are used to prepare traditional West Indian treats for Christmas celebrations – including tarts, jam, wine. Also popular rum drinks flavored with mashed up guavaberries, spices and sugar.
Carolers used to travel from house to house spreading holiday cheer and singing the Guavaberry Song: "Good morning, good morning, I've come for my guavaberry. Good morning, good morning, to you and all your family."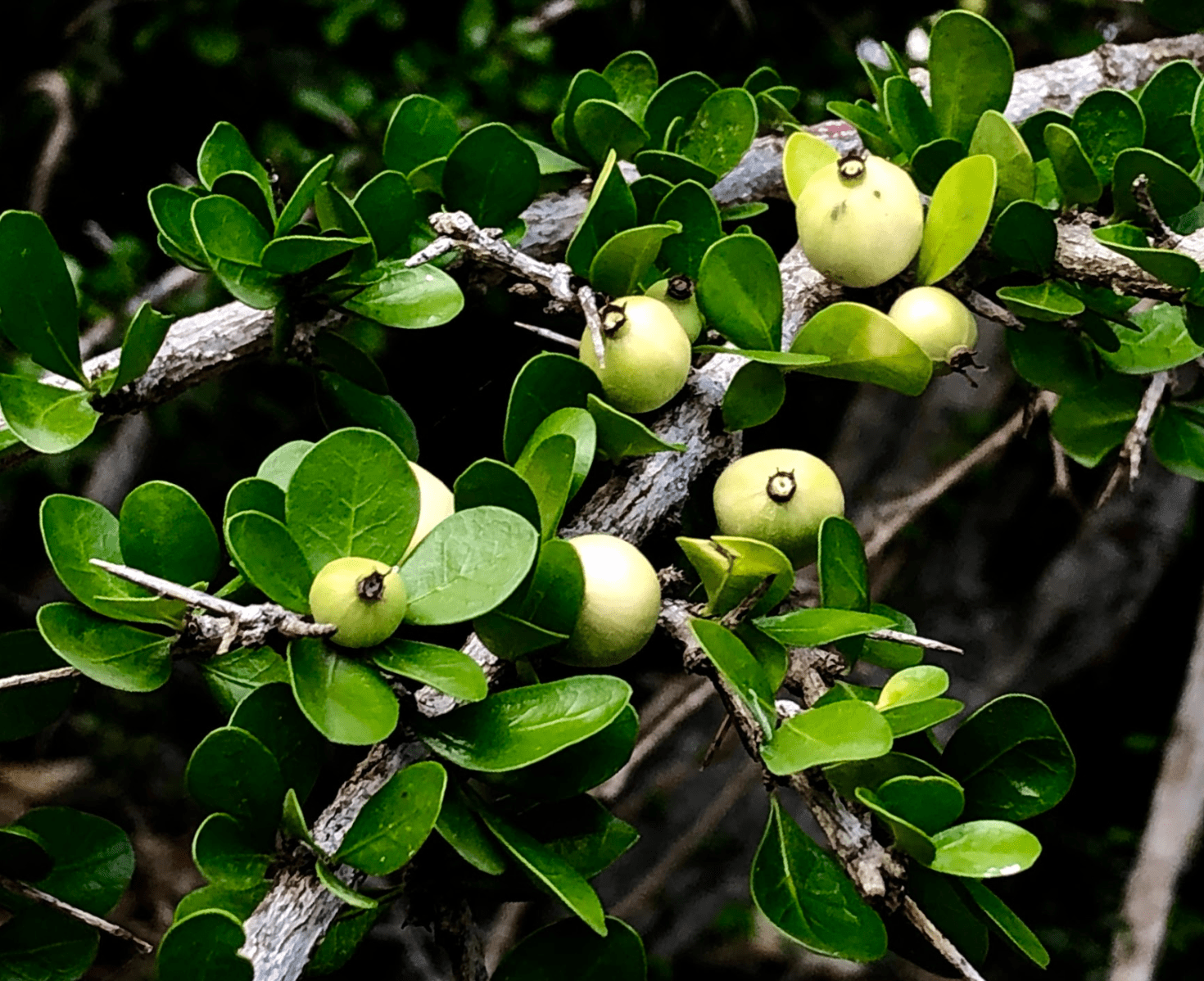 The inkberry tree is also associated with traditional holiday celebrations because it was used locally as a Christmas tree. It is a small forest tree, drought and salt tolerant, with a straight trunk and spiny horizontal branches. Its thorns helped hold on candles and other decorations. The berries are white when ripe but can be used to make a purple ink, hence its name. The thin branches were also sometimes used as fishing poles (with the thorns stripped off).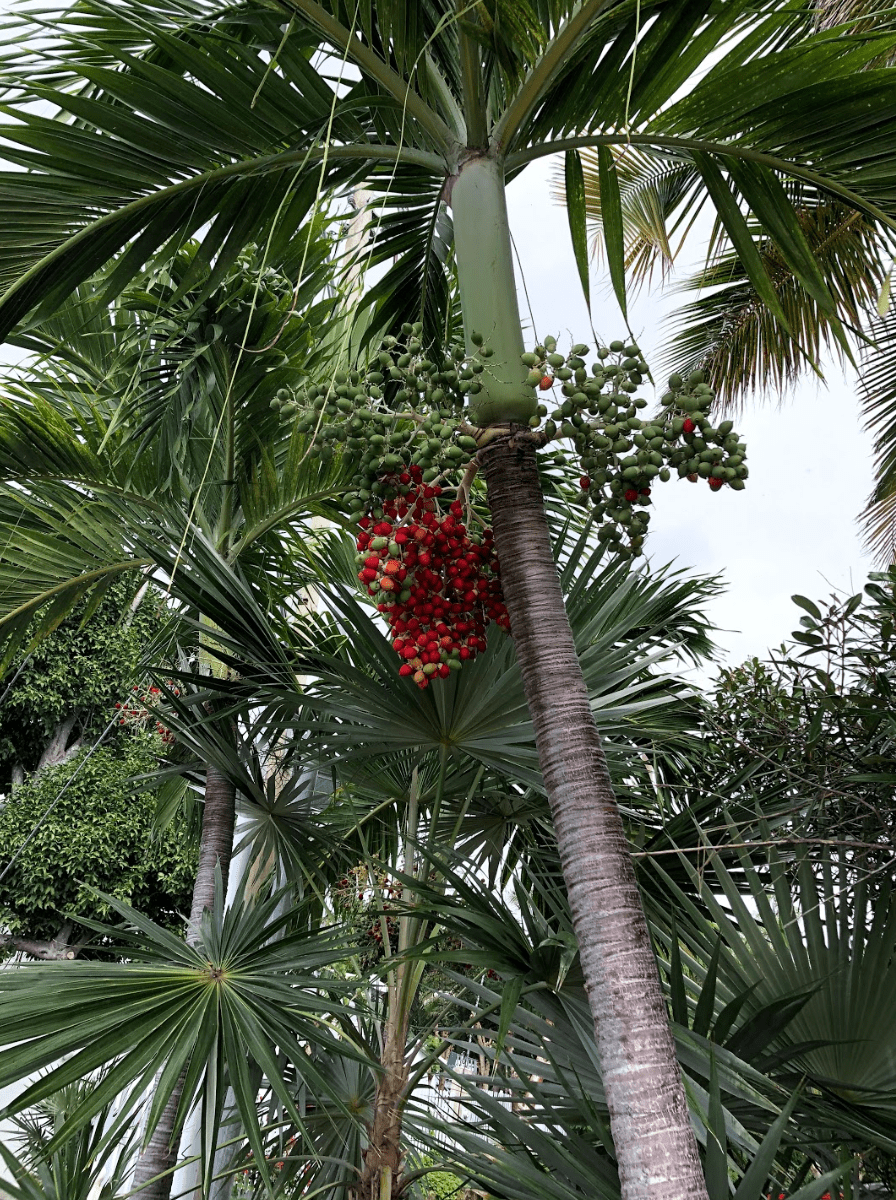 The Christmas palm is not native to the Virgin Islands. It is originally from the Philippines, but has been planted around St. John because of its attractive red fruits. They do look a lot like Christmas ornaments, and many are fully ripe now.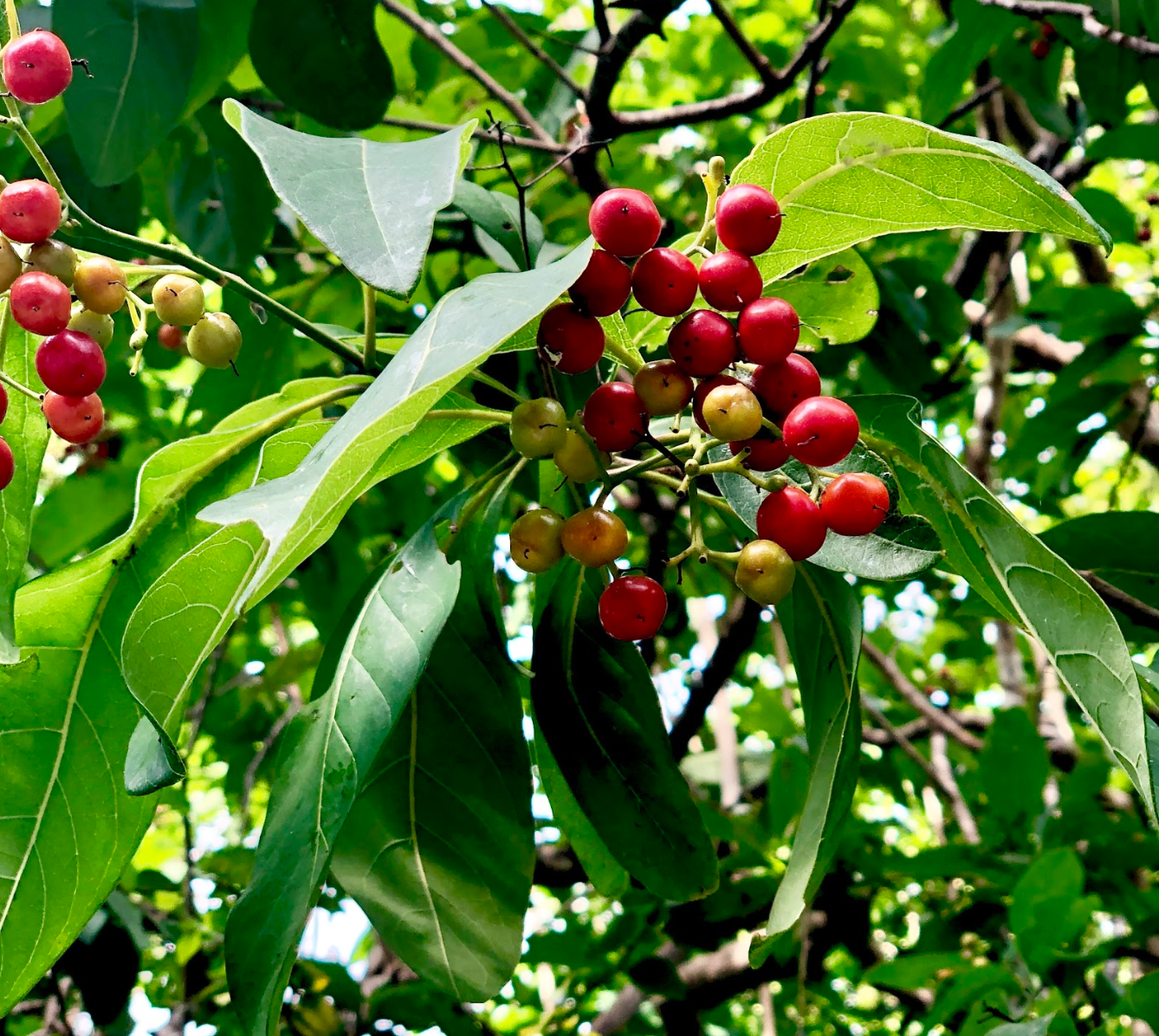 The pigeon berry is a smallish native tree with beautiful flowers and fruit. I have been seeing their ripe red berries all along the roadsides, and also spotted a few at Hawksnest beach. The berries are not tasty for people to eat, but the birds do like them. Last year the berry-eating birds were going hungry due to the storms, so it is good to see so many of these trees producing fruit.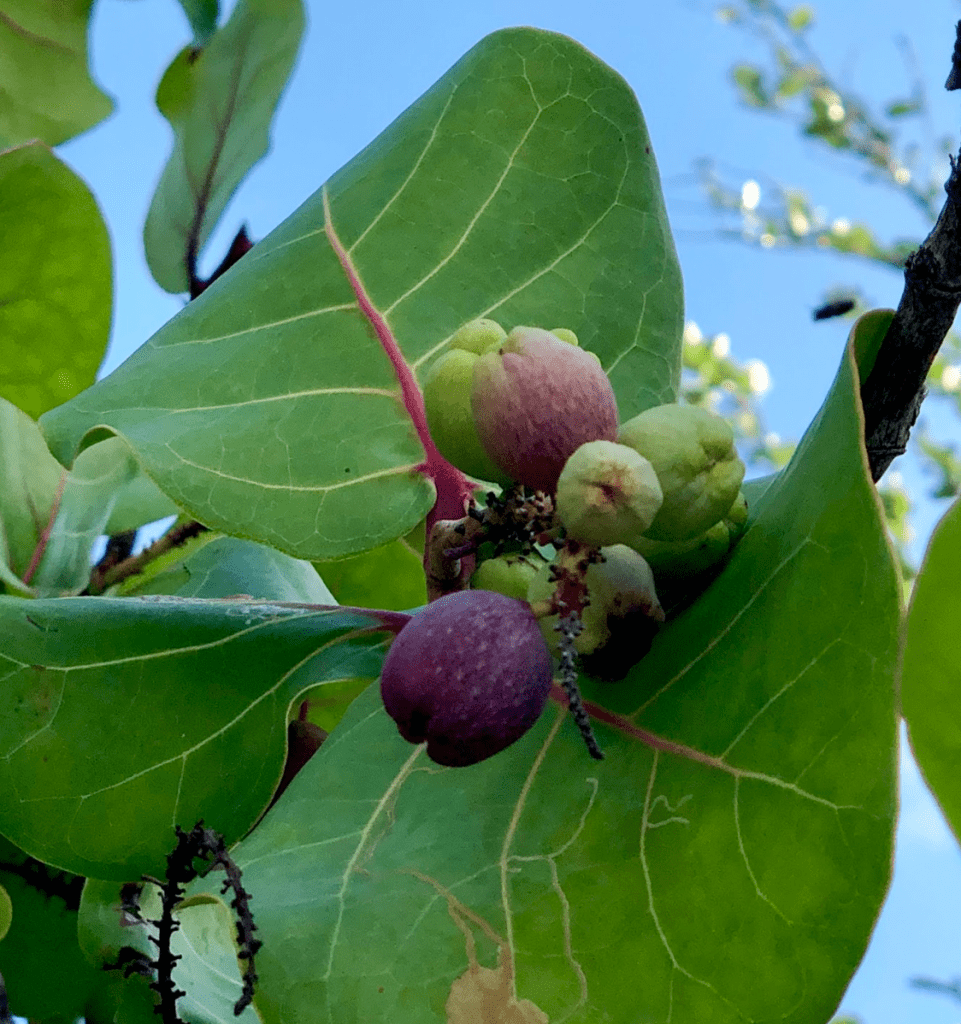 The local sea grapes are also starting to get ripe. I saw these at Hawksnest. You can eat them when they get purple, but they taste better cooked up with some sugar in a jam. Or maybe made into wine.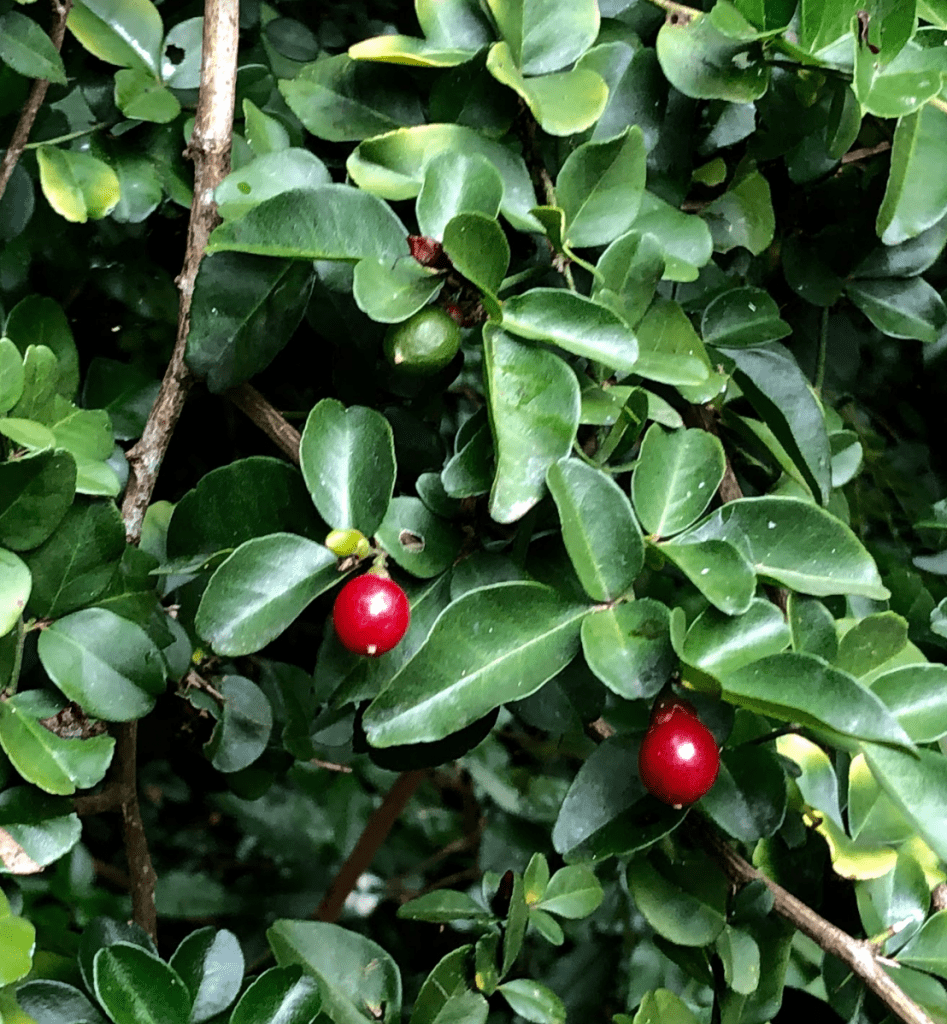 Sweet lime bushes grow along the edge of the Hawksnest parking lot. They are not native but have become naturalized on St. John because the birds are fond of them and spread their seeds around. The bushes form a hedge and the deep red berries look very festive for the holiday season.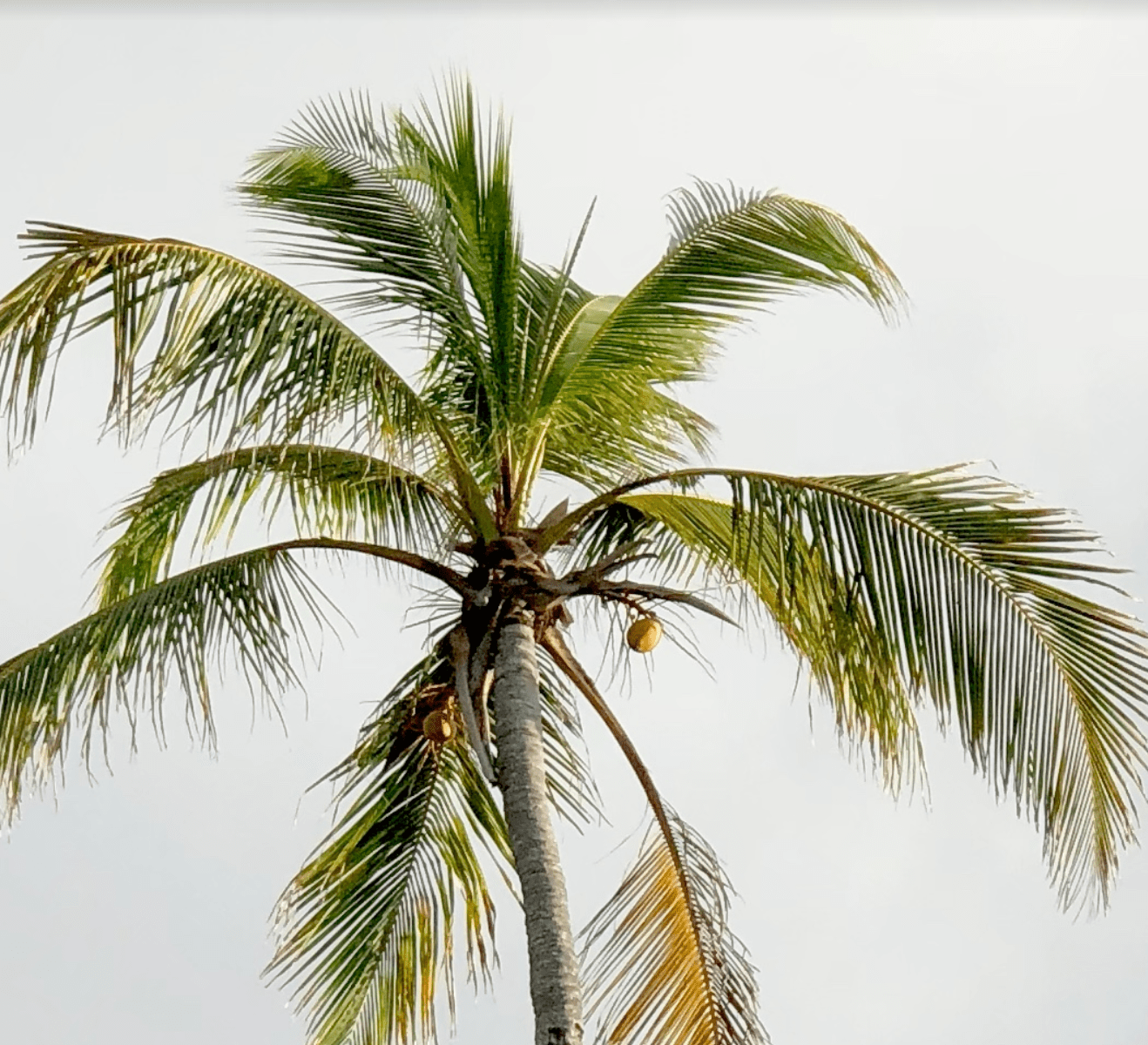 Unfortunately many of the coconut trees along St. John's beaches were knocked down but I found this one at Cinnamon Bay, decorated for the season with one green fruit.
Happy holidays, and be thankful for the gifts from the trees!
---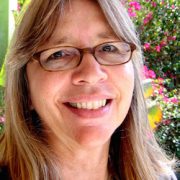 Photos by Gail Karlsson. Gail is an environmental lawyer, and author of The Wild Life in an Island House, plus the guidebook Learning About Trees and Plants – A Project of the Unitarian Universalist Fellowship of St. John. uufstjohn.com/treeproject.  For more articles and local information, go to gvkarlsson.blogspot.com or www.fishbaywetlands.com.  Contact: gkarlsson@att.net Instagram:@gailkarlsson