I was happy to see some of my favorite trees blooming in the spring, even though there are still many bare and broken trees on St. John's hillsides.
In front of our house most of the large black mangrove trees were knocked over and show no signs of life. But along the edges of the shallow pond smaller ones have grown up – and flowered. New flowers and sprouts are critical for the recovery of this wetland area habitat, which mixes salt water from Fish Bay with freshwater rain running down from the hills. Black mangrove leaves falling into the water provide nourishment for bacteria and microscopic marine life forms, which feed juvenile fish and crabs. They in turn attract the herons and egrets I love to watch from the deck.
There are five types of trees in the caper family around our house. These local trees are similar to the Mediterranean ones that are used in French and Italian cooking, but their buds are not so tasty. Some of the trees are missing now, while others have expanded into new spaces created by the storms. Bees and butterflies enjoy their showy white flowers.
[adrotate group="6"]
There is also one white cedar tree that is thriving. The white cedar trees are Caribbean natives, named for the color of their wood, which was used for building boats in earlier times. Their flowers are pinkish.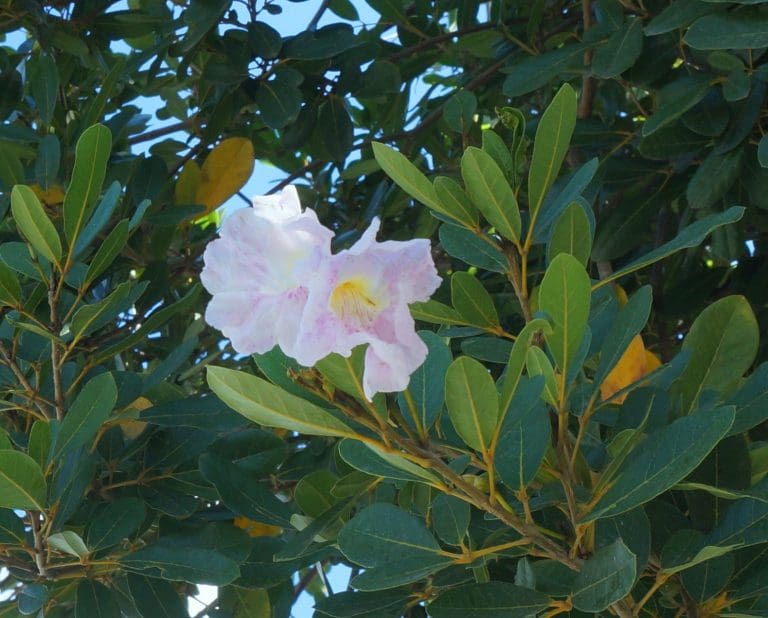 The wild frangipani tree behind the house has grown tall in a now unshaded spot, with its bouquet of fragrant white flowers waving high above the road. So far it has not been attacked by the voracious caterpillars that regularly strip these trees of their leaves. Maybe some of the large Pseudosphinx tetrio moths that produce those caterpillars were dispersed by the storms.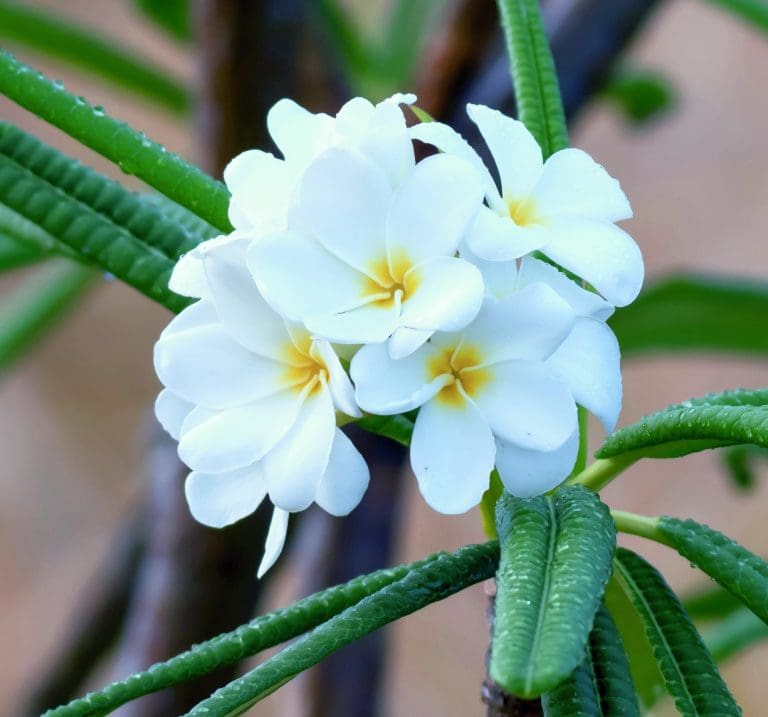 In the spring a couple of small wattapama trees on Marina Drive delighted the neighborhood with their pale lavender flowers. Unfortunately, the blooms only lasted a few days, and the thin-branched trees again became invisible. They are special because they only grow on the north coast of Puerto Rico and the northern Virgin Islands.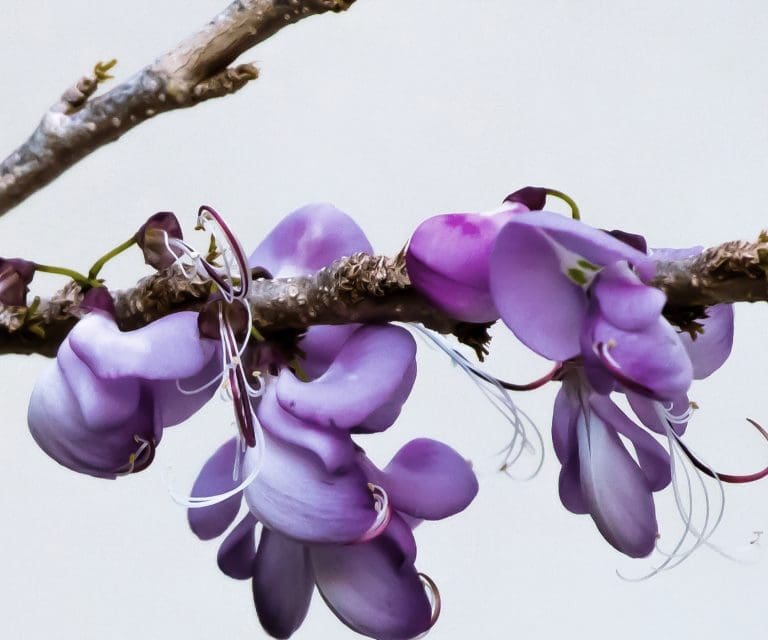 Along the upper Fish Bay road I spotted bunches of Caribbean dogwood flowers on a leafless tree, along with some of this tree's distinctive boxy seed pods. It is also known as 'fish poison' because the bark and roots were used by Amerindians to stupefy fish to make them easier to catch.
Then on the way to Coral Bay I saw a spindly, almost leafless orange manjack tree hanging off the side of Centerline Road, with its distinctive bright flowers and fruit. These trees only grow in the Virgin Islands and Puerto Rico, so it was good that some of them have survived.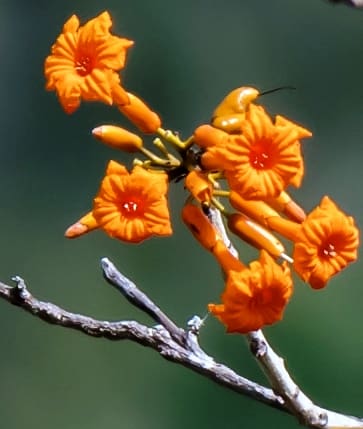 Meanwhile, on the beaches the sea grape trees have blossomed and fruited, playing their part in the long-term process of restoring shade and protecting the shorelines from erosion. A welcome sight.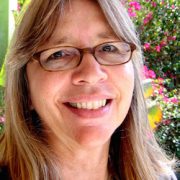 Photos by Gail Karlsson. Gail is an environmental lawyer, and author of The Wild Life in an Island House, plus the guide book Learning About Trees and Plants – A Project of the Unitarian Universalist Fellowship of St. John. uufstjohn.com/treeproject.  For more articles and local information, go to gvkarlsson.blogspot.com or www.fishbaywetlands.com.  Contact: gkarlsson@att.net Instagram:@gailkarlsson