Coral Bay area residents young and old filled the Coral Bay basketball court on Saturday, December 20, for the annual Christmas tree lighting and carol sing-along, which featured stand-up comedy and lively renditions of favorite carols. The annual event was hosted by the John's Folly Learning Institute and the Coral Bay Community Foundation.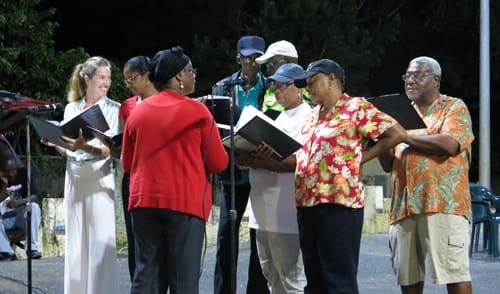 CORAL BAY — Neighbors joined together to sing traditional Christmas songs on Friday evening, December 19, at the annual Coral Bay Carole Sing-along at the neighborhood basketball court.
Residents from Mamey Peak to Mandhal gathered at the basketball court to sing their favorite seasonal songs. The neighborhood sing-along has been hosted by John's Folly Learning Institute founder Alvis Christian for more than a decade as way to keep the Coral Bay tradition of sharing holiday music and food alive.
After neighbors and local church choirs sang their holiday carols, a siren from the nearby fire station signaled what most of the children were waiting for all night — the arrival of Santa Claus.