The Coral Bay Community Council (CBCC) will be hosting the following professional and informative community events in Coral Bay during November. Its goal is to provide technical updates and information to professionals and residents on best stormwater management practices using vegetation for St. John construction and landscaping. This is an excellent time of the year to plant trees, bushes, groundcover and grasses. Food and drinks will be available for purchase at each venue during the events.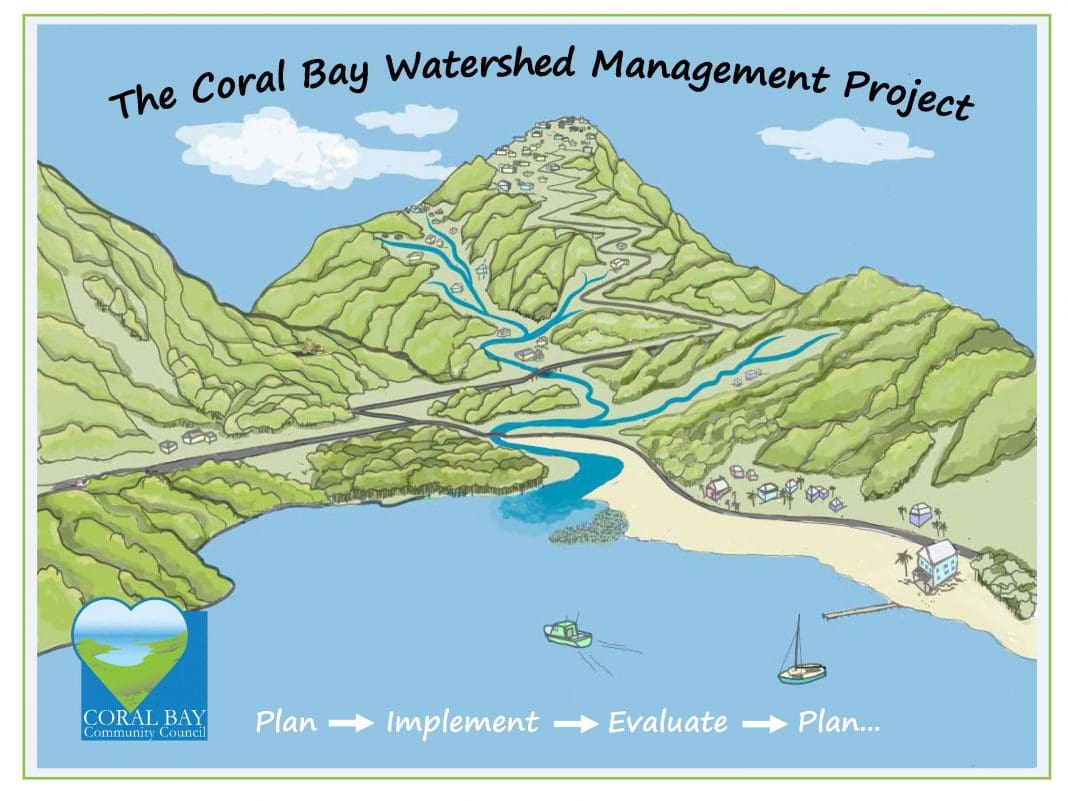 The Stormwater Management Using Natural Landscape and Vegetation Best Management Practices Professional Workshop will be held from 10 a.m. to 3 p.m., Friday, Nov. 16, at Pickles in Paradise. CBCC will be hosting the workshop, which will include the Department of Planning and Natural Resources (DPNR), Department of Public Works staff, as well as St. John contractors, architects, engineers and landscapers, and heavy equipment operators. The focus will be on maintaining V.I. Stormwater Management standards, such as preventing erosion and improper stormwater channeling during and after construction.
Topics will include changes to V.I. regulations, the "DPNR Environmental Protection Handbook" and the CBCC-published, free book: "Vegetation for Erosion Control – A Manual for Residents;" there will be a discussion of natural landscapes and vegetation BMPs for stormwater management here in the VI. Coral Bay; examples will be used, and there will be a brief walking tour. In addition, CBCC looks forward to active round-table discussions on erosion and sediment issues that professional experience will bring.
Participants should dress appropriately for being outdoors and walking. A certificate of participation will be given to those who attend. Known construction and landscaping professionals have been invited via email. Others are welcome to attend. Please contact CBCC at 776-2099 to register.
A Community Workshop Event, Book Share, will take place from 4-6 p.m., Monday, Nov. 19, at Wok on the Beach. This is not your normal book club! Come share and discuss some of favorite books about gardening, landscaping, landslide prevention and erosion control in the tropics. Rachel McKinley, CBCC Environmental Programs associate, will lead this event. This laid-back book share will review all types of "gardening-lovers" books from non-fiction to fiction. All are welcome – come late after work if necessary.
A Community Workshop Event, Plant Swap, will be held from 4-6 p.m., Monday, Nov. 26, at Wok on the Beach. Those who need some variety in their landscape or garden, here's is chance to trade plants and gardening tips. Mary Vargo, CBCC Environmental Programs associate, will lead this event. Come learn about some of the vegetation that can be used for stormwater runoff during the best time of the year for planting. All are welcome – come late after work if necessary.
These workshops are made possible by funding from the National Oceanic and Atmospheric Administration's (NOAA) Coral Reef Conservation Program, National Fish and Wildlife Foundation, and the V.I. Department of Planning and Natural Resources through the Environmental Protection Agency's 319(h) Grant Program. CBCC is a nonprofit organization that acts as the local Watershed Management Agency. Check out the website at: https://CoralBayCommunityCouncil.org.
CBCC encourages people to contact the staff at 776-2099 or cbcc@CoralBayCommunityCouncil.org or to stop by the office (in Coral Bay across from the fire station) to discuss stormwater management practices and get a copy of the free 96-page book on "Vegetation for Erosion Control," focusing on native plant species. The online book and more information about the Coral Bay Community Council can be found at www.CoralBayCommunityCouncil.org