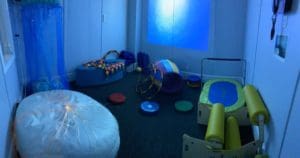 Coral Reef Academy has completed its sensory room, The Sensory Lagoon, thanks to the generosity of Cane Bay Partners VI LLLP through Cane Bay Cares, their philanthropic arm. Time in the Sensory Lagoon helps children improve their visual, auditory and tactile processing, as well as fine and gross motor skills. It also provides a sense of calm and comfort as children learn to self-regulate their behaviors, which many times improves focus.
According to Andrea Shillingford, the director of Coral Reef Academy, "Our desire is for students to gain access and learn how to respond aptly to appropriate sensory stimulation. This provides a pathway for them to achieve success in the classroom."
Shillingford contends that improved focus and information processing can make a significant impact on students' ability to learn, engage and interact with their teachers and their peers. "We would like our students to identify that they need access to this type of stimulation as it is an important step towards learning to advocate for themselves," she said.
The variety of equipment in Coral Reef Academy's Sensory Lagoon provides students with personalized sensory input by helping them become calm and focus themselves so they can be better prepared for learning and for interacting with others. The sensory room's experience is individualized to each student, and breaks are embedded in their schedules.
Kirk Chewning, co-founder and partner of Cane Bay Partners, said, "We are so proud of the team at Coral Reef Academy and the critical and difficult work they do for our children of the community. The vision of the school and the Sensory Lagoon we sponsored have been executed flawlessly to the advantage of many."
About Coral Reef Academy: Coral Reef Academy opened in the fall of 2018, and is a unique school located in the United States Virgin Islands. It is passionate about providing an exceptional educational experience for students with autism and developmental disabilities.
The roots of its program are grounded in evidence-based practices, including TEACCH, a program based on the idea that individuals with autism are visual learners, so teachers must correspondingly adapt their teaching style and intervention strategies. This is an unprecedented approach to providing services to school-aged children with autism and developmental disabilities in the U.S. Virgin Islands.