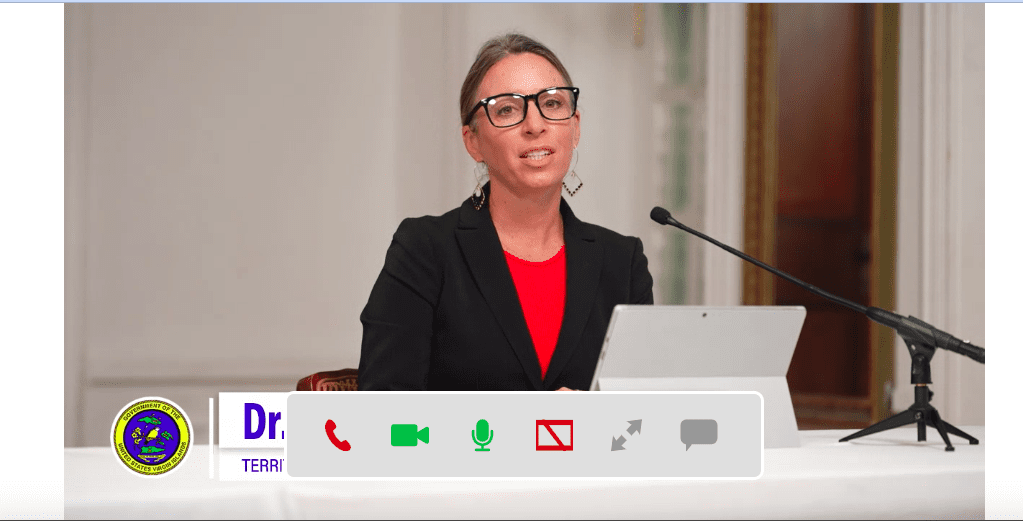 Positive cases of COVID-19 have dropped again, but officials continue to stress the importance of residents, including children over five years old, being fully vaccinated with a booster against the 2 1/2-year-old virus.
Dr. Esther Ellis, epidemiologist for the V.I. Health Department, reported a total of 250 new cases as compared to 324 one week ago. St. Croix has 141 active cases compared to 211 last week. The St. Thomas count increased to 99 from 89 a week ago, and St. John reports 10 cases as opposed to 24 on Feb. 7. Around 10 percent of the positive cases were vaccinated, Ellis said. The remaining 90 percent have not received the vaccine. The positivity rate for the U.S. Virgin Islands has declined to 5.33 percent.
"It's not over yet, but we're doing better," she said.
There have been two more deaths during the week, bringing the total since the beginning in March 2020 to 106. The 105th death was an 89-year-old St. Croix man, and the most recent fatality was a 78-year-old woman on St. Thomas.
Ellis also pointed out that vaccines are effective for pregnant women. Research shows that a pregnant woman's placenta can be affected by the virus.
"It (immunization) is the safest and strongest weapon," she said.
Asked about the report last week of two cases of Legionnaires' Disease, Ellis said there are still only two people infected. The source of the bacterial infection still is being investigated. She pointed out that breathing warm aerosols from hot tubs and showers is a common source of infection, and water sources such as cisterns can carry the bacteria.
Richard Motta, chief communications officer for Government House, repeated the reward offered to children who receive two vaccines between Feb. 14 and March 18. Each child to meet the vaccination requirements will receive a $250 Visa gift card.
Due to the continuing decline in cases, some V.I. officials anticipated restrictions would be relaxed for cruise ships entering the territorial ports. Currently, a vessel reporting an onboard infection rate of more than 1 percent of passengers and crew is not allowed to call. During a board of directors meeting of the West Indian Company Ltd. Friday, President and Chief Executive Officer Anthony Ottley said the government was working on a new Memorandum of Understanding for the cruise lines.
"In this updated MOU, cruise ships will be allowed to dock and disembark passengers if there is a maximum of a 3 percent infection rate amongst the passengers and crew members. The cruise lines were requesting a 4 percent infection rate ceiling of the entire ship, and certain destinations are granting those requests," Ottley said.
However, Motta made no mention of relaxed restrictions for cruise ships and did not answer an email asking for information.
Ellis announced that COVID testing has reverted to the pre-Omicron schedule for St. John – noon to 3 p.m. at the Port Authority Gravel Lot. Tests on St. Croix and St. Thomas are administered daily between 9 a.m. and noon at the Charles Harwood Complex (STX) and Schneider Regional Medical Center (STT).
Appointments can be made at 340-712-6299 or 340-776-1519.
Free vaccines are available at Cost U Less on St. Thomas Tuesdays and Thursdays from noon to 3 p.m. and at the Gravel Lot on St. John from 1 p.m. to 4 p.m. on Wednesdays. Vaccinations are available on St. Croix at the Market, Tuesdays, Wednesdays, and Thursdays from 10 a.m. to 1 p.m., and at Farmer's Market on Saturdays from 7 a.m. to 11 a.m. at the Agricultural Fairgrounds.