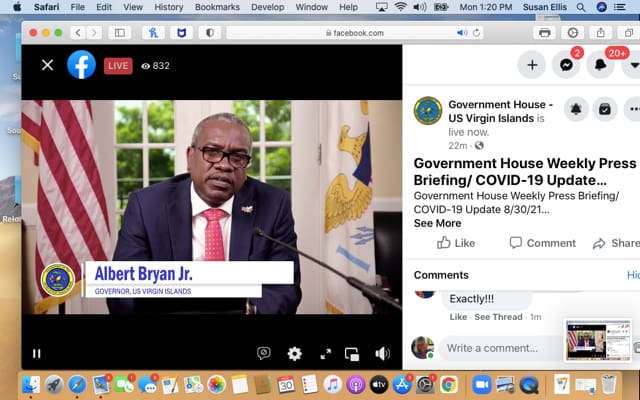 After opening his weekly news update with comments about the surging COVID-19 pandemic, Gov. Albert Bryan Jr. said there was "another pandemic" affecting the U.S. and Virgin Islands – gun violence – and pledged $1 million to combat it Monday.
Violent crime has increased 40 percent on the mainland, he said, and here in the territory people are afraid to come forward with names. The rewards will be used to fight homicides and armed robberies "from today forward."
Anyone providing a tip that leads to a homicide arrest will receive $50,000. Tips that resolve armed robberies will earn a $25,000 reward. Other initiatives to fight crime will be added going forward, the governor said.
"We have decided to add some support to those that find the courage to come forward and save our society, and be present in keeping our streets safe," he said.
Dr. Tai Hunte-Ceasar, the Department of Health's medical director, reported the weekly numbers for COVID infections, deaths, as well as tests and vaccinations.
A 61-year-old St. Thomas woman was announced Monday as the 54th death for the territory. All recent deaths have been patients who were not immunized, she said.
There are 269 active cases of the virus: 101 on St. Croix, 152 on St. Thomas and 14 on St. John. Five patients at Gov. Juan F. Luis Hospital are on ventilators and four at Schneider Regional Medical Center are vented.
The medical director said that anyone in the early stage of the coronavirus infection will have the option to take monoclonal antibody treatments. She said the treatment doesn't perform well if given too late in the disease when the patient is very sick, so patients should accept the treatment when it is offered and not wait until they are very sick, she stressed.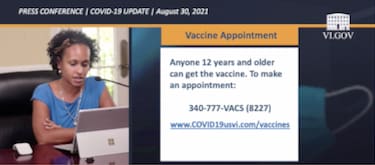 "Monoclonal antibodies are molecularly developed antibodies derived from COVID recovered patients that can be transfused to those with mild disease to prevent progression to severe disease. This treatment is life-saving but only when given very early on," Hunte-Ceasar said, adding, "Please do not decline this treatment."
The doctor also stressed that everyone eligible should get vaccinated. Those who have had the virus should take a shot right away. The third vaccine is available at the various vaccine sites, by prescription, for those who qualify with immune-suppressed issues.
Bryan echoed Hunte-Ceasar's comments about the recent rise in deaths and encouraged vaccinations.
"We've had more deaths since the vaccine than before. And we always say these deaths are unnecessary," Bryan said.
The governor did not address his plan, voiced a week ago or so, to require vaccinations or weekly COVID tests for government employees who have not been immunized by a certain date.
Bryan said there are continuing economic effects of the coronavirus including unemployment, welfare aid and food stamp applications.
"The community is still struggling," he said.
Bryan also verified some Education Department news – which grades will go to school in person and who will attend virtually. Children in Pre-K through third grade, as well as special education and certain technical education students will go to school in-person starting Sept. 7. Fourth through 12th graders will attend school virtually "for now." Students attending school in person will be given breakfast and lunch.
"Rest assured our priority is returning the children to the classroom," Bryan said.
Bryan also announced that the Bureau of Internal Revenue is releasing another $10 million in tax refunds – some from 2018.
The governor also talked about his recent trip to Washington, D.C. He said he and Delegate to Congress Stacey Plaskett urged several lawmakers to increase highway funding for the Virgin Islands that has remained at $16 million for the last 30 years.