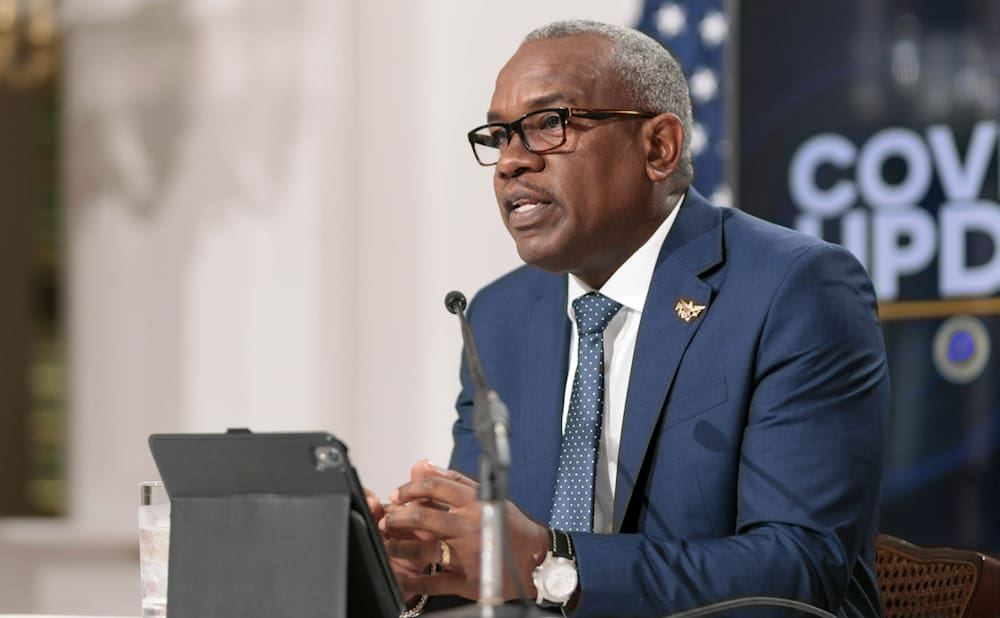 With a 10-day positivity rate now at 4 percent, government officials spoke on Monday about a surge of COVID cases on St. Croix and increased exposure caused by travelers returning from short trips to hotspots on the mainland, particularly Florida.
Out of the 2,151 tested in the past 10 days, there have been 91 new positive cases: 68 on St. Croix and 23 on St. Thomas, including a patient who had to be put on a ventilator at each of the territory's two hospitals and two more non-vented patients at the Gov. Juan F. Luis Hospital on St. Croix.
Despite the continued uptick in vaccination numbers on both islands, Gov. Albert Bryan Jr. said residents still have to take a "commonsense" approach to following public health guidelines, including mask-wearing and social distancing, for the surge to subside. Also on that "commonsense" list is avoiding non-essential travel, which the governor said had a direct effect on the numbers.
"We are seeing instances where people are attending parties both here in the territory and on the mainland, particularly in the state of Florida, which does not follow these guidelines, and as a result, we are experiencing a slight uptick in positive cases," Bryan said. "We have been doing well and have managed to strike that balance between protecting the public health, keeping our economy afloat and allowing individuals to enjoy again some of the leisure activities of pre-pandemic life. But we can easily lose our footing on that tight rope that we have been so successful at walking. There have been too many instances of residents frequenting areas that are either surging or are still considered COVID hotspots."
Bryan referenced the curfew and state of emergency extended for Miami Beach, which was overtaken by crowds of travelers on Spring Break, and urged residents who have recently visited the area to help keep the V.I. community safe by getting tested and staying isolated for at least a few days. Miami, he added, is a major travel hub for the territory. And, with Memorial Day and Easter coming up, avoiding mass gatherings, parties and camping on local beaches are also critical, Bryan added.
Pop-up testing sites this week are as follows:
– Home Depot on St. Thomas on Tuesday, March 23, from 1-3 p.m.
– Canegata Rec. Center on St. Croix on Tuesday, March 23, from 10 a.m. to 1 p.m.
– The V.I. Port Authority Gravel Yard on St. John on Wednesday, March 24, from 1-4 p.m.
– The National Park in Red Hook on St. Thomas on Thursday, March 25, from 1-3 p.m.; and
– Budhoe Park on St. Croix on Thursday, March 25, from 10:30 a.m. to 1:30 p.m.
"I get it. It has been a long time," Bryan said. "We have endured a year of strict protocols and changes to our social lives that no one enjoys. If we can achieve community immunity through vaccination, we can get back to social gatherings and some of the other leisure activities of pre-pandemic life."
Speaking Monday, Territorial Epidemiologist Dr. Esther Ellis said the territory is on track to meet the governor's goal of having half of the territory's population, or 50,000 residents, vaccinated by July 1. Since community health clinics on St. Thomas and St. Croix opened on March 1, the number of vaccines administered total 7,199, with St. Thomas alone hitting 5,000 Monday. Overall, 33,826 vaccines have been administered territorywide, with 30 percent of the population receiving at least the first dose, and 12.8 percent completing the second dose.
The push for vaccinations will also aid efforts to lobby the Centers for Disease Control for the return of cruise ships to the territory, which Bryan said Monday he is actively lobbying for, along with 15 other regional and national governors impacted by the "no sail" order. Along with meeting with local port and regional cruise ship officials, Bryan said that cruises from the Bahamas and Barbados have opened up through Royal Caribbean, though nothing has yet been announced for U.S. destinations.
A meeting between Government House, local port officials, cruise line executives and the Florida Caribbean Cruise Association two weeks ago did little to secure more information.
"The meeting was very cordial, but it was apparent that the principals were not optimistic about the return of cruise travel to U.S. waters," Bryan said. "We have decided to take a more proactive approach to the return of cruise ships and have issued a national appeal to the president to issue the regulations for cruise travel from the CDC. We, as well as 15 other states, have felt the economic pressure of the cessation of cruise travel in the U.S."
Byran said he is working with the other governors to draft a letter to President Joe Biden asking for the new rules and regulations for cruising and for a potential sail date.
"We have been waiting on these rules and regulations since last year when cruise travel was banned in the United States," Bryan said, adding that the territory's cruise protocols have been drafted since last December, but can't be complete until the CDC issues its guidelines.