Hundreds of hermit crabs descended on Nanny Point, above, a week later than marine scientists predicted.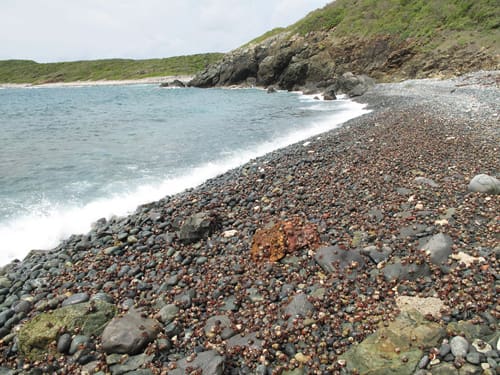 For the past two years, mid-August finds thousands of hermit crabs amassing on the rocky shoreline at Nanny Point near Estate Concordia Preserve to make the trek to the waterline to deposit their eggs.
[adrotate group="6"]
While scientists know that the St. John terrestrial crabs, like all other hermit crabs, spend part of their life cycles in the ocean, they have no clue why they gather in such numbers to reach the waterline.
Last year, the phenomenon was documented by St. John photographer Steve Simonsen, who was alerted to the mass migration by local writer Pam Gaffin, author of "St. John: Feet, Fins and Four Wheel Drive."
Thanks to a phone call from Gaffin, an avid hiker and snorkeler, Simonsen was able to video the many thousands of hermit crabs which amassed on the beach in August 2012. Simonsen's video of the crabs went viral on the web, garnering thousands of views and a mention on Good Morning America.
Since last year's migration, Gaffin has been working with scientists from Tufts University and the New England Aquarium to learn more about this little understood activity.
"It's a big mystery," said Sara Lewis, Profession of Biology at Tufts. "Although these terrestrial crabs, like all other hermit crabs, have to spend part of their life cycle in the sea, no one has any idea why so many join together in this mass migration."
As the date of last year's migration neared in mid-August, Gaffin awoke each morning at 4 a.m. to visit Nanny Point, as well as Haulover Bay, another area of hermit crab migration. As it turned out, this year's migration was a week later than last year's and a week after the full moon.
Hermit crabs began amassing in large numbers under the trees at Nanny Point several days before the height of the migration to the waterline on Thursday, August 22, at about 9 a.m., explained Gaffin.
Although the crabs did not number in the hundreds of thousands like last year's migration, Gaffin estimated their numbers to still be in the tens of thousands.
"Last year they were up to your elbow," said Gaffin. "This year they were still above your wrist, but not up to the elbow."
The crabs also continued to migrate to the sea, although in fewer and fewer numbers, for at least the next four days, according to Gaffin, who checked the beach each day.
"This is something new too," she said.
What the crabs do, according to Gaffin's observations, is gather in huge numbers just off the rocky shoreline under the treeline. When they determine the time is right, the crabs make their way en mass across the rocky shoreline to the water's edge where waves are crashing on the rocks. A hermit crab will cling to a rock and pump out its eggs, which are washed out to sea by a wave.
The hermit crab spends part of its life cycle in the water, emerging on shore at some point during their development elsewhere on the island, measuring only an inch or two. These adolescent hermit crabs have been seen in the Francis Bay area.
Before the day of the mass migration to the waterline, Gaffin observed the crabs gathering along the treeline at Nanny Point, she explained. A few crabs would make their way out of the treeline to the beach, what Gaffin termed "scouts," but return to the group without making their way to the water's edge.
Scientists know surprisingly little about hermit crabs, from when they migrate to the waterline to exactly what sex is migrating. Scientists believe they are mostly females depositing their eggs, explained Lewis.
"We suspect that the Nanny Point crabs were mostly females releasing their larvae into the sea," said the Tufts Biology Professor. "But we don't know for sure."
Gaffin, however, observed several hermit crab couplings on the beach at Nanny Point during last month's migration which would indicate that more than females are trekking out to the water's edge.
With so many questions about hermit crabs still left, Lewis and Gaffin look forward to getting some answers during next year's migration.
"To solve this mystery, we've been working with Pam Gaffin and Steve Simonsen to assemble a research team from Tufts University and the New England Aquarium (in Boston) to work together with interested locals in St. John," said Lewis.
"We're hoping to study the next big migration which will be in August 2014. Sometime in the next few months we'll be setting up a crowd funding website to defray our research expenses."
To help cover next year's migration, email Lewis at sara.lewis@tufts.edu, or email or call Gaffin at pam@viaccess.net or (340) 779-4257.