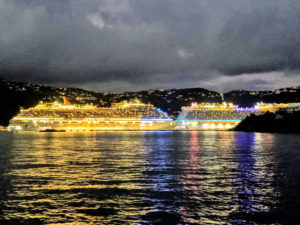 The following cruise ships with scheduled calls at the West Indian Company Dock this week have been canceled due to weather conditions:
MSC Seashore – Tuesday, September 20, 2022
Disney Fantasy – Wednesday, September 21, 2022
Norwegian Sky – Wednesday, September 21, 2022
These are the cruise ships calling on St. Thomas at the West Indian Co. (WICO) Dock in Havensight, unless otherwise indicated by the tag AMNS (Austin Monsanto North Side) AMSS (Austin Monsanto South Side) AMHP (Austin Monsanto Home Port) or STJ (anchored at St. John: ships calling on the island remain at anchorage and passengers are tendered into Cruz Bay). The schedule is subject to change.
This is the cruise ship schedule for St. Thomas for June 2022.
Tuesday, September 6
-Seashore
Wednesday, September 7
-Disney Fantasy
-Norwegian Sky
-Symphony of the Seas (AMSS)
Wednesday, September 14
– Symphony of the Seas (AMSS)
Thursday, September 15
-Harmony of the Seas (AMSS)
Tuesday, September 20
-Seashore CANCELED
Wednesday, September 21
-Disney Fantasy CANCELED
-Norwegian Sky CANCELED
-Harmony of the Seas (AMSS)
Wednesday, September 28
-Symphony of the Seas (AMSS)