The Cruz Bay Boutique Hotel is situated right in Cruz Bay, above Da Livio's.
When Denise Walker and David Guidi got married at Caneel Bay Resort in 2009, they had a difficult time finding chic, but affordable, places for friends and family to stay in Cruz Bay.
Two years later, when the couple decided to move to St. John from Toronto, they knew exactly the niche they wanted to fill.
"We had been visiting St. John for a long time and then we got married at Caneel in 2009," said Guidi. "We wanted to move down here for a while, but we weren't sure what we would do for a living. Then this building became available and the brain waves started."
With Walker a self-described "stickler for cleanliness" and Guidi with five years of hospitality experience under his belt, opening a hotel was almost a no-brainer, especially when the top two floors of the old Oscar's Building, located above Da Livio's Restaurant, became available.
What the two have created in the bright blue Cruz Bay building, however, is more than just a few rooms for visitors. Walker and Guidi have created the first real "boutique hotel" on St. John, with modern decor and a simple, but truly elegant, atmosphere.
The couple put an offer in on the building in February and signed paperwork in June. By July, Guidi was on island working 12 hour days to completely renovate the old concrete structure.
"I renovated for about six months and took this place from an empty shell," he said.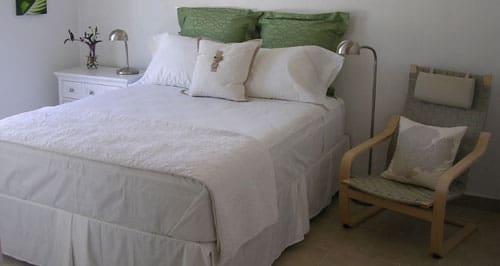 Neutral colors give rooms at the hotel a Zen-like feel.
The Cruz Bay Boutique Hotel officially opened in December, but Walker and Guidi hosted guests even before that.
"We officially opened on December 22, but we had guests staying here weeks before that," said Guidi. "When I was renovating, I had people coming up and asking if they could get a room. So when I completed a few rooms, we let guests come and stay."
Renovations finally wrapped up at the end of December and since then Walker and Guidi have not had a problem booking the six rooms and top floor penthouse suite.
"We've been 100 percent full since we opened," said Guidi.
Cruz Bay Boutique Hotel's success could be attributed to several factors. Unlike many other accommodations, there is no minimum nights required for the six rooms, so guests are free to book the one evening before their villa or charter boat stay begins, explained Walker.
"We get a lot of people who come over to St. John just for the day, or need a day on either end of their sailing trip or villa stay," she said.
The lone exception is the penthouse suite, for which Walker and Guidi require a seven night stay.
With rates ranging from $105 a night in low season to $175 a night in peak season for the rooms and $200 to $250 for the penthouse, their prices simply can't be beat. But beyond the affordable rates, Walker's impeccable decor surely attracts the savvy traveler.
"The colors are all neutrals which give the rooms a Zen-like feel," she said. "I kept the color scheme whites and greens. It blends a chic Miami feel with a casual island atmosphere."
"Plus there is no better way to make sure something is perfectly clean than on white sheets and white towels," Walker said.
Cruz Bay Boutique Hotel owners Denise Walker and David Guidi.
The hotel's downtown Cruz Bay location, within easy walking distance to the ferry dock, shops and restaurants, means guests don't have to rent a vehicle. If guests do opt to rent a Jeep, the hotel is located right next door to a rental agency, for the ultimate in convenient parking.
With concrete walls measuring almost a foot thick, the rooms are practically noise proof. The one exception might be the room in the back of the hotel, which Walker and Guidi refer to as the "Larry's Landing Suite."
"There is one room in the back that overlooks Larry's Landing," said Guidi. "But it's the biggest room and it has a balcony. It's been renting out every night and people really love it."
"They want us to put in a slide so they can get to Larry's even faster," said Walker.
The noise-level in the rear room is only an issue when the popular Cruz Bay bar and restaurant hosts live bands, which is not every night, Walker added.
"Fortunately it's always good music too," she said.
The six guest rooms all boast private bathrooms, with rain showerheads, pillow-top queen sized beds, free Wi-Fi internet, flatscreen satellite TV, a mini fridge and individually controlled air conditioning units.
The one-bedroom penthouse suite features a full kitchen with stainless steel appliances, 12-foot beamed cathedral ceilings, a double futon sofa, plus one additional sofa.
Walker and Guidi offer complimentary coffee, tea and home-baked goods each morning on the comfortable front balcony, giving guests a chance to mingle and share their favorite beach spots. Guests also enjoy a 10 percent discount at Da Livio's Restaurant downstairs.
While the couple pretty much works seven days a week, they couldn't be happier.
"I love meeting the guests," said Guidi. "Everyone is so happy and in such a good mood."
"It's very gratifying to know that you're offering a product that you know is near the best value on the island," said Walker. "I'm really proud of what we offer here; both the price and the quality."
For more information or to book a room at the Cruz Bay Boutique Hotel, check out www.cruzbayhotel.com, call 642-1702 or email stay@cruzbayhotel.com.