The Department of Public Works has managed to both keep traffic flowing and stay ahead of schedule during construction of the Cruz Bay roundabout.
Work is currently focused on Route 201 in front of the Boulon Center, where the road is being graded.
"Things are coming along really well," said DPW roundabout liaison Thomas Jones. "We are dramatically changing the grade of Route 201 to accommodate the roundabout, because the roundabout itself will be about a four percent slope. Right now the road is at about a 15 to 20 percent slope."
DPW has kept one side of Route 201 open during the grading. The northbound lane of the road was recently reopened with temporary asphalt, and the southbound lane closed.
"We'll be changing the grade, putting on temporary asphalt and reopening to merchants on each finger road," said Jones. "Then we'll come back and properly set the grade at one time at a later date."
"We're doing all we possibly can to keep traffic moving through with no problem," Jones said.
In a positive note for DPW, the major grading done on Route 201 didn't require as much work as expected, putting the project about six months ahead of schedule as of last week, Jones explained.
DPW is hopeful the major work required near Dolphin Market will also require less time and money than anticipated, Jones added.
"Route 10 eastbound will be dramatically changed, right where the stairs are between Dolphin Market and Boulon Center," said the DPW roundabout liaison. "That area will come down between six and eight feet because of the steepness of that hill."
DPW plans to complete grading and temporary asphalt on Route 201 before moving to Route 102, the road on the south side of the project leading to the fire station, according to Jones.
"Right now, we'll get both sides of the roadway on Route 201 down to a manageable elevation, and then we'll work on the stairs between Dolphin and Boulon," he said. "We actually decided there was no need to wait and we've taken down the stairs already and constructed a temporary staircase there."
"Next we'll go over to Route 102, which is going to come up some to match the grade," Jones said. "We could possibly jump over to Route 104, South Shore Road. A lot is contingent on how everything flows."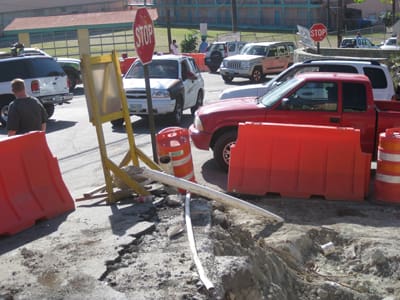 DPW is keeping its construction plans flexible in an effort to both keep traffic flowing and keep access open to area merchants, Jones added.
Crews also poured the retaining wall by the Winston Wells ball field bleachers last week — another project which was amended to accommodate the public, according to Jones.
"That was changed a little bit to accommodate the entrance and exit going into the bleachers," he said. "The road alongside that retaining wall is going to come up."
The grade of the entire intersection will be changed dramatically in an effort to provide good visibility to drivers as they enter the roundabout.
"The idea is to be able to have a clear view of everything moving around in that roundabout," said Jones. "Right now it's such a steep grade you really can't see the traffic going in and out."
Aside from the temporary closure of South Shore Road in mid- to late-March, Jones doesn't anticipate any major road closures.
"We're really trying to keep away from major closings at the intersection," he said. "If we could just keep the speeders down, that would be great. We're ahead of schedule and we're proud to say traffic is moving through there pretty well."