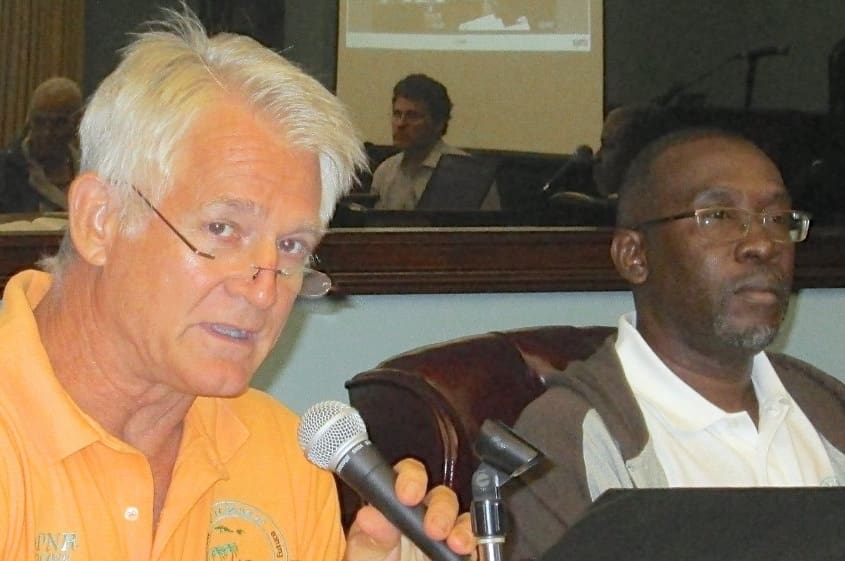 A down-to-the-wire inspection by coastal engineers on a north shore road improvement project led members of the St. John Coastal Zone Management Committee to modify the conditions before voting their approval at a meeting held Tuesday. Commissioners also approved the construction of a temporary office to house operations for the Coral Bay agriculture station.
The ag station on King's Hill Road was heavily damaged by the two catastrophic storms in September 2017, leaving the agency's two St. John staffers working in a small, unventilated building. "It's not suitable for human beings to be in," said Assistant Commissioner Riise Richards after the one-hour meeting ended.
Coastal Zone commissioners listened to staff recommendations on the two applications in a virtual meeting held Tuesday afternoon. Environmental Planner Anita Nibbs said both the Lynne House Road improvement project and the placement of a temporary office for the Coral Bay ag station were consistent with the goals and interests of the Planning and Natural Resources Coastal Zone Management program.
The application for a CZM determination was submitted by NPS and the Federal Highway Administration, Nibbs said.
Lynne House Road is an access road within the Virgin Islands National Park. Harsh storm conditions brought on by hurricanes Irma and Maria in 2017 weakened the roadside. Park and federal highway officials are also asking CZM for permission to improve drainage near the Lynne House building.
Coastal Zone Management Director Marlon Hibbert said he received some recommendations during a site visit that took place earlier on Tuesday with coastal engineers his staff had been trying to contact for several weeks. Other engineers could offer their thoughts on the best way to carry out the work, Hibbert said, but coastal engineers had greater expertise.
"We have added some conditions after meeting and speaking with project engineers. They're not against the project, but the project drawings were unclear. Part of the recommendations is to improve the drawings to make them easier to understand," the director said. "The coastal engineers asked exactly what is the design meant to protect the roadway from?"
CZM Commissioner Brion Morrisette complained about the propriety of receiving new recommendations on the day of a scheduled decision meeting. "We can't be asking for more information at this point. We are deciding on a permit," he said.
Commission Chairman Andrew Penn thanked Morrisette for his comments and said he does not want to see last-minute suggestions become the norm at decision meetings.
Both projects won approval. Agriculture Commissioner Louis Petersen appeared on screen and thanked the commissioners for granting his agency permission to create a more suitable workspace for their staff on Kings Hill Road.
Richards said the next step will be to build out a new office facility, a project that has been approved by the Federal Emergency Management Agency.