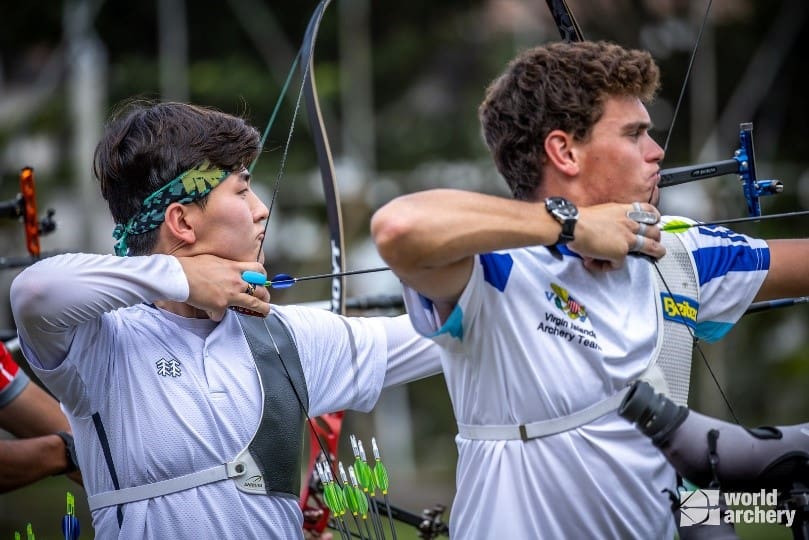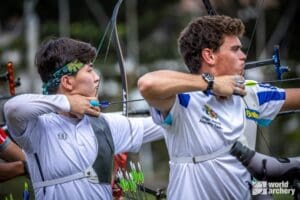 The third stage of the 2023 Hyundai Archery World Cup was contested last week. More than 300 archers from 42 countries competed.  Nicholas D'Amour and Anne Abernathy, represented the Virgin Islands.
The best archers in the world competed in Medellin, including World Cup stage winners and Olympic Champions.  The world's best team, Korea, was there in force.
Individually, D'Amour in the qualification round finished number 14, with a score of 672 on Wednesday, June 14.  The field of 95 men was cut to 64 for the elimination rounds.  This set up his first match in the elimination rounds against Hugo Franco of Cuba. D'Amour beat Franco 6-4 in the finals of the Copa Merengue, the qualifier for the Central American Caribbean Games late last year.
This first elimination round was again another close five set match, with D'Amour again beating Franco 7-3. This set-up a match against Yu-Yang Su of Chinese Taipei.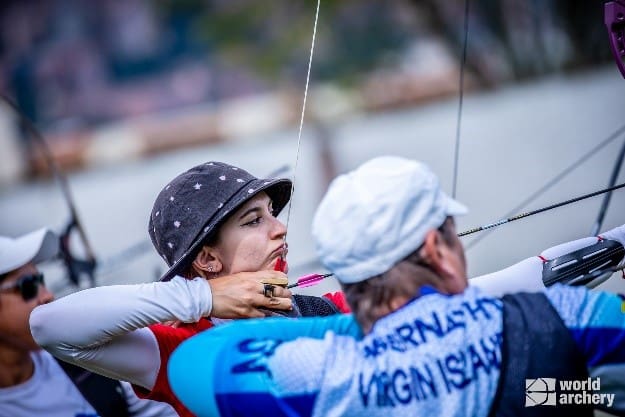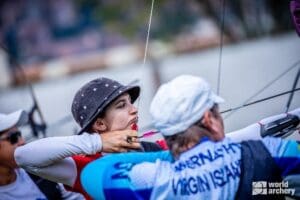 Again, in a close five set match, D'Amour prevailed 7-3. D'Amour had a perfect 30 in the final end. In the 1/8 round D'Amour faced Olympic and world medalist Je Deok Kim of Korea. In yet another close match, D'Amour lost to Kim 6-2, with Kim shooting a perfect 30 in the final end.  D'Amour finished tied for 9th place, his best World Cup finish this year.
Abernathy scored a 575 in the qualification round.  This was her career best score at a World Cup.  But her 78th place finish was not good enough to make the cut for the elimination round.
The team of D'Amour and Abernathy was good enough to make the cut for the Mixed Team eliminations.  In the first round of the eliminations, the Virgin Islands faced the powerhouse Italian team of three time Olympian and world medalist Mauro Nespoli (ranked 9 in the World) and Tatiana Andreoli (ranked 11 in the World).  Team Virgin Islands lost the first end 39-38, tied the second end 38-38 and lost the third end 36-35, losing the match 5-1.  In the Mixed Team event, the Virgin Islands tied for 17th place over all.
Stage 3 of the World Cup saw a total of 308 (170 men, 138 women) athletes from the following 42 teams compete at the tournament: Afghanistan, Austria, Bahamas, Belgium, Bolivia, Brazil, Canada, Chile, China, Chinese Taipei, Colombia, Croatia, Cuba, Czech Republic, Denmark, Dominican Republic, Ecuador, El Salvador, Estonia, France, Great Britain, Germany, Guatemala, India, Italy, Japan, Korea, Luxembourg, Malawi, Mexico, Netherlands, Poland, Puerto Rico, Romania, Slovakia, Slovenia, Spain, Switzerland, Türkiye, USA, U.S. Virgin Islands and Venezuela.
Team Virgin Islands now sets its sights on the Central American Caribbean Games in El Salvador June 21 to July 8, 2023.  The Archery events at the CAC Games start July 2-7.