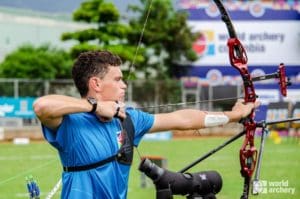 Nicholas D'Amour is likely the breakout star of the season by making the recurve men's final four at the second stage of the 2021 Hyundai Archery World Cup in Lausanne. The 19-year-old from St. Thomas upset top seed Mauro Nespoli of Italy in a quarterfinal tiebreak. Nespoli was a member of the Italian teams that won gold at the 2012 Summer Olympics and silver at the 2008 Summer Olympics.
"I feel like I am one of the top contenders. I feel very strong with my technique, my mental game," said the calmly confident 19-year-old afterwards.
He'll be joined in the arena on Sunday afternoon by world number one and reigning Hyundai Archery World Cup Champion Brady Ellison, Max Weckmueller of Germany and surprise Spanish finalist Yun Sanchez, who at 18 years old is making his debut on the international circuit.
D'Amour has been threatening to make a big final for some time.
Four sets into the recurve men's quarterfinals, three duels were tied at 4-4, and it was only Nicholas that trailed, looking unlikely to pull off an upset over the favorite, Nespoli. But he recovered, forcing the shoot-off and delivering an excellent 10 to win it.
"Today, I was focused on myself and on what I have to do. There were definitely moments that I was getting more nervous, but I pushed through them and tried to maintain focus on my process," he said afterwards.
"When he won that set for 5-3, it was a moment when I wasn't really focused on what I should do. In the next set, I shot a 29; he shot a 27. I was much more focused then, and I knew I could prevail. It was 5-5, but I had a lot of confidence before the shoot-off. I am usually quite good at shoot-offs."
He's right. Including at this tournament, where he's won two, the young archer has an 80 percent win rate in tiebreaks.
In the semifinals, D'Amour will shoot against Max Weckmueller and Ellison against Yun Sanchez.
For further information, visit World Archery 'Sports News.