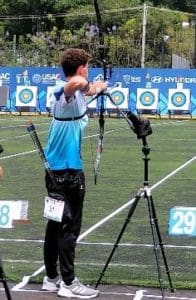 The Hyundai Archery World Cup is back for its 15th season in 2021 in Guatemala. The event in Guatemala is the first of three consecutive months of Hyundai Archery World Cup stages. The next two stops will be Lausanne, Switzerland in May, and then Paris in June.
This week's competition is taking place at the Sports Complex Los Arcos, at the University of San Carlos, Guatemala City. More than 130 archers are taking part. Three of the four reigning Hyundai Archery World Cup Champions – Brady Ellison, Mike Schloesser and Sara Lopez – are competing in Guatemala City.
Against many of the best in the world, Nicholas D'Amour of St. Thomas worked his way to the quarterfinals and a 6th place finish at Stage 1 of the World Cup. In the qualification round, D'Amour was in 12th place through the first half and finished seeded 21st in a world-class field of 46 of the best archers in the world in the Men's Olympic Recurve Division. D'Amour shot a qualifying score of 664. Only two points separated seeds 12 through 21.
Brady Ellison (USA) led the field with a 694. Atanu Das of India was second with 680.  Florian Unruh of Germany 679; his teammate Maximilian Weckmueller's score was 678.  The 2016 Olympic Silver Medalist Jean-Charles Valladont of France was fifth with a 677.
Seeded 21, D'Amour in the 1/24 round defeated Ben Adriaensen of Belgium 6-2. In the 1/16 round, Nicholas beat 12th seed Matthew Requa, a member of the USA Olympic team, 6-4. Next, in the 1/8 round, D'Amour faced 5th seed Valladont of France, winning convincingly 6-0. Facing his good friend Daniel Castro of Spain in the quarterfinal round, D'Amour lost a very close match 6-4.
While D'Amour's world ranking was 41 going into the tournament, this 6th place finish at this level of the tournament against this level of competition will no doubt further improve his world ranking. His coach, Angelo Ruiz, expressed his pride and great expectations for D'Amour.
D'Amour continues his quest for a spot at the Tokyo Olympics. He will next compete in the World Ranking Event and Qualifier for the Pan American Junior Games in Medellin, Colombia, and then on to Stage 2 of the World Cup in Lausanne, Switzerland.