CONTANT-ENIGHED — Roof recovery comes in all shapes and sizes in the days after Hurricanes Irma and Maria. Those on St. John who want to see how far a repair crew can go to get the job done can also ask, "How high?"
Atop the steep, pitched roof at St. Ursula's Anglican Church, men in tan uniforms hoist themselves up 43 feet using harnesses and straps. Upon finding their perch, they take turns snapping pictures of each other with smartphones. Then they get to work.
It took about ten days for the five-man team from the Danish Emergency Management Agency (DEMA) to figure out the best way to fit tarps over holes left in the roof when Irma's winds tore off the corrugated top.
By the end of November, the blue FEMA tarp was put in place by a two-man team, while a third stood on the ground, looking up. For passers-by on the street, there was the calm tap-tap-tap of nails being driven into place.
Midday comes; time for lunch. In the ground floor multipurpose center, the crew dug into fresh stewed pork. In the days before Irma, St. John seniors would sit in the hall, enjoying meals made as part of their daily activities.
Insurance adjuster Steve Reardon and an assistant were inspecting that day and caught some of the action overhead. Reardon said he was impressed to see the workers fitted with proper safety gear.
"I thought it was amazing it took so long to get someone to patch this roof up. It's nice to see someone helping out. I guess these guys are Danish. I guess they're on a mission to help," he said.
St. Ursula's Senior Warden Clemena Duncan stood outside the church door, looked at the ground and said something good would come from the hurricane.
In the weeks after Irma and Maria passed, bouts of heavy rain flooded the aisles week after week. Church members mopped, wiped down the church pews, and started all over again.
Until the holes in the roof could be fixed. With DEMA's help, things were moving in that direction."On a daily basis, it was like a swimming pool. I did not think we could get it together, but we got it together. And I have to thank the guys from Denmark for all they have done because nobody wanted to go up there unless they had a crane. And those guys went up there with their rope, and they were awesome," she said.
Over lunch, the Danes said it was their first trip to St. John. Rotating teams, about 20 in all, traveled to the task.
The work is hard, the days are long but they are glad to be here, they said. Back home in Denmark, the temperature was two degrees, Celcius.
They all smile when they say that.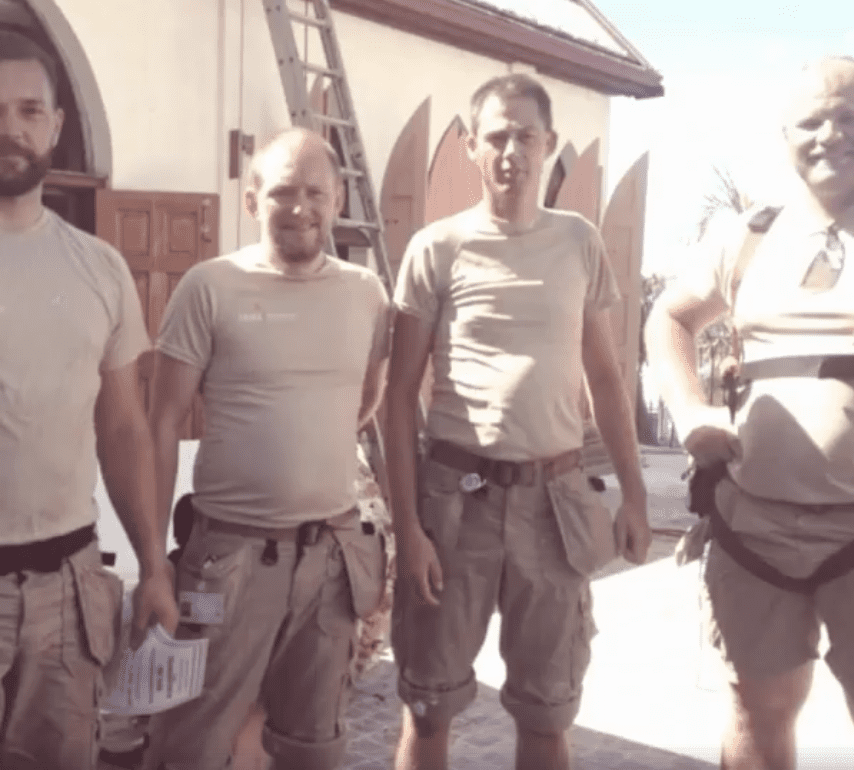 For two of the five-man crew, it was also their sixth week of disaster response to a place once called the Danish West Indies. Lars Bak, Christopher Sanden, Rune Petersen, Jasper Jensen and Kimmy Larsen are all volunteer firefighters back home where they work with an emergency management agency called Baredskabsstyrelsen.
Bak explains that when emergencies strike in Denmark, they respond to fire emergencies, perform rescues, mitigate spills of hazardous materials. But when they leave home, on international missions, that's when they hang the banner of DEMA.
More than 20 Danish responders have joined with federal, local government and non-governmental organizations to help St. Croix, St. Thomas and St. John cope with the ravages brought on by Irma and Maria. One member of the St. John team working on the church said he had just returned home from helping to set up a refugee camp in Uganda, and was there for two weeks when the call came in for volunteers to head for the V.I.
Bak said when he looked around, the word that came to mind was destruction. Not total destruction, he said. There were houses that still had roofs on.
Then came the long days of work. Six days, 45 hours a week, on average. Four schools, a Boys and Girls Club in Christiansted. There was work to be done, to clear the historic Danish and Moravian cemeteries of trees and storm debris.
DEMA teams also came to the aid of a senior home at Flamboyant Gardens on St. Croix and the Whim Museum. The Queen Louise Home on St. Thomas, the Savan community center and Sea View Nursing Home all got a helping hand from the Danes. It was at Sea View that Bak said he caught a glimpse of an enduring moment.
While Sea View is often associated with its care of the aged and disabled, it also has an adolescent unit for persons under supervision by Human Services.
"To see the elderly and the teenage boys. One of the boys, he had his entire life in a cardboard box. That's what moved me the most," Bak said.
DEMA's emergency mission to the V.I. came at a historic time. Twenty-seventeen marks the 100th year since the transfer of the territory from Denmark to the United States. A Virgin Islands Centennial Commission spent time and money staging celebrations on the three islands in March and planned another round of events at the end of November to mark the commemoration's end. But instead of marching bands and pronouncements by dignitaries, the year ended with the sound of hammers covering holes in the roof of a church on St. John.
The sound of friends indeed.
Editor's Note: Judi Shimel is a member of the congregation at St. Ursula's