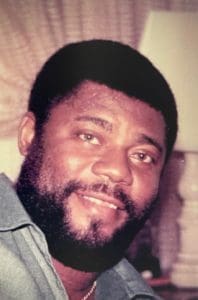 Danny Eugene Cornelius of Mon Bijou, owner of the former Cornelius Driving School, died on Feb. 25.
He was preceded in death by his mother, Beatrice Cornelius; father, Anselmo Cornelius; and niece, Vanyce Baker.
He is survived by his spouse, Edith Cornelius; sons: Danny Cornelius Jr. and Lenroy Ferris; daughters: Hope Ferris and Joy Ferris; grandchildren: Juwan Ferris and Jayla Ferris; great-grandson, Jasiah Ferris; sister, Marie Cornelius; special niece, Yolanda Lang; other nieces and nephews too numerous to mention; and aunts: Oralena, Regina, Elaine Cornelius, Cinderella Turner and Mary (Mark) Vick.
He is also survived by uncles: David Cornelius, George Cuffy and Fred (Lena) Colly; sisters-in-law: Muriel (Phillip) St. Jean, Jesica Le Blanc, Melrose Smith, Jeannette (Charles) Tyson and Avril Nisbett; brothers-in-law: Winston Nisbett, Joseph (Agnes) Nisbett, Edmund Nisbett and Julian (Alex) Nisbett; and cousins: Bernice Alexander and Oliver Cornelius.
More survivors include special friends: Raymond Lockhart, Raymond Milligan, Roger and Denise Bell, Stedroy Francis, Augustin (Mackay) Webster, Victorine Farrelly, John and Rhea Warren, Mary Benjamin, Agnes Simon, Lillian Sutherland, Joyce Heylier, David Browne, Accelyn Morton, Dudley Fabio, Patrick Phillips and their families; as well as many other relatives and friends too numerous to mention.
Other survivors include Minsters of the Methodist Church in Caribbean and the Americas, especially the ministers and members of the Ebenezer, Bethel and community congregations, and the lay preachers of the Ebenezer Methodist Church.
Special thanks to Dr. David Grossman and Dr. Barbara Erode and the staff at the Cleveland Clinic, Fla.; Dr. Angel Lake and the staff at Continuum Care; and Dr. Ellie DelGiacco, St. Croix cancer specialist.
There will be a viewing at 9 a.m. followed by funeral services at 10 a.m., Thursday, March 11, at the Ebenezer Methodist Church, Richmond.
Due to COVID-19, all guests are required to wear face masks and to observe social distancing at the viewing and church services.