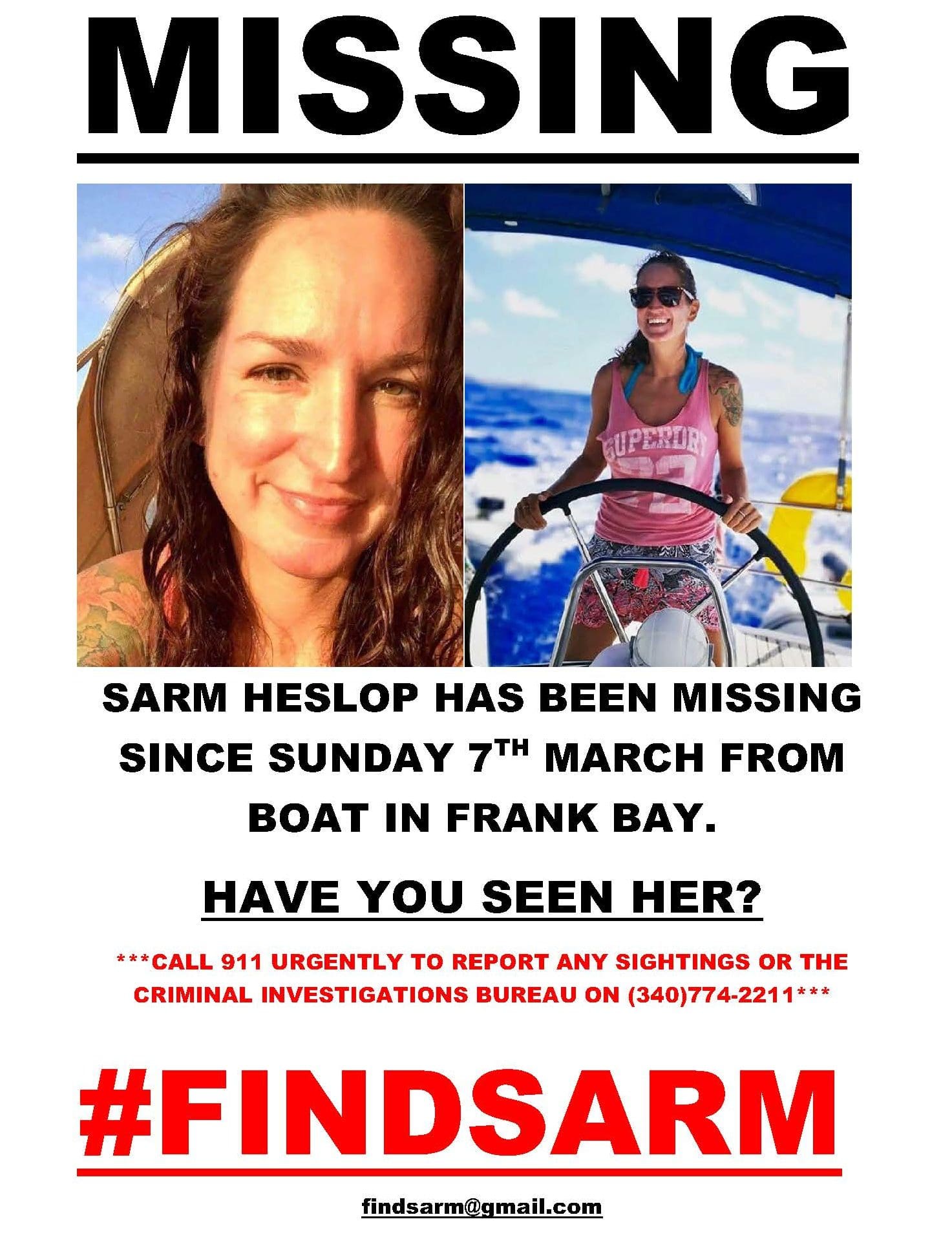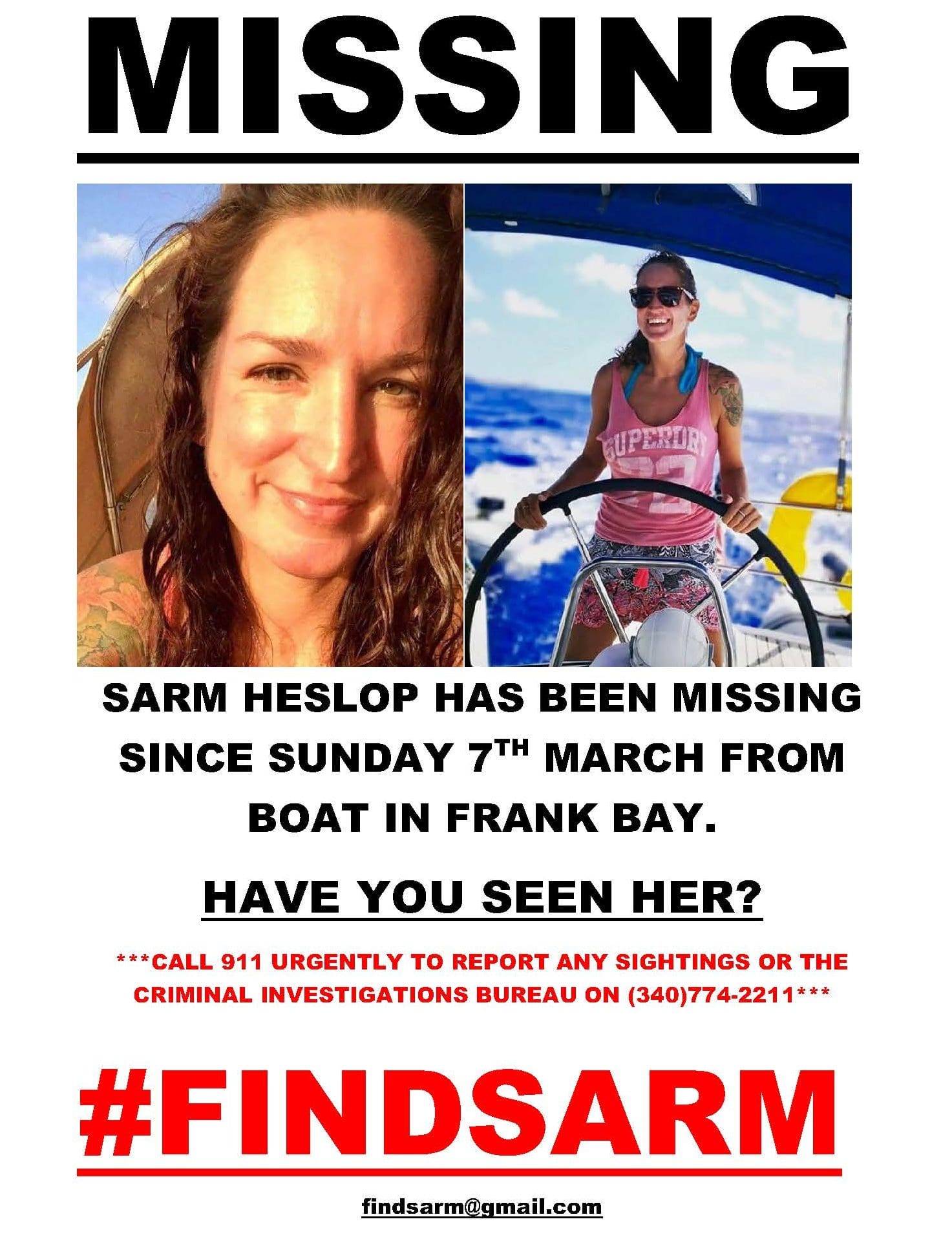 A year after British citizen Sarm Heslop went missing from her boyfriend's yacht on St. John, Dateline NBC will air an investigative report into her disappearance on Friday night.
Heslop, then 41, was living and working on Siren Song, a charter catamaran owned and operated by her boyfriend Ryan Bane, when he reported her missing on March 8, 2021. She was last seen when the couple went ashore for dinner the night before, according to reports at the time and a website set up by her family in its bid to find her. The case has drawn widespread media coverage, especially in the British press.
A preview of the Dateline NBC episode, which will air at 10 p.m. Atlantic Time (9 p.m. ET), can be viewed here. The show includes reporter Andrea Canning's interviews with Ryan Bane's ex-wife, former V.I. Police Commissioner Trevor Velinor, Coast Guard Lt. Cmdr. Jan League and others, NBC said in a news release.
According to the "Find Sarm" website, all her belongings, including her phone, were left aboard the catamaran. While the Coast Guard and V.I. Police Department searched the ocean and shorelines, they found no evidence that she had gone in the water.
[adrotate group="6"]
Bane declined to be interviewed by police, and denied requests to search the boat, according to news reports at the time and Heslop's parents, Peter Heslop and Brenda Street, who traveled to the U.S. Virgin Islands this week on the one-year anniversary of her disappearance, accompanied by the British Consul General in Miami.
Bane's lawyer David Cattie has told media outlets that his client cooperated with the authorities and gave them access to the vessel and to Heslop's personal belongings. However, the Coast Guard issued Bane a citation at the time for refusing to allow law enforcement entry to the interior of the vessel as they conducted a standard safety check of the boat.
"We are a whole year on from learning of her disappearance and yet we still only have the same handful of facts about what happened that night. We know that they dined on the island and returned to the boat at 10 p.m. We know that Ryan Bane called the local police at 2.30 a.m., and we know that he later called the coastguard at 11.46 a.m.," Heslop's parents wrote in a March 4 post on the "Find Sarm" website.
"We also know that a full forensic search of the catamaran Siren Song, of which Sarm was a resident, has never been carried out. We know that Ryan Bane has never been interviewed by the U.S. Virgin Islands PD and we know that there has been no sign of Sarm since she was in that restaurant in St John," they wrote.
"We have no evidence that Mr. Bane participated in the searches for Sarm, nor has he been called in for further questioning since he pled the Fifth Amendment. Ryan Bane has never come forward to offer the VIPD access to the Siren Song for a forensic search of the last place she was seen. We understand that the application for a search warrant has been declined three times on the grounds of lack of evidence that this is nothing more than a missing person case," according to the post.
Bane, who has denied any wrongdoing in Heslop's disappearance, left the U.S. Virgin Islands following the incident and according to a Fox News report, was spotted in Grenada in October where the boat was listed for sale for $299,000.
In 2011, Bane was arrested on suspicion of domestic violence for allegedly attacking Cori Stevenson, his then-wife. He reportedly served 21 days behind bars for the incident.
Heslop, who is Caucasian, is described as 5 feet 8 inches tall and of slim build, with a bright-colored tattoo on her left shoulder featuring a seahorse, bird, butterfly and a pink flower.
A reward of $10,000 is offered for anyone with information that leads to a significant breakthrough in the case and anyone with information regarding the whereabouts of Heslop is urged to call Crime Stoppers USVI at 1-800-222-8477 (TIPS) or the VIPD Criminal Investigation Bureau at 340-774-2211.