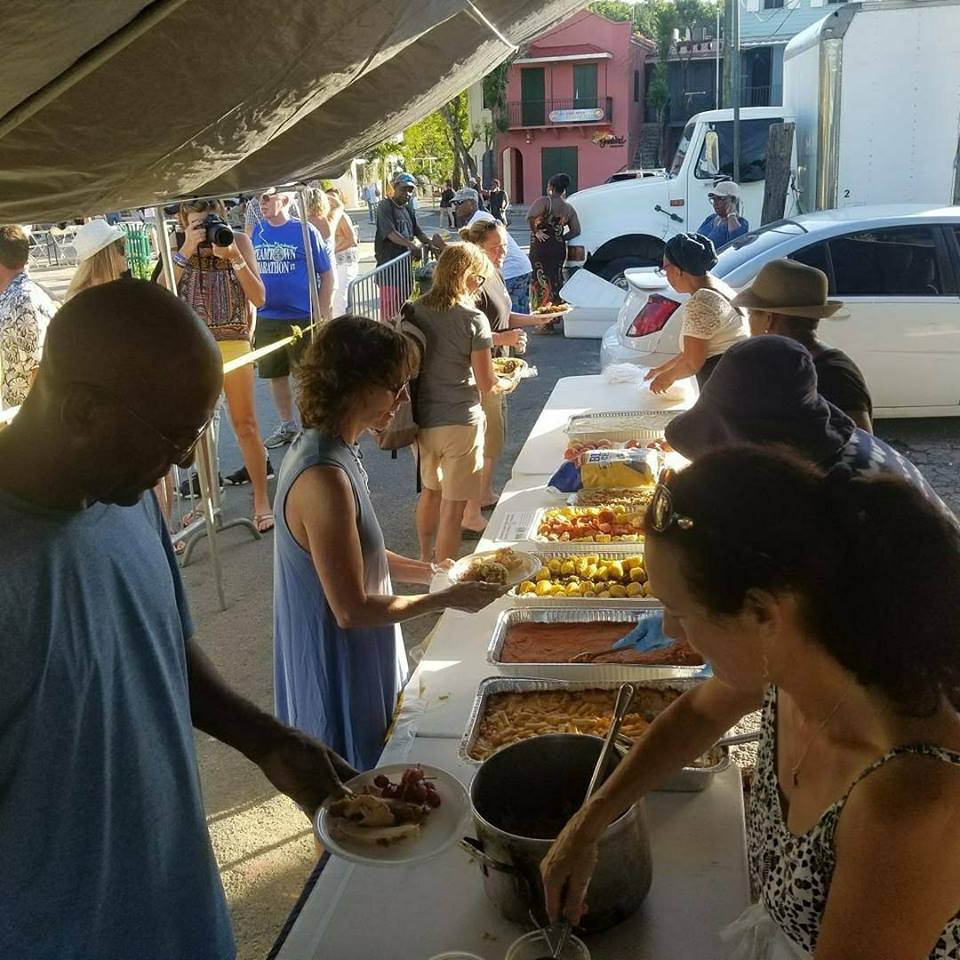 Minutes before three o'clock and already the Franklin Powell Park in Cruz Bay was bustling. Residents were buzzing around, setting up tables and chairs in the park. Under large tents, tray after tray of Thanksgiving goodies was unpacked. Every few minutes a vehicle would stop by the tents and unload more food.
Volunteers, residents, and various relief crew members gathered in the park on Thursday to socialize, eat, drink and most importantly to give thanks to those who have participated in the recovery of the island.
The Thanksgiving in the Park event co-sponsored by the Rotary Club of St. John and the St. John Community Foundation featured live performances, music, balloon art, display art, food and lots of appreciation.
One of the art displays by students from the St. John School of the Arts entitled, Hope, drew lots of attention from the audience.  Kristen Carmichael-Bowers, SJSA instructor, beamed with pride as she showcased the talent of the island's youths masterfully displayed on canvas, paper and tree branches.
"We have a lot to be thankful for," said Larry Sanderson, a 10 year resident of St. John who survived Hurricanes Irma and Maria while hunkered down in his basement.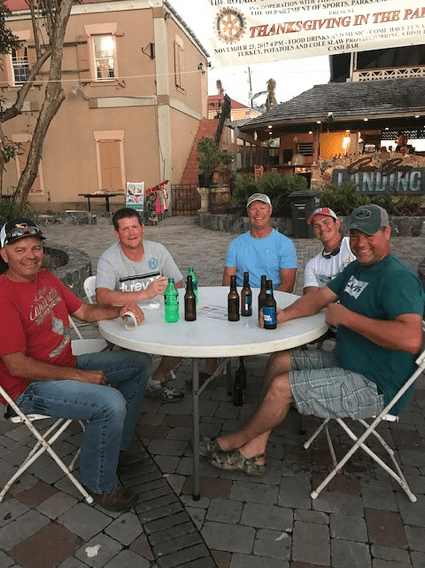 "Today is about showing our appreciation for everyone who has aided in the recovery of the island and especially these guys," says Dyese Turnbull, referring to the BBC Electric crew. Teams from BBC Electric, a large off–island contractor based out of Joplin, MO, have made St. John their home since arriving on island October 19 and assisting WAPA in restoring electricity.
Several members of the BBC crew were gathered in the park, seated at tables and milling about town.  "As of today, there are 106 crew members on St. John," said Matt, a BBC employee. When asked what BBC stands for both Matt and BBC's President Randy Caruthers, smiled and said in unison "Big Bad Contractors."
Another BBC crew member, Dusty, said he decided to come to St. John to assist in the recovery because, "everyone needs help at some point in their lives and I wanted to lend a hand." Since their arrival, BBC Electric has restored power to Pastory, Grunwald, parts of downtown Cruz Bay, Mongoose Junction, Glucksberg, Chocolate Hole, Contant and are currently working to re-energize Coral Bay by early next week.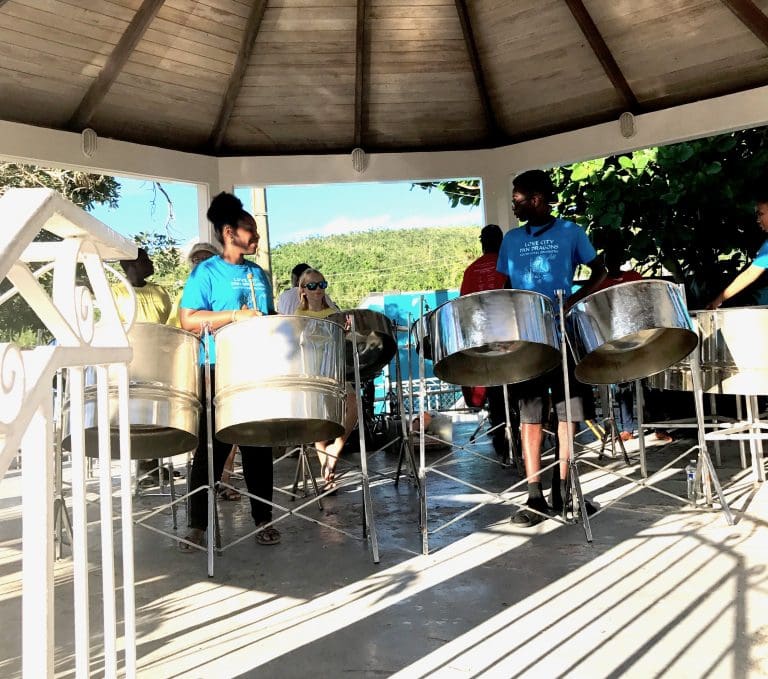 Members of the Virgin Islands Police Department, the Red Cross and the Virgin Islands National Park also joined the Thanksgiving Day event.
The Love City Pan Dragons Youth Steel Orchestra, under the direction of Ikema Dyer, set up their equipment for an afternoon of cool "sway your hips" steel pan music. Elaine Penn, of the Love City Pan Dragons, said the decision to participate in today's event was simple. "We wanted to help in any way we could. We are a part of this community and want to give back," said Penn.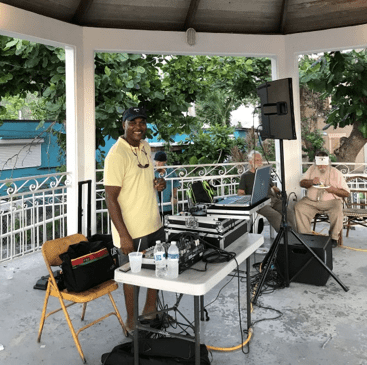 More and more residents, volunteers, visitors and guests arrived as the evening progressed.  By 5:00 pm when the last passenger ferry leaving from St. John started to depart, DJ Adonis took center stage surrounded by twinkling lights and immediately captivated the crowd playing songs "Virgin Islands Nice" by Pressure and "One Love" by Bob Marley.
It certainly was a day of thanks.