The deadline for self-salvaging sunken and stranded boats in territorial waters is January 22, according to Jacob DiPaola, the chief deputy branch director of the Coast Guard who is heading up operations on St. John this month.
DiPaolo said the Virgin Islands Department of Planning and Natural Resources has set January 22 as the date after which vessels will be treated as debris if their owners have not contacted DPNR or the Coast Guard to declare their intentions.
Boat owners had until Dec. 1 last year, to state whether they wished to salvage their boats themselves, use insurance money, waive their ownership rights, or request "special consideration"—that is, ask for assistance from the Coast Guard.
Working in collaboration with DPNR, the Coast Guard lifted 55 boats on St. John and returned them to their owners without charge as of Wednesday, Jan. 3.
For the past several weeks, the Coast Guard has lifted boats on St. John using two cranes.  "We knocked out the special consideration boats on St. Thomas and St. Croix pretty quick," said DiPaolo.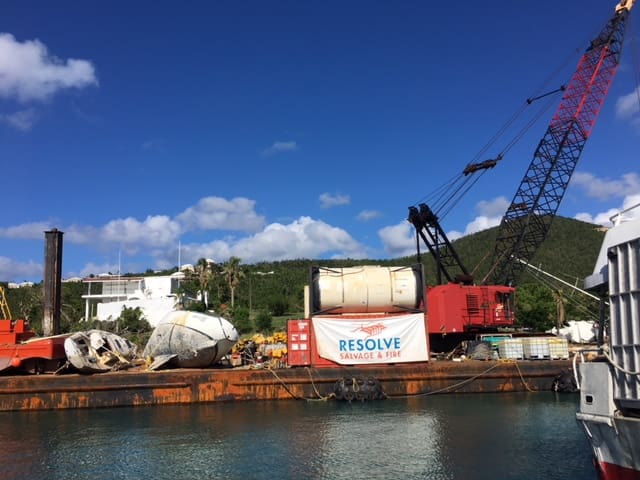 Once the remaining four boats under special consideration in Coral Bay are lifted, the Coast Guard plans to start pulling out the dozens of other wrecked boats that have not been claimed or whose ownership has been waived.  "We couldn't pluck them out of the water until we finished with the special considerations," said Coast Guard LCDR Art Hudman.  He said he expected operations to continue in Coral Bay "for some time."
All boats within the territory that cannot be salvaged will be put on barges and transported to a site near Christiansted, St. Croix, where the U.S. Army Corps of Engineers will oversee their disposal, according to Coast Guard officials.
Meanwhile, the National Park Service has not started to remove sunken and stranded vessels in Hurricane Hole or other locations within VI National Park boundaries. "We're still awaiting a full accounting of all the boats," said Lynette Harper, the secretary to the park superintendent.
On January 5, Park Service officials sent out a press release notifying boat owners that the deadline for removing storm anchor gear from Hurricane Hole has been extended to January 31.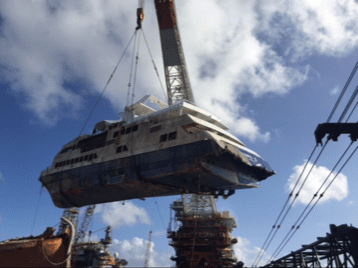 Several boats remain aground in Cruz Bay. The motor vessel Saltaire, which is partly aground in the Creek next to the NPS Visitors Center in Cruz Bay, cannot be lifted until it is cleaned, according to Frank Leckey, president of Resolve Marine.  Leckey said Saltaire's hull contained water with a layer of oil floating on its surface.
Resolve Marine, which lifted the barge Mister B from Enighed Pond and Brigadier from Little St. James, recently used a 500-ton crane to lift a damaged ferry boat that operated between Culebra and Fajardo.
Leckey said the damaged vessels at the Caneel Bay Boatyard in Cruz Bay would be removed once insurance issues were settled.
Shared content for St. John Tradewinds and Virgin Islands Source.