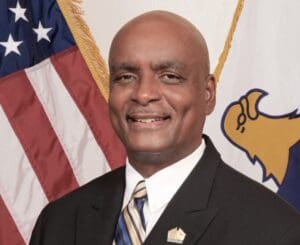 The Office of Sen. Dwayne M. DeGraff invites all veterans on St. John and the public to a town hall meeting to discuss the implementation of the Veterans Circle monument mandated by Act No. 8281. The town hall will take place from 5:30 – 7:30 p.m., Thursday, March 16, at the Cleone H. Creque Legislative Conference Room.
Sen. DeGraff was a sponsor of Act No. 8281, along with the legislation's primary sponsor, former Sen. Athneil "Bobby" Thomas. The act names the roundabout road circle located in Cruz Bay, St. John, "The Veterans Circle" and provides an appropriation for a monument to be constructed on the site in honor of the men and women of St. John who lost their lives while serving in the United States Armed Forces. Residents are encouraged to attend to provide feedback on the type of monument they would like to see in honor of our St. John veterans.
"I was approached by several St. John veterans on the status of this project, and I felt it important to have this town meeting to get all the stakeholders together to share ideas and any concerns," DeGraff said. "This project is important to me because it honors our own, who selflessly gave the ultimate sacrifice in ensuring our freedom."
St. John residents can contact the Office of Senator Dwayne M. DeGraff at 693-3513 for more information.
DeGraff said, "I especially encourage our St. John veterans to attend and let their voices be heard."