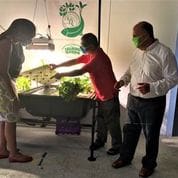 Delegate-to-Congress Stacey Plaskett, along with chief of staff Angeline Muckle-Jabbar and legislative correspondent Paige Clarke, were given a firsthand look at the vital initiatives of St. John's Island Green Living Association during a tour focusing on the importance of turning "waste" into a resource in late May.
"Delegate Plaskett has been an incredible advocate for the territory," said Harith Wickrema, president of Island Green. "We are honored that she took the time out to see our green initiatives firsthand and learn about our mission."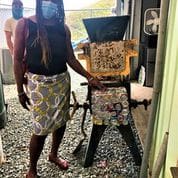 The tour included the St. John non-profit's Aluminum Can Recycling Center, which has collected, crushed and recycled nearly a million cans; the Resource Depot thrift shop, which has kept more than 500,000 pounds of used building materials and household items from the landfill; and the Brush Chipping Program, which has processed nearly 6,000 cubic yards of green and brown debris to date, allowing this rich resource to remain on island rather than be shipped to a St. Thomas dump.
The program also provides critical feed stock for the Composting Pilot Project with Sustainable Generation and Gore, which uses advanced green technology that has the potential to produce compost in just two months and could profoundly change the way the territory handles organic waste.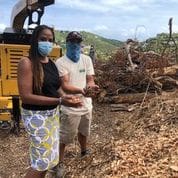 Also, Plaskett toured Gifft Hill School where she saw the Island Green Living-sponsored aquaponics program, which combines hydroponics (growing plants without soil) and aquaculture (raising fish). Visits to a classroom and the Iowa State University EARTH Program Gardens there allowed the delegate to understand how the K-12 school uses (Science, Technology, Engineering and Mathematics (STEM) and nutritional curriculum that connects students with their food sources, which is an important component of green education.
Wickrema also discussed Caneel, a national toxic sunscreen ban, the need for municipal level composting, recycling and food security.
Established in 2004, Island Green Living Association is a registered not for profit organization on St. John dedicated to sustainability throughout the territory. www.islandgreenliving.org