Bajo el Sol Gallery will host an opening reception on Friday, April 6, featuring Jewelry by Karen Calandra, below, and new paintings by Denise Wright, above.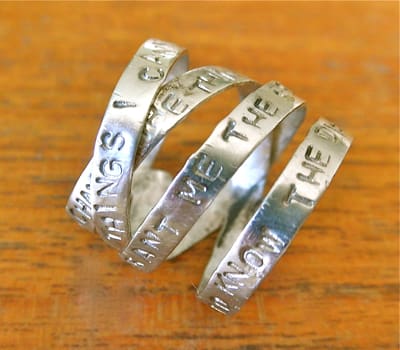 Mark those calendars for Friday, April 6, when Bajo el Sol Gallery hosts an opening reception for two local artists who continue to push their own creative boundaries.
Stop by the gallery in Mongoose Junction between 5 and 8 p.m. to view the latest works by painter Denise Wright and jewelry maker Karen Calandra.
Wright's work has evolved from early pieces depicting landscapes and tropical seascapes to new, vibrant abstract pieces.
"The tropical beauty of St. John is appealing to all artists," said Wright. "Most rely on representational art to interpret the local scene. Until 2007, my body of work was landscapes and seascapes, but this work has evolved to painting abstracts."
Instead of depicting the actual scenes around her, the artist now strives to convey a sense of emotion, she explained.
"I am attracted to painting more of the feeling of the tropics, rather than a literal translation," said Wright. "I also use the experience of art to cultivate my spiritual awareness. I know that beauty is the natural consequence of the opening of the soul."
"When the soul faculties are open, creativity comes forth," she said. "We are then tapped into the source of all beauty and creativity. With a holistic approach towards my role as an artist, I ignore the stereotype that I should rely only upon my visual relationship with the world."
Wright, a long-time St. John resident, uses a technique called layering for her abstract expressions, which she said is "the integration of a perception of ultimate connectedness with the flowing, on-going nature of living consciously."
In addition to Wright's beautiful and striking paintings, the April 6 reception will also feature Calandra's distinct, modern jewelry.
Working with materials from silver and pearls to beach glass and found items, Calandra finds inspiration all around her.
"In looking more closely at often overlooked items in day-to-day life, I find everything can fundamentally serve as inspiration," she said. "I enjoy creating designs that pare down those observations into graceful, wearable works of art while simultaneously trying to encourage the viewer to reconsider their definition of beauty."
"I work with sterling silver, copper, pearls and semi-precious stones in addition to beach rocks, found objects, silk, wood — anything that catches my attention," said Calandra. "My process of juxtaposing diverse materials, coupled with the amazing things metal can do, allows me to create pieces of wearable art."
Calandra's pieces, while beautiful to eye, also resonate on a deeper level.
"Creating is just a powerful love for me and there's something very peaceful about the process," she said. " I create from the heart and every piece is handmade with passion. I hope my jewelry generates excitement and joy for those who choose to wear it."
Don't miss this exciting opening reception on April 6, or stop by the gallery up the stairs in Mongoose Junction anytime as the work of Calandra and Wright will be featured for the month of April.