Guy Benjamin School Parent-Teacher Organization Vice-President Kristen Cox has taken her appeal for improved conditions at the Coral Bay elementary school to V.I. Senators, and a class action lawsuit may be the next step.
Several media outlets and only two senators have contacted Cox following an e-mail she sent to media and government officials, which included 40 pictures of problems at the school, showing exposed wiring and a leaky roof.
"Nothing is being done to fix anything," said Cox. "(Senator at Large) Craig Barshinger and (Senate President) Lorraine Berry are the only two people that have gotten back to me and commented (following the email), which I very much appreciate. They are checking into things on behalf of the PTO."
Exposed Wiring, Debris
The several problems that the school is facing include exposed wiring, chipped floor tiles that are left lying on the ground, tables and desks piled up outside the school, construction debris, piles of wood that could cause splinters, and holes in the roof, said Cox.
"One classroom has 15 computers plugged in only four electrical outlets," she said. "One of the breaker boxes in the nurse's room is so old, that they stopped manufacturing it more than 10 years ago. It's rusted and you can see wires through it."
"There are no locks on some of the electrical panel boxes outside," Cox continued. "Any child can go open this cover, and there are loose wires in there."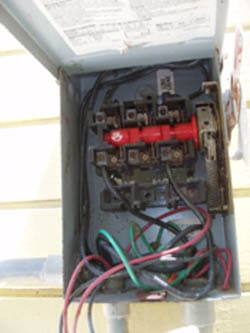 An air conditioner in one of the classrooms can not be shut off, because it could start a fire, or cause the entire building to lose electricity if it's turned back on, according to Cox.
"There are so many problems," she said. "I could talk about it all day."
Problems Result of Neglect
The problems at the school are a result of neglect, according to Cox.
"Neglect in the education department and our government is territory-wide," she said. "They are not following through to see that our federal funds are staying in the territory for these problems to be corrected."
Mismanagement of the school is another problem.
"People are dropping the ball on everything," said Cox. "The management style of the school, and the way things are run—there is no accountability. There is no follow-through with the parents and the Department of Education, and government heads who claim to care."
Class Action Lawsuit
The situation has become so dire that Cox has consulted with an attorney.
"We have been speaking with an attorney about filing a class action lawsuit against the Department of Education and the government of the Virgin Islands," she said. "We're not taking it anymore. It's on-going; people make promises and they let out a lot of hot air."
Problems at the school are affecting the children, according to Cox.
"Unfortunately, our children are paying the prices for it," said Cox. "Our children are valuable. If somebody doesn't stand up and fight for these children—for their rights and what they are entitled to—where are our children going to be 10, 15, 20 years down the road?"
The conditions at Guy Benjamin School will affect how people vote in this year's election, according to Cox.
"(Gov. Charles) Turnbull has been in office for eight years, and the schools are in the worst condition they've ever been in," said Cox. "And now, his lieutenant governor is running for governor. If Turnbull has not done anything in eight years, what on Earth will Vargrave Richards do for our children but follow in his footsteps?"
Richards Will Not Get Votes
"He won't do anything, and right now he is not going to get the vote of the people," she continued. "If you don't care about your child, then you don't care about anything."
Cox said she hopes recent media attention will help get the school's problems out into the eyes of the public.
"I've done several radio interviews this week because of my e-mail," she said. "I'm glad to see that people are finally opening their eyes and ears to the situation. Now that this is in everybody's face, what is everybody going to do about it?"